Sightseeing at Mammoth Cave National Park
Visitors to Mammoth Cave National Park rarely see more than the 12 miles of passages that have been opened for tours. But professional spelunkers are still exploring the cave system, drawing new maps and charts, and opening up additional passageways, many of them little more than crawl spaces.
In 1972, a long-sought passageway was found that linked Mammoth Cave with the Flint Ridge cave system through Hanson's Lost River, an underground stream. Mammoth Cave has other subterranean waterways: Lake Lethe, the River Styx, and Echo River.
In a section of the cave reached by a spectacular underground passage called Broadway, there is a spot called Methodist Church, where religious services are believed to have been conducted in the early 1800s.
Visitors to this area today are treated to an experience much like that of earlier tourists. Cave guides turn off the lights and throw torches through the immense underground chamber, allowing visitors to see with their own eyes the way the cave looked before electric lights were installed.
Booth's Amphitheatre is an underground room once visited by Shakespearean actor Edwin Booth, the brother of Lincoln's assassin, John Wilkes Booth. Edwin Booth is said to have recited Hamlet's "To be or not to be" soliloquy here.
Nearby is a hole in the ground known as the Bottomless Pit. It was named by early guides, who apparently were not able to see all the way down to the pit's bottom with the weak light of their flickering lard-oil lamps. The "bottomless hole" is actually 105 feet deep.
Mammoth Cave National Park Photo Opportunities
The geologic wonder that is Mammoth Cave is replete with breathtaking photo opportunities. Here are some subjects for your consideration: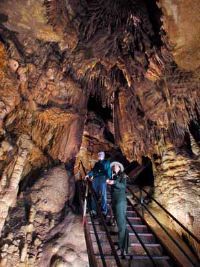 Natural Entrance: One of the best known (and most photographed) places in the park, Natural Entrance is especially beautiful when viewed from inside the cave looking out into the surrounding trees.

Broadway: Also known as the Main Cave, Broadway is a massive underground canyon that offers spectacular sights.

Frozen Niagara: Mineral-rich water seeping through the stone has slowly formed Frozen Niagara, which features waves of stone that mimic falling water.

Focus on Mammoth Photo Tour: This is for people who want a little photo-taking guidance. The tour, offered by the park service, visits some of the more photogenic spots in Mammoth Cave, including Rainbow Dome, Crystal Lake, and Frozen Niagara.
Exploring Mammoth Cave Several tours led by rangers take visitors through different sections of Mammoth Cave's subterranean wonderland. They are an ideal way to see the cave.
The half-day tour is extremely popular. Tour members enter the cave through the Carmichael Entrance that leads down to Cleaveland Avenue. This is a long tubular chamber carved out by underground water. Its walls glisten with white gypsum that has crystallized below the limestone surface. The tour passes through the Snowball Dining Room, where the group may stop for lunch. Afterward, the tour leads through Boone Avenue, a subterranean river chasm so narrow you can reach out and touch both walls. The tour ends at Frozen Niagara, a cataract of flowstone created as mineral-rich water seeps through the walls.
A less arduous walk follows the quarter-mile Travertine Tour. The Wild Cave Tour covers five-and-a-half miles, often by belly crawl, in about six hours.
Mammoth Cave has captivated more than just modern visitors -- it's been a popular destination for the past 4,000 years. On the next page, read about the history of Mammoth Cave.