Mammoth Cave National Park
PO Box 7
Mammoth Cave, KY 42259
270-758-2180
Mammoth Cave National Park -- located in southwestern Kentucky, about 90 miles from either Louisville or Nashville -- gives visitors a glimpse of how the earth's natural processes can form startling and amazing rock formations that are hidden away from the light of the sun. Hundreds of miles of underground passages make up Mammoth Cave, the world's largest cave system.
Entrance fees: Admission to the park is free. Cave tours are available for adults from $4 to $46 (children $2.50-$18). Reservations are recommended (800-967-2283).
Visitor center: The visitor center is open daily, except December 25.
Other services: Three campgrounds and a park hotel
Accommodations: Houchins Ferry Campground is open year-round. Headquarters Campground and Maple Springs Group Campground are open from March through November. Reservations are available (800-365-CAMP).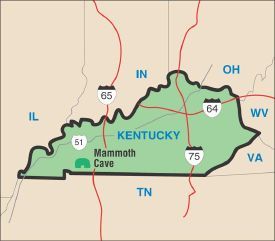 Visiting Mammoth Cave National Park
Beneath the forest-covered hills of southern Kentucky, you will discover the world's largest system of caves. There are about 360 miles of underground passages -- on five different levels -- that have been explored or mapped so far.
This cave is so vast and startling, its scores of passageways, rooms, and pits so rich in history, that it has been designated a United Nations World Heritage Site. The full extent of Mammoth Cave is still unknown. New caves and passageways are almost constantly being discovered, as the underground frontiers of this spectacular labyrinth extend deeper and deeper into a netherworld that almost defies belief.
The very names are enchanting -- flowstones, travertine, scallopes, flutes, and domepits. Gypsum flowers and dissolved carbonates. Sinkholes and disappearing springs. Vertical shafts, tubular passages, and open caverns. Even the basic field rocks of the southern Kentucky cave country have a certain natural poetry to them -- limestone, dolomite, sandstone, and shale.
Truly, Mammoth Cave is a place of beauty and wonder, mystery and paradox. In room after subterranean room there is an incredibly rich array of exotic forms: tapered stalactites and stalagmites, thick hanging draperies, lacy crystals, slender columns, and fluted shields. Hikers find themselves wandering through a sprawling realm of underground lakes and canyons, waterfalls and streams, and narrow side corridors and vaulted ballrooms. It is a weird landscape, a sometimes grand and occasionally grotesque place, a buried lost geological world that seems alternately to have come from a Walt Disney fairy tale or the off-kilter imagination of Edgar Allen Poe.
All of these extraordinary features can be found in Mammoth Cave National Park. Located about 50 miles northeast of Bowling Green, Kentucky, Mammoth Cave contains one of the world's largest and most diverse known systems of underground caverns. The haunting beauty of the place -- the mysterious sinkholes, the subterranean waterfalls, and the delicate gypsum cave formations -- will stay with you forever.
Sightseeing opportunities abound for visitors of Mammoth Cave National Park. Go to the next section for some sightseeing tips.