Suggested Itineraries for Visiting Los Angeles
With so many things to do in Los Angeles, from the famous Grauman's Chinese Theater to Rodeo Drive and Disneyland, you might have a hard time fitting in everything. In this section, we've put together suggested itineraries that will help you hit the highlights in your areas of interest, including special events and attractions, arts and culture, architecture and landmarks, shopping, nightife and entertainment, and relaxing and unwinding.
1-, 2-, and 3-Day Suggested Itineraries for Special Events & Attractions in Los Angeles
1-, 2-, and 3-Day Suggested Itineraries for Special Events & Attractions in Los Angeles
Los Angeles' attractions are world-famous -- who could visit LA without a trip to Disneyland or the Hollywood Walk of Fame? Here are some ideas for taking in LA's must-see attractions:
1 day: Narrowing it all down to one day is going to be tough, but we'll have to start in Hollywood. Wander around Grauman's Chinese Theatre (6925 Hollywood Blvd) and the Hollywood Walk of Fame (Hollywood Boulevard and La Brea Ave) in the morning before heading to Paramount Studios (5555 Melrose Ave) for their studio tour. After the tour, have lunch in the studio's commissary.
In the afternoon, you can head over to Venice Beach (Pacific and Windward Aves, Venice) for some beach time and primo people watching. You may even spot an Arnold Schwarzenegger look-alike pumping iron on the beach.
In the evening, head down to Santa Monica for a little shopping, dinner at one of a dozen great restaurants and a walk on the classic Santa Monica Pier (Ocean and Colorado Aves). Built in 1908, the pier still has an old-time feel, helped along by its 1950s-ish amusement park (with a solar-powered Ferris wheel that reveals its modern roots). During the summer there are live concerts most nights, but this is a great spot for a stroll any night of the year.
2 days: Head to the Mobil One-Star Uncle Bill's Pancake House (1305 Highland Ave) in Manhattan Beach for breakfast, and walk off the blueberry pancakes or bacon-cheddar waffle on the beachside path between Manhattan and Hermosa Beach. When you get to Hermosa, relax and lounge on the beach for awhile, then hop in the car and head downtown to check out El Pueblo de Los Angeles Historical Monument and Olvera Street (125 Paseo de la Plaza). At night, you should visit the Standard Hotel (550 South Flower at 6th St) for dinner and stay for drinks at their hip rooftop bar.
3 days: Start off at Griffith Park (4730 Crystal Springs Dr) for a morning hike and beautiful views of the city, then make your way to Disneyland (1313 Harbor Blvd) to celebrate your inner child. If you're not exhausted by evening, head to West Hollywood for dinner at the Mobil Three-Star Koi (730 N La Cienega Blvd), which serves up excellent Asian fusion cuisine and a good chance of spotting celebrities. If you still have energy after that, spend the rest of the evening checking out the West Hollywood bar scene.
1-, 2-, and 3-Day Suggested Itineraries for Arts & Culture in Los Angeles
1-, 2-, and 3-Day Suggested Itineraries for Arts & Culture in Los Angeles
Los Angeles has many museums and music venues you won't want to miss, if that's your cup of tea. Here are a few suggested itineraries for checking out LA's arts-and-culture scene.
1 day: Begin the day at the Museum of Contemporary Art, and hit both downtown locations (250 South Grand Ave and 152 North Central Ave), then head to the Brewery Arts Complex (676 South Ave 21, No. 33), pausing at the Mobil One-Star Philippe the Original (1001 N Alameda St) for a tasty lunch. You should try the French dipped sandwich or tomato bisque, if the specialty soup is offered on the menu.
Catch the Los Angeles Philharmonic at the Walt Disney Concert Hall (111 S Grand Ave). If classical music isn't your bag, opt for a show at the Orpheum Theater (842 S Broadway), or the Ahmanson Theater or the Mark Taper Forum (both located at 135 North Grand Ave). If you have time before or after, grab a drink at the Mountain Bar (475 Gin Ling Way) in Chinatown, a hip little bar whose mosaic floor was designed by renowned local artist Jorge Pardo.
2 days: Grab coffee and head to the Hollywood Bowl (2301 N Highland Ave), where you can catch that week's act rehearsing live for free, then head over to West Hollywood to check out Kiyo Higashi Gallery (8332 Melrose Ave) and Louis Stern Fine Arts (9002 Melrose Ave) as well as several other galleries on Melrose.
When it's time for lunch, you should go to the Mobil Two-Star Musso & Frank Grill (6667 Hollywood Blvd), Hollywood's oldest restaurant, which is equal parts restaurant and museum. William Faulkner, Ernest Hemingway, and Orson Welles all used to swill their legendary bone-dry martinis there. Act like a regular by ordering the flannel cakes, crepe-thin pancakes flipped to order, and either sit at the counter or request Table 1 in the West Room, which was actor Charlie Chaplin's regular table. After lunch hit the galleries in Silver Lake, but don't forget La Luz de Jesus (4633 Hollywood Blvd) for entertaining, counter-culture gifts and art.
3 days: Make it a Getty Day. Start out at the Getty Villa in Malibu in the morning (17985 Pacific Coast Highway) for amazing views, stunning architecture, and Greek, Roman, and Etruscan antiquities. Admission is free, but you'll need to schedule a ticket online.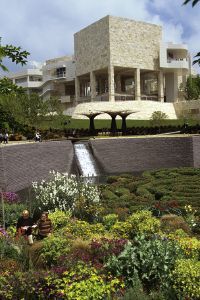 ©2006 Robert Landau At the Getty Center in Los Angeles,visitors can see J. Paul Getty's hugecollection of impressionist paintings.
In the afternoon, head to the Getty Center (1200 Getty Center Dr) to check out both the Richard Meier-designed building and the huge J. Paul Getty collection of Impressionist paintings, preserved ancient manuscripts, antique French furniture, contemporary photography, and graphic arts. If you get hungry, request a table at the Mobil Two-Star Restaurant Getty Center located on the property. Amid the property's marble and limestone courtyards, the restaurant's sleek and modern dining room is a good place to order the creamy lobster risotto or chicken breast stuffed with goat cheese and shiitake mushrooms. The restaurant's glass walls and high ceilings make this a prime location for a panoramic view of Los Angeles and the Santa Monica mountains as you enjoy your meal.
In the evening, head over to Los Angeles County Museum of Art (5905 Wilshire Blvd) for their "Free after Five" program and spend the last few hours of a busy day wandering through their expansive galleries.
1-, 2-, and 3-Day Suggested Itineraries
for Architecture & Landmarks in Los Angeles
for Architecture & Landmarks in Los Angeles
Los Angeles is a town of diverse architecture, from historic landmarks and Art Deco buildings to the unusual Walt Disney Concert Hall. Here are some itineraries to consider if you're interested in LA's landmarks and architecture:
1 day: Take a free tour of El Pueblo de Los Angeles Historical Monument (125 Paseo de la Plaza) in the morning, then spend some time downtown scoping out Art Deco high-rises like the famed Bradbury Building (304 S Broadway), the Orpheum Theater (842 S Broadway), the Walt Disney Concert Hall (111 South Grand Ave), and Poet's Walk (7th and Figueroa). Developers in downtown Los Angeles are required to give 1 percent of the cost of any new building to fund public art, and Poet's Walk -- a collection of public sculptures and poems -- is a result of that requirement.
While in town, check out one of the city's latest additions to the architectural treasure trove, the Cathedral of Our Lady of Angels (555 West Temple St), a contemporary masterpiece that opened in 2002. In the afternoon, make your way to Hollywood to check out the Egyptian Theater (6712 Hollywood Blvd) and the Pantages Theater (6233 Hollywood Blvd). While in Hollywood you'll see the Capitol Records Tower (1750 N Vine St) looming overhead -- apparently the light on the tower spells out Hollywood in Morse code.
A quick sunset drive up into the Hollywood Hills will take you to Frank Lloyd Wright's famed Freeman House (1962 Glencoe Way), a 1924 experiment in mass-produced affordable housing (though ironically nothing with Wright's name on it is anywhere near affordable now). An interesting fact: The Freeman House was the first ever to use glass-to-glass corner windows.
2 days: In the morning, hop in the car for a drive over to Pasadena to check out The Gamble House (4 Westmoreland Place), a meticulously restored 1908 example of Arts and Crafts architecture, designed by Greene and Greene. Tours through the house are available for $10; they last one hour and depart every 15 minutes, Thursday through Sunday from noon to 3 pm. Tickets for the tour go on sale the day of, starting at 10 am at the bookstore. We highly recommend you get there at 10 am sharp to book your tour as tickets go quickly.
Once you've secured your ticket, browse through the bookstore, and grab breakfast before the tour. If you're there on the weekend, brunch at the Mobil Two-Star Raymond (1250 S Fair Oaks Ave) is a must. It's housed in the caretaker's cottage of what was once the Raymond Hotel and the restaurant is as charming as the brunch menu is delicious (be sure to try the homemade apple fritters).
If you're in the area on a weekday, try Marston's (151 E Walnut St), a charming little breakfast cottage and local favorite that serves up delicious Macadamia nut pancakes and inventive omelets.
After the tour, make your way over to West Hollywood, and straight to the MAK Center for Art and Architecture (835 N Kings Rd, West Hollywood) to ooh and aah at the house, scope out its current exhibition, and browse through their bookstore.
Next stop is the Pacific Design Center (8687 Melrose Ave), which is affiliated with the Museum of Contemporary Art (MoCA). The Pacific Design Center is a huge complex of furniture and design showrooms for interior designers. Unfortunately, the public cannot access the showrooms, however, there's also a free MoCA gallery in the center with a great bookstore.
It's worth a visit just to see the building, designed by architect Cesar Pelli, and to have lunch at Astra West, renowned chef Charlie Palmer's beautiful restaurant and event space on the third floor. It's open only for lunch and private parties, and the space is as well regarded for its interiors and its food. The restaurant's interior is so trendy that it's been used as a backdrop for a few music videos. The turkey and Brie on walnut raisin bread sandwich is good, and the farfalle with shrimp, mascarpone, prosciutto, and sugar snap peas is sensational.
3 days: Arrange a tour with Architecture Tours LA for the morning (morning tours depart at 9:30 am). It offers several neighborhood tours, each highlights from 50 up to 90 sites, including homes and buildings designed by IM Pei, Frank Gehry, RM Schindler, Richard Neutra, Richard Meier, and Frank Lloyd Wright. They also offer a special Frank Gehry tour that lasts four to five hours and covers a whole lot of ground.
When the tour is finished, head over to Santa Monica to check out the classic Santa Monica Pier (Ocean and Colorado aves) and its solar-powered Ferris wheel. The "Walk on LA," a giant stamp that makes interesting imprints in the sand on the beach next to the pier, is available thanks to Carl Cheng, who created it as a public art installation in 1988.
While you're in Santa Monica, check out Hennessy & Ingalls Bookstore (214 Wilshire Blvd) for a fantastic collection of architecture books. By now you're probably hungry again, so head to Frank Gehry's favorite lunch spot, Delicious Cafe (12531 Beatrice St), recently opened in the bottom corner of his office building in West LA. Gehry asked his favorite caterer to open and man the cafe to give his employees and others in the area a healthy place to eat during the day. You should try the barbecued brisket of beef with a roll or the spicy peanut lo mein salad served over charred green beans.
1-, 2-, and 3-Day Suggested Itineraries for Shopping in Los Angeles
Los Angeles is famous for its ritzy shopping, but there's more to LA shopping than just Rodeo Drive. Consider these itineraries to get the most out of your shopping time while visiting Los Angeles:
1 day: Do your best Julia Roberts impression and cruise down Rodeo Drive just for laughs, then head north to Robertson and shop where the stars do. Madison (115 South Robertson Blvd) is filled with row after row of top quality, high-end clothes, cashmere and shoes. Worth trying on, even if you can't afford them.
If Madison is old Hollywood money, Kitson (115 South Robertson Blvd) is all about the new, Jessica Simpson-style of Hollywood. The store carries several variations on this week's must-have jeans, plus Juicy Couture sweats in every color, the latest trendy bags and T-shirts, and of course, kitten heels.
Another young Hollywood favorite, Lisa Kline (136 South Robertson Blvd) stocks every "it" item of the moment, but is slightly less bubbly and garish than Kitson. Next, head east to Third Street to check out home accessories at OK (8303 West 3rd St), new and vintage fashions at Polka Dots and Moonbeams (8381 West 3rd St) and Hillary Rush (8222 W. 3rd St), super cool and hard-to-find shoes at Inago (8364 West 3rd St), a variety of local and international designer clothes at Milk (8209 West 3rd St), impeccable menswear at Douglas Fir (8311 West 3rd St), or whimsical elegant designs of Meghan Kinney at Meg (8362 West 3rd St).
At the end of the day, head to Loehmann's (333 South La Cienega), and score that fabulous dress you just saw in Madison for half the price.
In the evening, refuel after shopping at the Original Los Angeles Farmer's Market (6333 West 3rd St), where you can choose from dozens of great local eateries and take home a few specialty items for souvenirs. It's open every day of the week.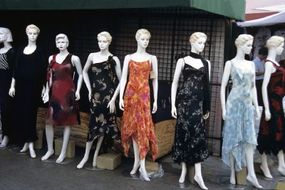 ©2006 Robert Landau Shopping in Los Angeles can be upscale and pricey or practicaland down to earth, depending on where you go.
2 days: Head to the coast, start at Santa Monica and work your way toward Venice and Manhattan Beach. Grab your morning coffee at the Fred Segal Cafe (500 Broadway) and then revel in the LA-ness of the eponymous story. Lots of celebrities shop here, so keep an eye out; the store's layout is unique, and they have been known to "make" more than one up-and-coming designer. Every year in late September/early October they have a huge blow-out sale.
Wander a few blocks west to the Third Street Promenade, a pedestrian shopping district, and check out the quirky high-end toys at Kid Robot (1407 3rd St Promenade), beautiful art and photography books at Arcana Books on the Arts (1229 3rd St Promenade), the uber-cool mod furniture at Shelter (1433 5th St), and the vintage wonderland that is Wasteland (1338 4th St).
Head north a block to dig through a jumble of high-end lingerie at Footsie (1105 Montana Ave), and lose yourself in row after row of miracle creams at Palmetto (1034 Montana Ave), a fantastic beauty store on Montana, or pick up your favorite Kiehl's products down the street (1516 Montana Ave). Head south to ogle the limited edition kicks at Undefeated (264-B Main St) and the groovy handbags and T-shirts at vintage fave Snap (3211 Pico Blvd) before making the trek (or drive) to Abbot Kinney Boulevard in Venice.
Abbot Kinney Boulevard is home to an eclectic assortment of boutiques, ranging from a cool organic-punk clothing store, A. Mason, (1211 Abbot Kinney Blvd) to a modern furniture store that steers clear of plastic and won't break the bank, Digs, (1340 Abbot Kinney Blvd).
For those willing to splurge on vintage modern classics, Johnny B. Woode (1108 Abbott Kinney) carries Eames Chairs, Noguchi lamps, and similar sorts of iconic modern household items. Other Venice stores worth checking out include Minnie T's (1355 Abbot Kinney Blvd) for their New York boutique vibe and selection, Tortoise (1208 Abbot Kinney Blvd) for beautiful and well-made Japanese kitchenware and tchotchkes, and Brick Lane (1132 Abbot Kinney Blvd) for all things British and mod.
3 days: Fuel up on strong coffee and outstanding pastries and egg dishes on the leafy patio of the Alcove Cafe and Bakery (1929 Hillhurst Ave) in Los Feliz in the morning, then head south half a block to Franklin Avenue, Los Feliz's main shopping drag.
Walk breakfast off on the six-block trek south from the Alcove to the quirky and cool Soap Plant/Wacko Gallery (4633 Hollywood Blvd) -- part gallery, part carnival, part curiosity shop, it's one of the best places to browse in the whole city. Walking back up Hollywood Boulevard, north toward Vermont Avenue, step into Camille Hudson (4685 Hollywood Blvd), where dozens of shoes are hung off metal rods on the wall, and Y Que (1770 North Vermont Ave) for cute and clever T-shirts. Continue north on Vermont and make a left on Franklin to find Steinberg & Sons (4712 Franklin Ave), where all the local kids get their cool threads.
Hop in the car and head east a few miles to Silver Lake, where yet another group of unique and interesting stores is waiting. A+R (1716 Silver Lake Blvd) sells a small but terrific selection of home gadgets, witty vases (one is shaped like three pistols), wooden purses, and cuff bracelets made from recycled beer cans. The Circle (2395 Glendale Blvd) sells the lines of a variety of local designers at sample sale prices. Patty Faye (2910 Rowena Ave) stocks an assortment of eclectic women's clothing brands difficult to find anywhere else. A handful of vintage furniture shops, like Rubbish (1628 Silver Lake Blvd) and Now/Again (3815 West Sunset Blvd), stock affordable, restored furniture from a variety of design periods.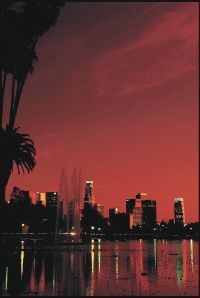 ©2006 Richard Carroll When the sun goes down, parts ofLos Angeles turn into a playgroundfor the rich and famous.
Echo Park and Silver Lake are so close, some people run them together as one neighborhood. But you've got a limited amount of time, and it's LA after all so hop in your car and head several blocks south. Los Feliz and Silver Lake are hip in a sort of square way -- nothing is really "out there." Echo Park, on the other hand, has only recently begun the process of gentrification, so there's a bit more grit and edge there, and the stores reflect that. Sirens & Sailors (1104 Mohawk St) stocks the wares of several up-and-coming local designers. Show Pony (1543 Echo Park Ave) adds artwork and accessories to the mix. Han Cholo (1549 Echo Park Ave) sells their own line of street-influenced men's and women's T-shirts and jewelry accented with boom boxes. The Kids Are Alright (2201 Sunset Blvd) sells original threads for both men and women, along with jewelry and shoes.
1-, 2-, and 3-Day Suggested Itineraries
Nightlife & Entertainment in Los Angeles
Nightlife & Entertainment in Los Angeles
Whether you're interested in celebrity watching, catching an obscure film, or seeing the lastest band perform live, Los Angeles has it all. These suggested itineraries will keep you entertained during your LA visit.
1 day: Wake up at a reasonable hour, grab a cup of coffee and something portable for breakfast and head to the Hollywood Bowl (2301 N Highland Ave), where you can hear that night's act warming up for free. Spend the day on a tour of Sony Pictures Studio (10202 W Washington Blvd), where you can see eye-opening behind-the-scenes looks at the sets, wardrobe department, and other areas. It's the home of popular TV shows like Jeopardy! and Wheel of Fortune, as well as Columbia Pictures and Columbia Tri Star.
Make reservations for dinner at Koi (730 N LaCienega Blvd) in West Hollywood, where you can enjoy baked crab rolls in soy paper, crispy fried rice, or a variety of sushi. The restaurant balances the elegance of a sleek Zen garden with the whimsy of a cocktail party. Then hit the area's trendy lounges like the classic Formosa Cafe (7156 Santa Monica Blvd) or head over to Element (1642 Las Palmas Ave) in Hollywood.
2 days: Sleep in, then head over to the late (1pm) Gospel Brunch at House of Blues (8430 W Sunset Blvd) on the infamous Sunset Strip. You're in the center of the film industry after all, so after brunch head to the Sunset Ranch/Hollyridge Trail (3400 Beachwood Dr, Hollywood), where you can rent a horse and the ranch will provide a guide to take you up into the trails that weave through the hills of Griffith Park. You'll feel like you stepped back in time onto a Hollywood movie set. Afterward, grab a table at El Carmen Restaurant (8138 West 3rd St) for tasty Mexican snacks, complete with luchadores and "perfect" margaritas (they stock more than 400 types of tequila).
Keep the fun flowing and head to either Lucha VaVoom (1038 South Hill St), or Ivan Kane's Forty Deuce (5574 Melrose Ave) for a highly acclaimed burlesque show.
3 days: Wake up late and roll into TART (8781 Cross St) for brunch and an outstanding Bloody Mary (if you're so inclined) in a hip setting at the Farmer's Daughter Hotel (115 S Fairfax Ave). Then see if you can make it into a screening before you leave town, and buy a ticket to The Groundlings Theater (7303 Melrose Ave) for the evening. This is where many a Saturday Night Live cast member got their start. It's sketch comedy and improv at its finest, guaranteed to make you chuckle.
1-, 2-, and 3-Day Suggested Itineraries for Relaxing & Unwinding in Los Angeles
1-, 2-, and 3-Day Suggested Itineraries for Relaxing & Unwinding in Los Angeles
With its beaches, golf courses, spas, and gardens, Los Angeles is a great place to take it easy for a few days. These suggested itineraries will help you get away from it all while visiting LA.
1 day: Start the day with brunch at local establishment Mobil Two-Star Joe's (1023 Abbot Kinney Blvd) in Venice, then head to Venice Beach. Since you've only got one day in Los Angeles, Venice Beach is the best place to both relax and get an "only in LA" experience at the same time.
Book a spa treatment at the Mobil Four-Star Spa at the Peninsula Beverly Hills (9882 South Santa Monica Blvd) for the evening, and finish the night with a healthy, restorative dinner at M Cafe de Chaya (7119 Melrose Ave), a macrobiotic cafe that manages to be exceedingly healthy and absolutely delicious at the same time.
2 days: Start the day off right with the amazing jazz brunch at El Cid in Silver Lake (4212 Sunset Blvd), a Spanish-style supper club that was originally built in the early 1900s as a silent film set.
Walk off brunch in nearby Griffith Park, where you'll be rewarded with great views of the city and might catch a glimpse of the reservoir that gives Silver Lake its name. After a nice stroll, hop in the car and head to Glen Ivy Natural Outdoor Hotsprings and Day Spa (25000 Glen Ivy Rd, Corona). In the evening, golfers can get in a cool round at the Los Verdes Golf Club in Palos Verdes (7000 W Los Verdes Dr, Rancho Palos Verdes) a wonderful, challenging 18-hole public course with fantastic views from nearly every hole.
3 days: Sleep in, and then roll over to Urth Caffe (8565 Melrose, West Hollywood) for LA style coffee and breakfast -- organic and free trade everything, with plenty of celebrities in sight. Take a stroll down Melrose to window shop and browse through dozens of art galleries, then hop in the car and head over to Descanso Gardens (1418 Descanso Dr). Wander around the gardens, have tea in the Japanese Tea Garden, and, if you're lucky to be there on a Thursday in the summertime, attend a fantastic evening wine tasting put on by the Mobil Four-Star Patina ($35 to $45/person).
The sprawling city of Los Angeles encompasses natural beauty and urban attractions, and it's wrapped up in Hollywood glamour. Simply put, there's no other city like it.
© Publications International, Ltd.
ABOUT THE AUTHOR:
Amy Westervelt is a freelance writer who grew up in Southern California and now divides her time between San Francisco and the rest of the world, writing about travel, food, and entertainment for publications like Travel + Leisure, Modern Bride, and The San Francisco Chronicle.
Related Links
Cathedral of Our Lady of Angels
Los Angeles County Museum of Art
Los Angeles International Airport
MAK Center for Art and Architecture
Orange County Transportation Authority