Kenai Fjords National Park
PO Box 1727
Seward, AK 99664
907-224-2132
Kenai Fjords National Park, close to Seward in southern Alaska, gives visitors a glimpse of the rough landscape carved by receding glaciers. Rocky fjords and peninsulas define the coastline of this park. Easily accessible by road from Anchorage, Kenai Fjords National Park attracts all sorts of outdoors enthusiasts, including kayakers and hikers.
Entrance fees: $5/vehicle for seven days or $3/individual for seven days
Visitor centers: Kenai Fjords Visitor Center is open daily from mid-April through September and on weekdays in October. Exit Glacier Nature Center is open daily from Memorial Day to Labor Day.
Other services: Two ranger stations, four cabins, and one campground
Accommodations: Exit Glacier Campground is open year-round and operates on a first-come, first-served basis. Three cabins are available for public use during the summer months (907-271-2737). Willow Cabin is available from mid-to-late-fall through early April (907-224-7500).
Visiting Kenai Fjords National Park
Kenai Fjords reflects the essence of Alaska's southern coast. The park's dynamic geology includes spectacular mountains with great glaciers flowing down between them to the sea, as well as awesome fjords that provide a habitat for thousands of nesting seabirds and seafaring mammals. The land has a rough, unfinished look to it.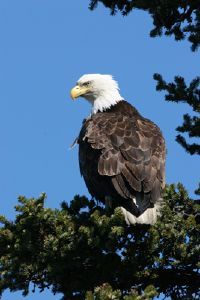 The rocks of the coast here are so jagged, sharp, and uneroded that land and sea seem to be locked in a fearsome struggle for dominance: The sea challenges the land with deep, lovely fjords and hundreds of inlets and coves, while the coast abuts the Gulf of Alaska with great, rocky headlands and clawlike peninsulas.
At least 20 species of seabirds nest by the thousands on the rocky crags of the fjords. Clown-faced puffins make their homes among the rocks. These stubby birds with short wings fly only with difficulty, but they are as graceful underwater, when diving for fish, as they are ungainly in the air. Peregrine falcons hunt for small mammals on the rocky islands that dot the coastline, while bald eagles soar among the cliffs of the fjords.
Black bears and wolverines, along with moose and lynx, roam a narrow zone of lush rain forest between the coast and the icy mountainsides, which is home to mountain goats that climb on rocks so exposed they would give pause to an experienced mountaineer.
Visitors are drawn to Kenai Fjords National Park's rugged landscape and to its diverse wildlife. On the next page, learn more about the sights you'll see while in this scenic park.