Joshua Tree National Park
74485 National Park Drive
Twentynine Palms, CA 92277-3597
760-367-5500
Even in the challenging climate of the Mojave Desert, Joshua Tree National Park is full of living things. Hardy plants like the Joshua tree itself thrives in the dry environment, and the park's five oases gather comparatively lush greenery. Wildlife also abounds, including coyotes and bighorn sheep. The park, which is an hour's drive from Palm Springs, California, attracts hikers, climbers, wildlife watchers, and landscape photographers.
Entrance fees: $10/vehicle for seven days or $5/individual for seven days
Visitor centers: Cottonwood Visitor Center and Oasis Visitor Center are open year-round.
Accommodations: Nine campgrounds are open year-round. Some reservations are available (800-365-CAMP).
Visiting Joshua Tree National Park
The Joshua tree, a member of the lily family, is actually an oversized yucca. The "trees" cover the highlands of Joshua Tree National Park, which was designated a national park in 1994 (the area had been a national monument since 1936). Visitors continue to find the park's symbol and namesake to be either grotesque or exquisite.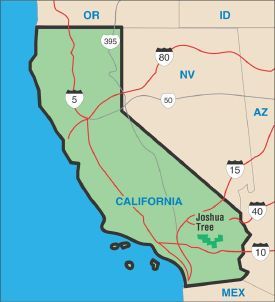 The first impression is of top-heaviness. At the end of each stout branch are heavy daggerlike leaves. In early spring, after a wet winter, the branch tips visibly droop with heavy blossom clusters. These flowers attract everything from butterflies and birds to legions of landscape photographers and artists.
Joshua trees are superbly adapted to their harsh desert environment. An average of about four inches of precipitation falls annually in this parched country; temperatures soar to more than 110 degrees in summer and dip well below freezing in winter. Strong winds are common in all seasons.
Like other desert plants, the Joshua tree survives these arid conditions by soaking up moisture during infrequent showers and minimizing evaporation during long periods of drought. Once a year, usually after a heavy spring rain, it sends forth a spectacular, if somewhat bizarre-looking, blossom that resembles an artichoke with creamy yellow petals. Other flowering plants come alive, too, putting on a dazzling display of spring color that includes lupine, blazing star, golden coreopsis, Mojave aster, scarlet locoweed, and desert mallow.
The Joshua tree, of course, is only one element in a complex web of life that makes up the park's fragile desert ecosystem. There are at least three distinct ecological zones within the park. The Joshua tree forest is found in the Mojave Desert in the western half of the park. Elevation ranges from about 2,000 to 5,000 feet with a few peaks in the Little San Bernardino Mountains such as Keys View and Eureka Peak exceeding 5,000 feet.
This is also where one finds the jumbled granite formations that have become so popular with rock climbers. Several well-maintained trails lead through boulder fields, canyons, and other geological features in the appropriately named Jumbo Rocks, Wonderland of Rocks, and Hidden Valley areas.
The eastern half of the park is in the Colorado Desert. It is occupied by the low-lying Pinto Basin, surrounded on three sides by the eroded walls of the Eagle, Coxcomb, and Pinto mountains. Vegetation in this region is dominated by the creosote bush and other tough desert plants with occasional patches of spindly ocotillo and spiny cholla cactus. Although hotter and drier than the west side of the park, its plant life is equally, if not more, diverse.
The third ecosystem exists in and around the park's five oases. Shaded by dense stands of fan palms and enlivened by the sound of bird song, the oases are islands of life where green plants flourish and animals such as coyotes and the occasional bighorn sheep come to slake their thirst.
On the next page, we'll discuss the hiking, climbing, and sightseeing possibilities that await visitors to this desert park.