The great arc of silver rising above St. Louis is a tribute to the soaring mind of Thomas Jefferson, the courage of the people who settled the West, and the simple beauty of architecture.
In 1803, Thomas Jefferson completed the Louisiana Purchase, which more than doubled the size of the United States. Lewis and Clark set off from St. Louis on their cross-country expedition, and the city soon became a jumping-off point for explorers, traders, and settlers heading west in the 1800s.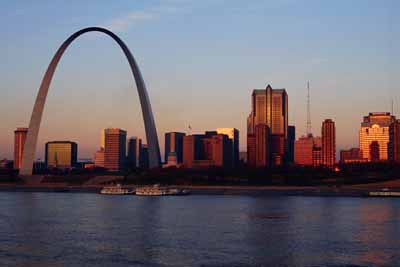 ©Corbis
The Gateway Arch is a well-known piece of the Jefferson National
Expansion Memorial.

In 1947, American architect Eero Saarinen won a national contest to design a memorial to honor America's westward expansion. The Jefferson National Expansion Memorial, better known as the Gateway Arch, was finished in 1965. At 630 feet high, it is the nation's tallest monument, besting the Washington Monument by 75 feet. The structure is made out of stainless steel, and its simple curved design is able to withstand extreme temperatures, heavy winds, earthquakes, and other environmental stresses without an inner frame or skeleton to hold it up.
At the base of the Arch is the Museum of Westward Expansion, which displays maps, paintings, historic photos, and Indian and pioneer artifacts, including such objects as a Spanish carreta, a bull boat, and a Plains Indian tipi. An adjacent auditorium shows a film on the construction of the arch.
The memorial also preserves a little piece of Civil War history at the Old Courthouse, where the famous Dred Scott trials of 1847 and 1850 were held.
Scott was a slave who traveled with his owners from Missouri to live in the free state of Illinois. He sued for his freedom, claiming that living four years in a free state entitled him to freedom. The local court ruled for Scott, but the U.S. Supreme Court later ruled that blacks were not "persons" and therefore had no right to sue in court.
Many believe that this ruling helped bring about the Civil War.

Jefferson National Expansion Memorial Information
Address: 11 North Fourth St., St. Louis, MO
Telephone: 314/655-1700
Hours of Operation: Open daily, 8 a.m. to 10 p.m. in summer; 9 a.m. to 6 p.m. in winter (visitor center); closed Thanksgiving, Christmas and New Year's Day
Admission: Tram rides cost $10 for adults, $7 for youths 13 to 15, and $3 for children 3 to 12.
Learn about these other national memorials:
Find out more about travel destinations in North America:
­
ABOUT THE AUTHOR:
Eric Peterson
is a Denver-based freelance writer who has contributed to numerous guidebooks about the Western United States.