Isle Royale National Park
800 East Lakeshore Drive
Houghton, MI 49931-1895
906-482-0984
Isle Royale National Park, which consists of Isle Royale and hundreds of smaller islands in Lake Superior, is a pristine wilderness that's perfect for hiking, camping, kayaking, and observing nature. With no roads and very few structures, Isle Royale is very nearly in its natural state. Visitors to the island must take a ferry or seaplane to get there, but the wilderness that awaits makes the journey worthwhile.
Entrance fees: $4/person for each day
Visitor centers: Houghton Visitor Center is open year-round Monday-Friday (and Saturday during the summer). Rock Harbor Visitor Center and Windigo Visitor Center are open from mid-June through August.
Other services: Three visitor centers, one lodge, and two backcountry campsites
Accommodations: More than 35 campgrounds are available from mid-April through October on a first-come, first-served basis. Rock Harbor Lodge (270-773-2191) is open from late May to mid-September.
Visiting Isle Royale
The 45-mile-long, nine-mile-wide Isle Royale rises out of the vastness of Lake Superior, the largest of the Great Lakes. This unusual national park consists of Isle Royale and another 200 smaller islands that surround it.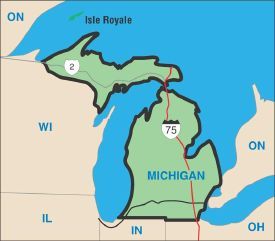 Although seaplane flights are available from Houghton, Michigan, most visitors reach Isle Royale on boats operated by the Park Service. The ride takes three hours from either Grand Portage, Minnesota, or Copper Harbor, Michigan, or approximately six hours from Houghton, Michigan.
Separated from mainland Michigan, which claims it, by 56 miles of rough water (and from the shores of Minnesota by only 20 miles), Isle Royale is pure wilderness, with no roads and almost no development. The island's isolation has helped to keep it pristine, looking much as it did more than two centuries ago when European explorers first stepped on its shores. Isle Royale shelters paper birches, balsam fir, wild orchids, violets, mallards, mergansers, loons, herons, wolves, moose, deer, and bobcats.
This is the only place in the United States outside of Alaska and the Greater Yellowstone Ecosystem where wolves roam free. Moose, the wolf's main prey, also inhabit the island. While the wolves are elusive, you frequently see moose in the meadows alongside woodland trails.
Isle Royale is a haven for both the wildlife it harbors and those who wish to observe it. On the next page, read more about the flora and fauna you'll see on this remote island.