Hopewell Furnace National Historic Site in eastern Pennsylvania is one of the finest examples of a nineteenth-century, rural American ironmaking community. Using restored buildings and costumed interpreters, the site demonstrates the operation of a cold-blast furnace to produce iron goods, including making charcoal, firing the furnace, and casting the molten iron into stove plates.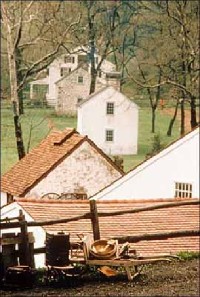 ©National Park Service
Experience first-hand what a center of
industry would have been like in
the 1800s at Hopewell Furnace.
Mark Bird built Hopewell Furnace in 1771 on the edge of French Creek. The setting provided all he needed to run the furnace: an abundance of iron ore, hardwood forests to turn into charcoal, and limestone to help separate the impurities from the iron ore. From the day Bird opened the furnace until it made its final blast in 1883, Hopewell produced pig iron, iron cookware and tools, and more than 80,000 iron stoves, its specialty.
During the Revolutionary War, Bird, an American patriot who was active in politics, became a steady supplier of cannon and shot to the Continental Army and Navy. By 1789, Hopewell was the state's second largest producer. Eventually, anthracite coal and later, coke -- which produced iron more economically -- replaced the cold-blast furnace, and Hopewell was abandoned.
In the 1930s, Civilian Conservation Corps workers began the task of restoring Hopewell Furnace. The Park Service got involved when it was named a national historic site in 1938. Using old records, photographs, artifacts, and interviews with former workers, the Park Service restored the furnace to its mid-1800s appearance. Some structures, such as the ironmaster's mansion and blacksmith shop, were in fairly good condition, but others had to be almost completely rebuilt, including the waterwheel and blast machinery.
Eleven buildings comprise the site, including a charcoal hearth, one of hundreds where workers turned 5,000 to 6,000 cords of wood a year into charcoal; the cooling shed, where smoldering charcoal was dumped before being moved to the charcoal house; the waterwheel, which drove the blast machinery; tenant houses; and a boarding house.

Hopewell Furnace National Historic Site Information
Address: 2 Mark Bird Lane (PA Route 345), Elverson, PA
Telephone: 610/582-8773
Hours of Operation:

Wednesday - Sunday, 9:00 a.m. - 5:00 p.m., as well as Memorial Day, Independence Day, Labor Day, and Columbus Day.
Parking lots, restrooms and trails are open every day except on federal holidays when the park is closed.
Admission:

$4 per person (age 16 and older)
$10 per family (3 or more related persons age 16 or older)
Free for children under age 16

Learn more about these other national historic sites:

To learn more about national national monuments, memorials, and historic sites, and other travel destinations in North America, visit:
­
ABOUT THE AUTHOR:
Eric Peterson is a Denver-based freelance writer who has contributed to numerous guidebooks about the Western United States.
Advertisement