Haleakala National Park
PO Box 369
Makawao, Maui, HI 96768
808-572-4400
The exotic Haleakala National Park, on Hawaii's Maui island, is known in legend as the god Maui's "house of the sun." The park offers opportunities for hiking, camping, stargazing, bird watching, and more -- all amid landscapes you can't find anywhere else.
Entrance fees: $20/vehicle for seven days or $10/individual for seven days
Visitor centers: Haleakala Visitor Center, Kipahulu Visitor Center, and Park Headquarters Visitor Center are open year-round.
Other services: Three cabins in the crater and two campgrounds
Accommodations: Hosmer Grove Campground and Kipahulu Campground are available year-round and operate on a first-come, first-served basis. Backcountry camping is also available all year. Reservations for three wilderness cabins are available through a mail-in monthly lottery.
Visiting Haleakala National Park
Haleakala sleeps on the Hawaiian island of Maui. This huge, dormant volcano is a wild moonscape that extends for 33 miles in one direction and 24 miles in the other.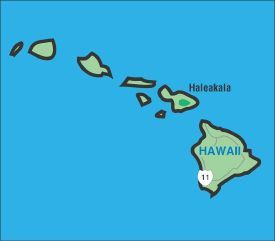 At the top of this great mountain is a 19-square-mile circular crater. Its floor, which is 2,720 feet below the summit, is a starkly beautiful and forbidding landscape of cinder cones and sculptures of lava colored with startling shades of red and yellow. Haleakala is a volcano that has grown cold, but its enormous crater is filled with unearthly shapes and profiles that are vivid reminders of its fiery past.
Light from the sun comes early to the rim of the vast crater, and it remains here long after darkness has fallen on the lower slopes of the mountain.
Haleakala means "house of the sun," and according to legend, the mischievous demigod Maui tamed the sun in the great mountain's summit basin.
The legend tells that long ago there were only a few hours of light each day because the sun was so lazy that it hurried home to rest. The demigod's mother was unable to dry her clothes during the few hours of sunshine, so Maui climbed to the mountain's summit, where he caught the sun by trapping its first rays as they crept over the crater's rim at dawn. He released the sun only after it promised to move more slowly across the sky.
Haleakala National Park is rich in natural beauty. Keep reading to learn about the sights you can enjoy at the park, including its unique flora and fauna.