Great Smoky Mountains
National Park
107 Park Headquarters Road
Gatlinburg, TN 37738
865-436-1200
Straddling the border between North Carolina and Tennessee, Great Smoky Mountains National Park features one of the finest deciduous forests on the planet. In addition, the Smokies are among the world's oldest mountains and are the highest range east of the Black Hills. This is the most visited national park in the United States, drawing about 10 million people per year. Many travelers plan trips for the fall, when the leaves on the mountain trees are alive with color.
Entrance fees: Admission is free.
Visitor centers: Cades Cove Visitor Center, Oconaluftee Visitor Center, and Sugarlands Visitor Center are open year-round.
Other services: LeConte Lodge, 10 campgrounds, and five horse camps
Accommodations:
Cades Cove Campground. Open year-round. Reservations are recommended. 800-365-CAMP.

Smokemont Campground. Open year-round. Reservations are recommended. 800-365-CAMP.

Backcountry camping. Open year-round.

Nine other campgrounds are available at various times from mid-March through November.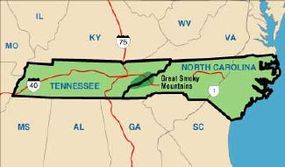 Visiting Great Smoky Mountains National Park
The great forest looks like a remnant of an ancient time when the world was covered with trees -- a time of constant showers, fog, and endless mist. The forest floor is thick with spongy green moss and colorful wood sorrel, and everywhere there are waterfalls cascading into nooks of rivers and streams. During the summer, a riot of sound seeks your ears: the chatter of red squirrels and the calls of wrens and other birds.
Great mountains rise, ridge upon rounded ridge, beyond the horizon. Made of ancient rock uplifted from deep below the earth's surface, these behemoths are considerably older than the rough, craggy mountains of the western states. The Great Smoky Mountains are the quintessential mountains of the eastern United States.
Great Smoky Mountains National Park is not only an historic site, it's also one of the best cliff diving spots in the U.S. Click here to check out the cliff diving article, video and images at Discovery's Fearless Planet.
Visitors to Great Smoky Mountains National Park enjoy breathing the Appalachian mountain air and seeing remnants of southern Appalachian mountain culture. To learn about sightseeing at America's most popular national park, go to the next page.