Great Sand Dunes National Park
11500 Highway 150
Mosca, CO 81146-9798
719-378-6300
In the shadow of the Sangre de Cristo ("Blood of Christ") mountains in southern Colorado, Great Sand Dunes National Park is home to the tallest dunes in North America. Travelers from Albuquerque, Colorado Springs, and Denver can reach the park in under four hours by car. The best way to explore the sand dunes is is by foot, although a primitive road to Medano Pass provides a scenic tour for all-terrain vehicles.
Entrance fees: $3/individual for seven days; individuals 16 years old and younger are free.
Visitor center: The visitor center is open daily, except January 1 and December 25.
Accommodations: Pinyon Flats campground. Open year-round. First-come, first-served.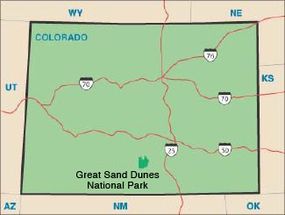 Visiting Great Sand Dunes National Park
Great Sand Dunes National Park encompasses more than 30 square miles of dunes, plus alpine lakes and tundra, desert valley, the Sangre de Cristo mountains, ancient spruce and pine forests, grasslands, and wetlands. Naturally, a host of animals, trees, and other vegetation have found a home on this land, which supports several rare biological communities. Within the park's confines are some of the oldest archeological sites in America, indicating that humans inhabited this land as long as 9,000 years ago.
The rich biodiversity, cultural history, and scenic splendor of Great Sand Dunes National Park draw travelers to this recently established park. On the next page, you can find out what to see and do at Great Sand Dunes.