Grand Teton National Park
PO Drawer 170
Moose, WY 83012-0170
307-739-3300
Grand Teton National Park in Wyoming is located approximately 275 miles northeast of Salt Lake City, Utah, and is named for the highest peak in the park's Tetons range. The summit of Grand Teton is 13,770 feet above sea level, and the mountain shoots a mile and a half straight up into the Wyoming sky without intervening foothills. The steepness of the mountain seems overwhelming to those who view it.
Visitors will find plenty to do; outdoor activities such as wildlife viewing, hiking, biking, and swimming are popular at Grand Teton. Furthermore, it's easy to take advantage of all Grand Teton National Park has to offer. An airport in Jackson Hole makes this park readily accessible.
Entrance fees: $20/vehicle for seven days; $15/individual on motorcycle for seven days; $10/individual on foot or bicycle for seven days. This fee is valid for both Grand Teton and Yellowstone national parks.
Visitor centers: Moose Visitor Center is open daily, except December 25. Colter Bay Visitor Center is open from early May to early December. Jenny Lake Visitor Center is open from early June to late September. Flagg Ranch Information Station is open from early June to early September.
Other services: Four lodges, two groups of cabins, two guest ranches, and six campgrounds
Accommodations:
Six campgrounds are available at various times from early May to mid-October. They mostly operate on a first-come, first-served basis, but reservations can sometimes be available. 800-443-2311.

Dornan's Spur Ranch Cabins. Open year-round. 307-733-2522.

Seven other lodges or ranches offer lodging variously from early May to mid-October.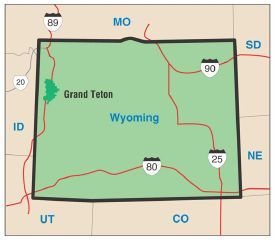 Visiting Grand Teton National Park
Grand Teton National Park encompasses the 6,300-foot-high valley called Jackson Hole, with Yellowstone to the north and the Tetons to the west. An early 19th century French trapper supposedly named the Tetons for female breasts, which he somehow imagined they resembled.
The name does not really fit, but for English-speaking Americans it has taken on a certain descriptive quality that seems to go with the mountains today. The Tetons are the mountains of dreams, a rise of granite towers so impossible and impenetrable that they appear to guard a hidden land that only can be imagined but never truly attained.
Popular in winter as well as during the warm-weather months, Grand Teton offers dozens of outdoor activities for travelers. On the next page, see our sightseeing tips.