Grand Canyon National Park
PO Box 129
Grand Canyon, AZ 86023
928-638-7888
Grand Canyon National Park has long been a source of fascination and inspiration for travelers. Located 250 miles north of Phoenix, it attracts about five million visitors annually. The park offers a wide array of activities, ranging from rock climbing and fishing to aerial tours and hiking. There is something for everyone at this natural wonder.
Entrance fees: $20/vehicle for 7 days, or $10/individual for 7 days. Kids 15 and under are free.
Visitor centers: Canyon View Information Plaza and Desert View Information Center, both on the South Rim, are open year-round. North Rim Visitor Center is open from mid-May to mid-September.
Other services: Seven lodges and four campgrounds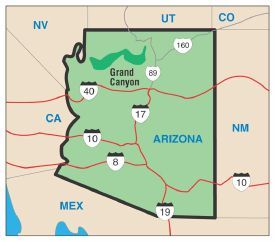 Accommodations:
Mather Campground. Open year-round. Reservations recommended. 800-365-CAMP.

North Rim Campground. Open mid-May to mid-September. Reservations required. 800-365-CAMP.

Desert View Campground. Open mid-May to mid-September, First-come, first-served.

Other lodging. Year-round; not all facilities open year-round. Reservations recommended. 888-297-2757.
For modern travelers, there are actually two Grand Canyons to be visited -- the South Rim and the North Rim. Although these two areas are less than a dozen miles apart, they are distinctly different. The North Rim, a thousand feet higher than the South Rim and more remote from major interstates and towns, is less crowded.
The South Rim, with an elevation of 7,000 feet and direct access from Interstate 40 and Flagstaff, can be congested, especially during tourist season. Roughly nine out of ten park visitors go to the South Rim, partly because the views there are thought to be better than those at the North Rim.
The true magnificence of the Grand Canyon takes all visitors by surprise. You approach the canyon from the south, across a gently rising plateau, or from the north across higher and wilder country. Nothing in the topography on either side gives you a hint of what is to soon unfold.
Suddenly you are there, standing on the rim of one of the most sublime and profound spectacles on this planet. The chasm is so vast and so deep that on first sight it looks as though the Earth has opened up to allow us to glimpse the secrets that lie at its greatest depths.
There are a variety of ways to enjoy the Grand Canyon, from descending to its bottom on the back of a mule to running the Colorado River on a raft. Go to the next page for some recreation tips.