Graceland Mansion and the King: Facts and Figures
Elvis' meteoric rise to fame was like no other. Toward the end of 1955, he signed his first big recording contract with RCA Records. In 1956, everything changed for the future king. Here are his 1956 highlights:
Record contract has a $40,000 payout with $5,000 up-front as a signing bonus

"Heartbreak Hotel" is released, selling 300,000 copies in the first week

The single sells a million copies total, making it Elvis' first gold certified record

Makes two full-length records, both of which go gold

Appears on national TV 11 times, including his pivotal first performance on "The Ed Sullivan Show"

Signs a seven picture movie deal with Paramount Pictures and stars in his first film, "Love Me Tender"
Graceland was the fulfillment of a promise Elvis made to his parents when he was a child. He would often tell them that one day he would be rich and buy them the finest house in town. At the time, that house was Graceland. Here are a few more interesting facts about the Presley home:
Purchase was made with a $10,000 down payment, the trade of the Audubon Drive house at $55,000 and $37,500 in financing, for a total of $102,500

Front gates were installed on April 22, 1957 by John Dillars of Memphis Doors, Inc.

It was already sold to the YMCA for $35,000, so Elvis upped his offer to an impossible-to-refuse $102,500

It's 12 miles south of downtown Memphis

His parents had a vegetable garden and chicken coop on the property

Highway 51 South was changed to Elvis Presley Blvd. in June 1971

Brick smokehouse on property served as Elvis' pistol shooting range

Elvis' first home on Audubon Drive was sold on ebay.com in 2006 for $905,000

Billionaire Robert Sillerman purchased 85 percent of Elvis Presley Enterprises, including Graceland, for $114 million in 2007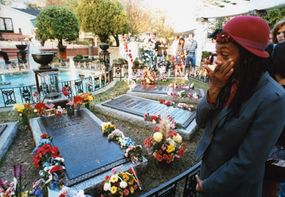 Elvis Presley died in his home on Aug. 16, 1977. After a late night dental appointment on Aug. 15, Elvis, his cousin Billy Smith and wife Jo, and Elvis' girlfriend Ginger Alden returned to Graceland around midnight. Billy and Jo went home, only to be called back at 4 a.m. to play racquetball with Elvis. After a few games, Elvis played and sang at the piano for his guests for about 20 minutes. Among the numbers he sang in what would be his final performance were "Unchained Melody" and "Blue Eyes Crying in the Rain."
He then told Billy that he was tired and was going to try and get some sleep. At about 8:30 a.m. Elvis told Ginger that he was restless and was going to read in the bathroom. At roughly 2 p.m., Ginger checked on Elvis and found him passed out face down on the floor. She immediately called on the intercom for Memphis Mafia member Joe Esposito. Joe arrived on the scene and attempted to revive Elvis after calling the operator for an ambulance. Twenty minutes later, the ambulance arrived and took Elvis to nearby Baptist Medical Center. Shortly thereafter, Elvis was pronounced dead.
Word spread through the family and the Memphis Mafia that their beloved King was gone. At 4 p.m. that day, Vernon Presley somberly announced to a group of reporters gathered on the steps of Graceland, "My son is dead." Elvis Presley was 42 years old. The official cause of death was listed as cardiac arrest. An estimated 80,000 fans passed through the gates of Graceland the following day to view The King's body. More than 15 million people have walked the shag carpets of Graceland since it first opened for tours in 1982.
Please see the links below for more information on Elvis and the recording industry.
Related HowStuffWorks Articles
Elvis Presley Pictures

Elvis Presley Albums
More Great Links
Sources
"Elvis and Graceland." epgold.com, 2008. http://www.epgold.com/elvisandgraceland.htm

"Suspicious minds fear worst for Graceland." Times Online, August 16, 2007. http://entertainment.timesonline.co.uk/tol/arts_and_entertainment/music/article2267548.ece

"Elvis Quick Facts." Fifties Web, 2008.http://www.fiftiesweb.com/elvis-bio.htm

"Elvis' First Home Sold on eBay for $905K." Associated Press, May 16, 2006. http://origin.foxnews.com/story/0,2933,195674,00.html

Quinn, Brian. "Elvis' American Record Sales a Request for Action." http://www.biwa.ne.jp/~presley/elnews-ElvisRecordSales.htm

"Top 20 Billboard Singles." elvis.com, 2008. http://www.elvis.com/elvisology/billboard/elvis_singles.asp

"Some Fascinating Facts." elvis.net, 2008. http://www.elvis.net/facts/factsframe.html

"The Estate of Elvis Presley & The Elvis Presley Trust." elvis.com, 2008. http://www.elvis.com/elvisology/history/elvis_estate.asp

"Inside Graceland." Larry King Live, 2007.

"The Legacy of Elvis Presley." usinfo.state.gov. July 18, 2006. http://usinfo.state.gov/usinfo/Archive/2006/Jul/18-354533.html

"The Man Who Owns Elvis." CBS News, February, 2007. http://www.cbsnews.com/stories/2007/02/18/sunday/main2491098.shtml

Harris, John. "Talking about Graceland." guardian.co.uk, March 27, 2006. http://www.guardian.co.uk/commentisfree/2006/mar/27/talkingaboutgraceland

"Elvis Presley's Graceland." elvis.com, 2008. July 7, 2008. http://www.elvis.com.au/presley/biography/elvis_presley_graceland.shtml