Graceland Tour: The Jungle Room
The kitchen and Elvis' parents' bedroom are the other remaining first floor rooms available on the public tour. The kitchen style is homey and warm, unchanged from the final set of renovations in the mid-1970s. The same fridge, freezer and stained glass lighting fixtures still live there -- the cast-iron skillet used to cook The King's bacon still sits atop the stove. It was an active and social kitchen, and the cooks certainly earned their salaries whipping up meals at all hours of the day and night for Elvis and his entourage.
There's something else you'll notice in the kitchen -- video monitors and what appears to be a "bat phone." Elvis was pretty tight with security, for obvious reasons, and he liked to keep tabs on the comings and goings of Graceland visitors. Beside the breakfast bar is a pair of video monitors that kept Elvis abreast of Graceland's activity via closed-circuit cameras stationed throughout the property. The red telephone beside the monitors was Elvis' private line that he used to communicate with his security staff.
Gladys and Vernon's bedroom sits behind the living room and is a bit more understated in its décor than the rest of the house. It's simply decorated with a bed and matching wardrobe chests and another Italian chandelier. It's not until you reach the "jungle room" that things get really out of hand. The infamous jungle room was originally a screened in back patio that sat behind the kitchen. In the 1960s, Elvis made the patio part of the main house, complete with a working waterfall on the far wall. The waterfall was a great idea, but was a thorn in Elvis' side because it leaked and flooded.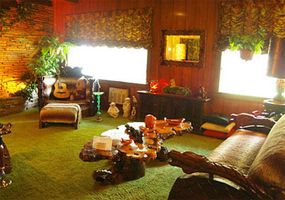 The jungle room was loaded with exotic plants, animal prints and floor-to-ceiling shag carpet in what can only be described as an African motif. Elvis bought the furniture on a whim in 1974, supposedly to rile his father -- Vernon had said it was the ugliest furniture he'd ever laid eyes on. The result of the carpeted ceiling was a dampened sound that made recording music a possibility. In fact, Elvis recorded the album "From Elvis Presley Boulevard, Memphis, Tennessee" and half of "Moody Blue" right there amid the fauna and leaking water.
Elvis may have inadvertently invented the concept of the "man room" -- he didn't go with the jungle motif until he and Priscilla divorced. The jungle room also boasts one of the first portable telephones, from 1966. Yeah, it looks more like a suitcase than a phone, but Elvis loved having things that no one else had. There are even hand-written instructions from The King himself taped to the front.
­­