Glacier National Park
PO Box 128
West Glacier, MT 59936
406-888-7800
Without a doubt, Glacier National Park is one of the most spectacular parks in North America. Some have gone so far as to call Glacier National Park "Little Switzerland" because of its tall spires, deep valleys, and plunging canyons. Located between Kalispell and Great Falls, Montana, the park is the southern section of the Waterton-Glacier International Peace Park, which the United States shares with Canada. There are more than 50 glaciers, which can be explored by horseback, boat, bike, or foot.
Entrance fees: $20/vehicle for seven days or $5/individual for seven days
Visitor centers: Apgar Visitor Center is open year-round (weekends only from November to March). St. Mary Visitor Center is open from May through mid-October. Logan Pass Visitor Center is open from early June through mid- October.
Other services: Eight park lodges and motels and 13 campgrounds
Accommodations:
Thirteen campgrounds in the park are variously open from late spring to early fall. Some reservations are available (800-365-CAMP), but most operate on a first-come, first-served basis.

Eight lodges and hotels are variously open from early May to late September.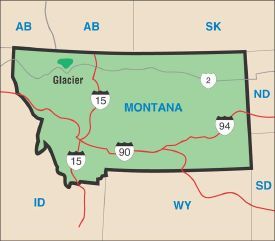 Visiting Glacier National Park
Glacier National Park is adorned with 200 lakes and drained by 936 miles of rivers and streams. The park is made even more magnificent by two especially graceful ranges of the northern Rockies and dozens of glaciers that seem to flow down every high mountain valley.
The park contains a network of well-maintained hiking trails, making its meadows, lakes, and streams easily accessible. For Glacier National Park sightseeing tips, go to the next page.