Unlike most historic homes, the Frederick Law Olmsted National Historic Site is more a monument to Olmsted's work than his life. Olmsted is the father of American landscape architecture, and his legacy of green spaces, wilderness areas, and urban parks -- the most famous of which is New York's Central Park -- helps define the way America looks today.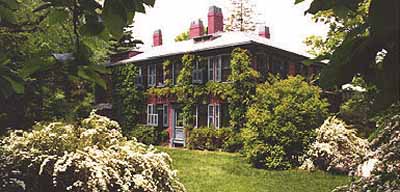 © National Park Service
Frederick Olmsted's 36-room house and office complex in Brookline, MA
became Frederick Olmsted National Historic Site in 1979.

In 1883, Olmsted bought a small farm near downtown Boston. In the old farmhouse, he established his home and office. In 1979, the 36-room house and office complex, sitting on two acres landscaped by Olmsted, became a national historic site.
It is fitting that visitors enter the house through what had been the conservatory or plant room. It opens into the living room, which serves as the site's information center. An excellent film describing the life and work of Olmsted and his role in the park movement is shown in the dining room. Displayed in the north parlor -- which was originally Olmsted's office, then that of his stepson, and finally his son -- are plans, photographs, and models of some 5,000 landscape projects of the firm. It is a rare look at the body of work produced by a single professional office from 1860 to 1980.
A tour through the grounds, with its varied shrubs, meandering paths, and broad meadows, provides a firsthand glimpse of Olmsted's landscaping principles at work.
Frederick Law Olmsted National Historic Site Information
Address: 99 Warren Street
Brookline, MA 02445
Telephone: 617/566-1689
Hours of Operation: Closed until Fall 2009
Admission: Free
Learn more about these other national historic sites:
Find out more about travel destinations in North America:
ABOUT THE AUTHOR:
Eric Peterson is a Denver-based freelance writer who has contributed to numerous guidebooks about the Western United States.

­