High above the Mississippi, earthen mounds in the shape of birds, bears, and simple cones mark the once-flourishing Woodland Culture of the Upper Mississippi River Valley. From 500 B.C. to A.D. 1300, Eastern Woodland Indians, who were hunters and gatherers, lived in this area. They collected wild rice, nuts, fruits, berries, and freshwater mussels, and their prey included deer, bear, and bison. Like other Indians of their age, these prehistoric people also built distinctive burial mounds. While many of the mounds have been lost, northeastern Iowa's Effigy Mounds National Monument, proclaimed in 1949, preserves 206 known prehistoric mounds.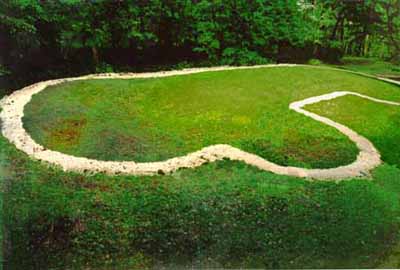 ©National Park Service
At Effigy Mounds National Monument, visit more than 200 prehistoric burial mounds.

A self-guiding walk leads visitors past major features within the monument, including Little Bear Mound and scenic overlooks of the Mississippi River. Great Bear Mound, the most monumental of the animal forms here, is 70 feet across the shoulders, 137 feet long, and 31/2 feet high. The Marching Bear Group consists of ten bears, along with several bird mounds, high atop 300-foot-high bluffs.
The mounds do contain burials, as well as artifacts, including copper beads, chipped blades, and stone and shell ornaments, indicating that the Eastern Woodland culture was part of an extensive trade network.

The first written mention of the Effigy Mounds area appeared in Jonathan Carver's Travels Through the Interior Parts of North America in the Years 1766, 1767, 1768. For nearly a century after that, the mounds on the bluff tops and in the valley received little attention.
In 1881, however, Theodore H. Lewis and Alfred J. Hill began an ambitious survey of the mound groups of the Mississippi River Valley. Their surveys produced excellent maps of the mounds, several of which, such as the Marching Bear Group, are now part of the monument.

Effigy Mounds National Monument Information
Address: 151 Highway 76, Harpers Ferry, IA
Phone: 563/873-3491
Hours of Operation:
Weekdays 8:00 a.m. to 4:30 p.m.
Weekends 8:30 a.m. to 4:30 p.m.
June to Labor Day, 8:00 a.m. to 6:00 p.m.
Closed Thanksgiving, Christmas and New Year's Day
Admission:
$5 per vehicle or $3 per person
15 and younger, free
Learn about these other national monuments:
Find out more about travel destinations in North America:
ABOUT THE AUTHOR
Eric Peterson is a Denver-based freelance writer who has contributed to numerous guidebooks about the Western United States.

Advertisement