Palm Island Construction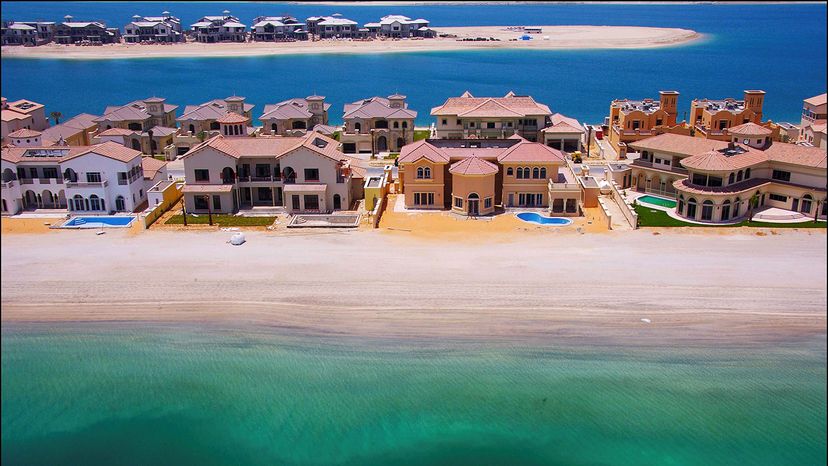 Construction on the Palm Islands began in 2001. Divers surveyed the seabed and workers constructed a crescent-shaped breakwater from blasted mountain rock. The Crescent of Palm Jumeirah stands a little more than 13 feet (4 meters) above low tide sea level and sits in 34 feet (10 meters) of water at its deepest point.
Sand, covered by an erosion-preventing, water-permeable geo-textile, makes up the breakwater's lowest layer. One-ton (0.9 metric ton) rocks cover the sand, and two layers of large rocks weighing up to 6 tons (5.4 metric tons) each cap the structure. A "toe" placed by a floating crane sits inside the Crescent. The breakwater also has two 328-foot (100-meter) openings on each side to eliminate stagnation in the 16 narrow, deep channels. These gaps allow water to completely circulate every 13 days.
The Palm Islands themselves are constructed from sand dredged from the sea floor and brought over from the Persian Gulf. Palm Jumeirah is made from more than 3.2 billion cubic feet of ocean sand vibro-compacted into place [source: Civil Engineering & Construction Review]. Vibro-compaction increases the density of loose sand by saturating it with jets of water and vibrating it with probes [source: TerraSystems]. (Desert sand tends to liquify when water is added so it could not be used for this project.) To get the complex shape just right, designers and contractors used Differential Global Positioning Systems (DGPS) to plot the palms and ensure the sand placement within 0.39 of an inch.
Construction workers lived on the "fronds" and in anchored cruise ships while building the island. Designers at Nakheel have maintained that villas barely 10 feet (3 meters) above sea level would be safe from the rising seas of global warming. Some sources have claimed that the islands are sinking into the sea, but Nakheel denies it [source: Jacobs]. Some environmentalists also have claimed that construction of the islands harmed the area's marine environment. They criticized the development, saying that rocks and sand buried oyster beds and coral reefs, and altered currents eroded the mainland shore.
Currently, Palm Jumeirah is packed with villas, hotels and attractions. (Hotels are built on the "trunk" of the palm while homes are on the "fronds," according to BusinessInsider.) Buyers are a mixture of long-term residents, vacationers, and speculators hoping to cash in on real estate. Around 80,000 people live in Palm Jumeirah (though it is projected to hold 120,000), and it's a popular tourist site.
To facilitate tourism and make life easier for residents, a six-lane sub-sea tunnel connects Palm Jumeirah to the mainland. Workers used a dam to drain the area and excavate the seabed before rereleasing the water. A monorail that runs the length of the palm opened in 2009 and is the only public transportation option on the island [source: Jennings].
New resorts are still opening on Palm Jumeirah and developers are financing and building luxury apartments. An observation deck on the 52nd floor of The Palm Tower, which allows you to see the entire island from up high, opened in 2021. And sprawling villas are fetching outrageously expensive prices [source: Hosseini]. Despite the failures of other islands on the Dubai coastline, Palm Jumeirah has found success with people who desire luxury and leisure.
Originally Published: Nov 8, 2007
Related Articles
More Great Links
Sources
Batra, Amrita. "Palm Jumeirah, United Arab Emirates." Civil Engineering & Construction Review. (July 27, 2021) https://cecr.in/CurrentIssue/pages/61275

BBC News. "Dubai's palm island hit by blaze." May 6, 2007. http://news.bbc.co.uk/2/hi/middle_east/6630805.stm

BBC News. "UAE unveils mega-waterfront plan." Jan. 29, 2005. http://news.bbc.co.uk/2/hi/middle_east/4219017.stm

Hosseini, Bijan. " Palm Jumeirah, Dubai's iconic human-made islands, turns 20." CNN. June 21, 201 (July 28, 2021) https://www.cnn.com/travel/article/dubai-palm-jumeirah-20-years-spc-intl/index.html

Jacobs, Harrison. " I stayed at a hotel on Dubai's massive artificial island shaped like a palm tree and it's more surreal than any photos can show." BusinessInsider. Dec. 3, 2018 (July 28, 2021) https://www.businessinsider.com/dubai-palm-jumeirah-artificial-island-2018-12

Jennings, Ken. "The Real Story Behind Dubai's Palm Islands." Condé Nast Traveler. https://www.cntraveler.com/stories/2015-11-23/the-real-story-behind-dubai-palm-islands

Nagraj, Aarti. "No immediate plans to restart Palm Jebel Ali in Dubai – Nakheel CEO." Gulf Business. https://gulfbusiness.com/no-immediate-plans-restart-palm-jebel-ali-dubai-nakheel-ceo/

Nakheel. (July 28, 2021) https://www.nakheel.com/homepage.html

Reina, Peter. "Palm-Shaped Islands Symbolize Dubai's New Wealth." ENR. November 6, 2006. https://www.enr.com/articles/29797-palm-shaped-islands-symbolize-dubai-s-new-wealth

TerraSystems Incorporated. "Vibrocompaction. Compacting Loose Sands." (July 27, 2021) http://www.terrasystems.com/services/vibrocompaction.html

USA Today. "Dubai's palm island being readied for first residents." Aug. 7, 2006. http://www.usatoday.com/travel/destinations/2006-08-07-dubai-palm_x.htm

Weiner, Eric. "Building 'The World' off the Coast of Dubai." NPR. June 13, 2005. http://www.npr.org/templates/story/story.php?storyId=4700950