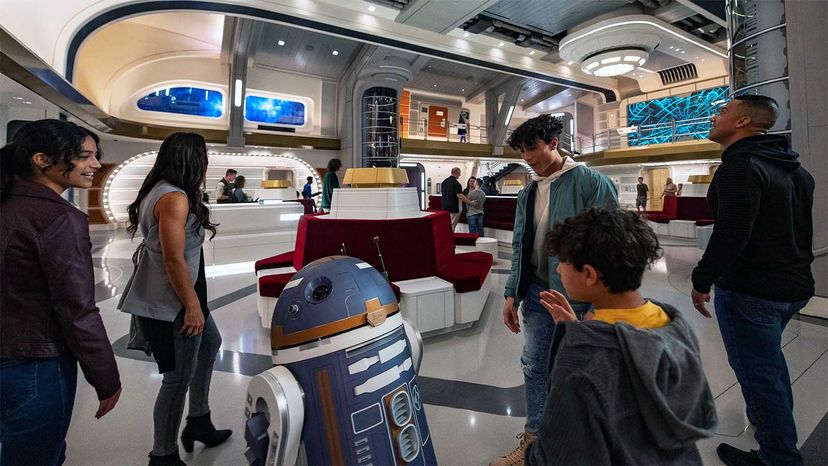 Astromech droid SK-62O greets guests in the Atrium of the Halcyon Starcruiser in Star Wars: Galactic Starcruiser at Walt Disney World Resort in Lake Buena Vista, Florida.
Matt Stroshane
In March, Walt Disney World Resorts in Orlando, Florida, opened a new immersive vacation experience that has fans feeling the full force of their wildest galactic dreams.
Star Wars: Galactic Starcruiser is a two-night adventure aboard the Halcyon Starcruiser. During the adventure, you get to eat, sleep, play and adventure like a true Jedi or Stormtrooper. And that's part of the fun — you get to decide how your story aboard the ship unfolds.
It's Like LARP on a Cruise
Holly Frey is a managing executive producer of iHeart Podcasting and a host of the "Star Wars" podcast "Full of Sith." She's also a full-on "Star Wars" superfan. She's already been to the Halcyon Starcruiser twice with her husband, Brian.
Don't think of it as just a hotel. "It's sort of like a LARP (Live Action Role Play) and a cruise together — like you're living in the galaxy far, far away," Frey says. Of course, you do get a comfortable cabin to sleep in, with window views of space. "It's also an adventure, with actors who are engaging with you and keeping you involved in the story, and entertainment."
That means you'll get to mix, mingle and even plot a daring mission with characters including Chewie, legendary Wookiee warrior. Other characters are new to the "Star Wars" saga, like Ouannii, a Rodian musician.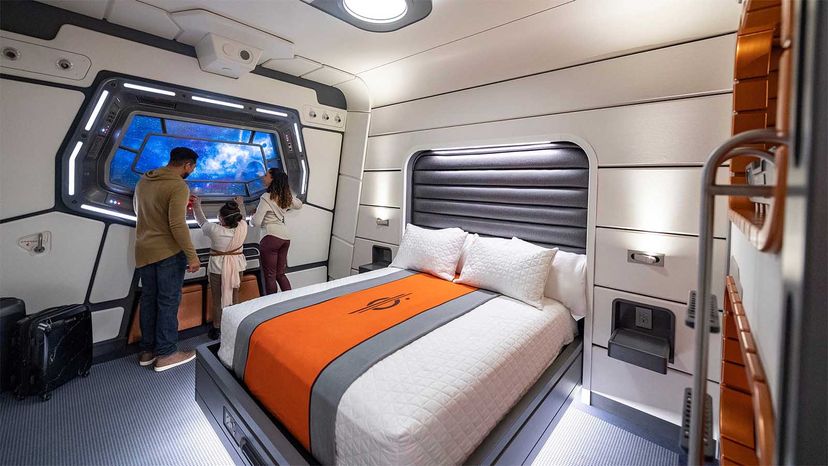 Passengers enjoy their Halcyon Starcruiser cabin in Star Wars: Galactic Starcruiser at Walt Disney World Resort.
Matt Stroshane
You Choose Your Path
You arrive at the Halycon via "hyperspace ride" on a launch pod. Once there, you're greeted by characters — new and familiar — and given an itinerary for your stay. Your itinerary comes via the Star Wars: Datapad, an essential app for navigating your adventure. You'll have to download it as part of the Disney app before you arrive.
Over the two-day experience, you can play a hand of holo-sabacc, take lightsaber training, attend the captain's reception, watch a droid race and listen to live music during dinner.
There are also "story moments" inserted into the itinerary where you get to participate in how your story plays out. Will you help the Resistance steal a ship from the first order? Or will you join a smuggling ring?
"The way the experience is designed, you can end up on several different paths, each of which may have a different goal," Frey explains. "For example, you may end up helping with some members of the Halycon crew who are sympathetic to the Resistance. Or you could find yourself in league with a scoundrel who has a legally nebulous plan in play."
Like any good galactic drama, there are also subplots in play, Frey says. You could become a double agent or help multiple people you meet to achieve their goals.
"The main characters you interact with are new, so there's a nice degree of it being familiar, but also enough of a blank slate that you have to get to know them, rather than having a strong idea of who they are when you start the experience. I found myself socializing with characters and even other guests late into the night," she says.
This was easy for Frey because she says the characters do a fantastic job making the experience feel real. "The characters will often greet you by name when they encounter you around the ship. Whether they're being fed that information via earpiece, or they are actually that good a remembering the names of several hundred people at a time, I have no idea," she says. "But, it is astonishing, and it makes it feel like these are real people, not actors playing characters."
The good news is that if you don't want to help a Resistance stowaway, you don't have to. You can kick back and sip on smoking neon blue cocktails all night if you choose. "You could literally sit in the lounge all day having cocktails and eating snacks," Frey says, but, she points out, you'll get a lot more out of the vacation if you engage. "If you're very invested in seeing the narrative play out and being a part of any of the story tracks, you will benefit from doing the things on your schedule related to that plotline."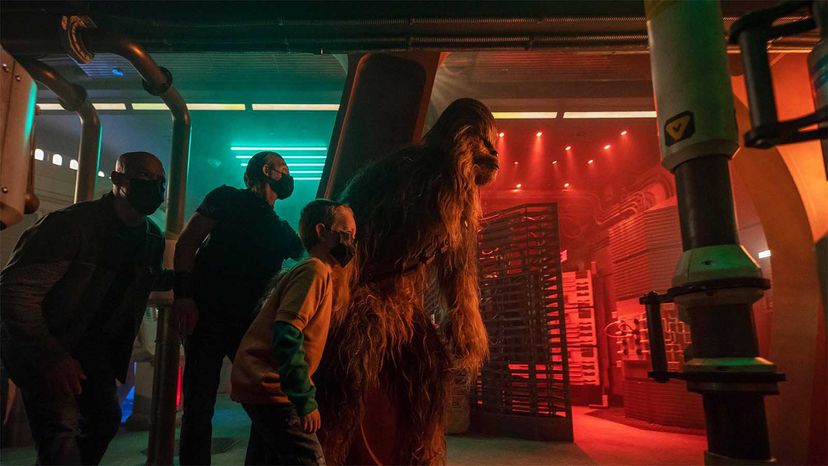 Chewbacca leads passengers through the Halcyon Starcruiser engineering room.
Matt Stroshane
Minor Glitches
The experience is still new, so Frey notes there are still a few glitches to work out. Maybe the Wi-Fi doesn't work as well on Batuu because the app that guests use to complete missions have some issues. That means you might not be able to complete your missions, which was the case for Frey on her first visit, which she says was frustrating. However, on her second trip, it was not a problem.
Storylines could still use some tweaking as well. For instance, Frey says she thought she was on a secretive mission and building rapport with a character in the app, only to go to their meeting spot to find several other guests who got the same exact instructions. "This can cause some choke points in terms of movement through the ship, which can break the spell a little bit," she says.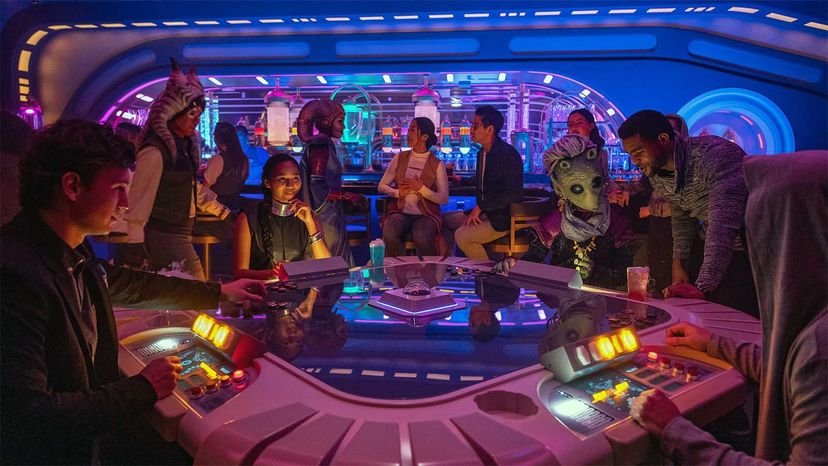 Passengers enjoy the Sublight Lounge onboard the Halcyon Starcruiser.
Matt Stroshane
It's Fun for Everyone
Despite the glitches, everyone can find a way to have a great time. Frey is a big "Star Wars" fan, but she did meet many people who aren't fanatics — they were there supporting their kids, spouse or friends — and were still having a blast.
"I will say, having seen chatter about it on social media, I feel like people who go wanting to play in this amazing sandbox have a better time than people who sort of have the expectation that they need to be impressed," she says. "It definitely is more fun if you have a playful attitude about it rather than a checklist of what you want to have happen."
One of the best parts of spending time on the Halcyon is hanging out with your favorite characters. If you're a fan of Rey, the hero of the Resistance, she's there. So is infamous Kylo Ren, Supreme Leader of the First Order. And of course Chewbacca. But you'll also get to meet new characters like captain Riyola Keevan, cruise director Lenka Mok, droids SK-62O and D3-O9, stowaway Sammie and Lt. Harman Croy.
For Frey the highlight was hanging with Ouannii, the Rodian Lumosynth musician accompanying the galactic superstar, Gaya.
"Rodians are my favorite species in 'Star Wars' — I'm a big Greedo fan — and so getting to interact with a Rodian who speaks Huttese to me and felt like a friend was like all of my childhood dreams coming true," she says. "She is also just an incredible achievement in character design, performance and interactivity. She is a completely alien creature with facial expression and movement, and she feels, for lack of a better phrase, completely real."
Will your dreams of being part of the Resistance and taking down Kylo Ren come true on the Halycon? You'll have to find out, but be prepared to make a bit of an investment in your vacation. Packages for the multi-night experience range from $4,809 to $5,999. It seems hard to put a price on it for an experience unlike any other at a Walt Disney Resort or in our galaxy!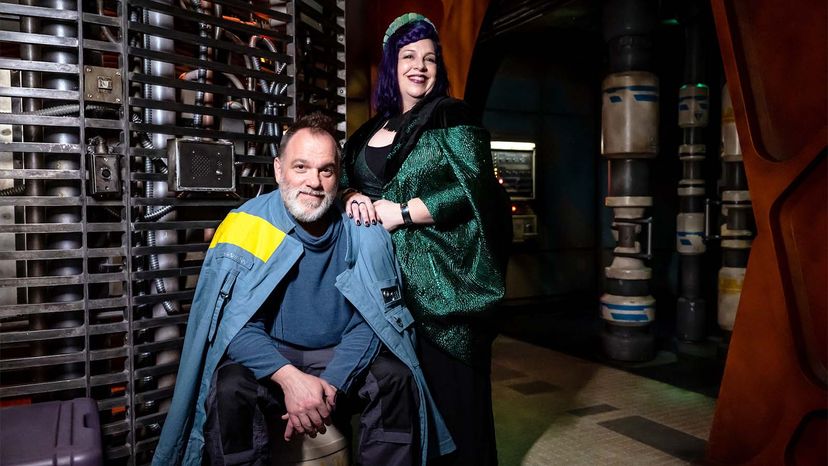 "Star Wars" superfans Brian and Holly Frey have visited the Galactic Starcruiser twice since it opened.
Courtesy Holly Frey