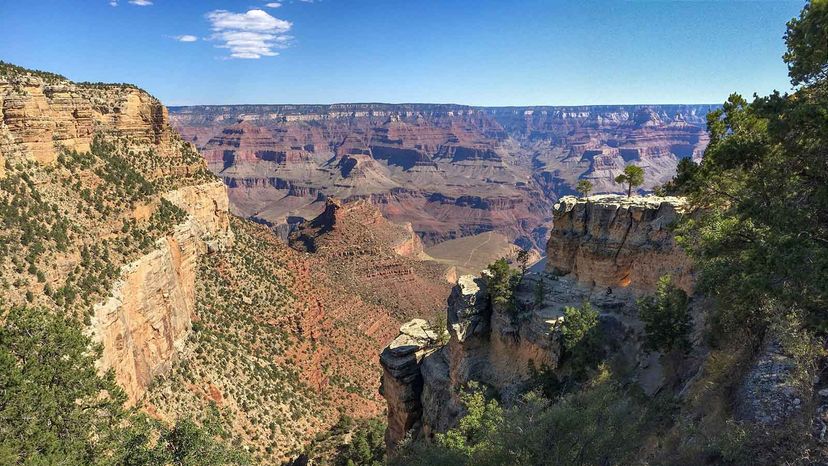 Grand Canyon National Park is actually designated as both a national park and national monument. This view from Bright Angel Trailhead is from the South Rim of the park.
NPS/Michael Quinn
America's national parks are places of wonder and natural beauty, playing host to activities as diverse as the people who visit them. In 2019, there were 327.5 million recreational visits across the system.
There are actually 20 types of "national parks" that fall under the protection of the National Park Service (NPS). These include battlefields, historical parks, national lakeshores, parkways and other recreational areas. Perhaps the two most popular among tourists are national parks and national monuments.
National Parks
While most of us are familiar with at least some of the 62 sites that include "national park" as part of their name like Grand Canyon National Park, Yellowstone National Park or Yosemite National Park, the National Park System actually contains a total of 423 national park sites. This includes parks in the continental U.S. and the territories of Puerto Rico, the Virgin Islands, American Samoa and Guam.
Generally, a national park holds a variety of resources, encompassing large areas of land or water. The National Park Service has dual responsibility of preserving the ecological and historical integrity of the places it manages, while also making them accessible for public use and enjoyment within restricted guidelines. These tend to be places tourists visit for recreation like hiking, boating and camping.
National Monuments
As we just mentioned, technically a national monument is a type of national park site. National monuments are usually smaller than national parks. Their purpose is to preserve at least one nationally significant resource, such as Aztec Ruins National Monument, which preserves a 900-year-old ancestral Pueblo Great House in New Mexico. National monuments tend to be places to visit for education and historic remembrance.
So, What's the Difference?
An area earns the designation of national park through legislation in Congress. A national monument, however, is created by a U.S. president using the authority granted in the Antiquities Act of 1906. A site, such as the Grand Canyon, can be designated both a national monument (1908) and a national park (1919).
All national parks are managed by the National Park Service. Monuments on the other hand can be managed by the NPS as well as the U.S. Bureau of Land Management, the U.S. Forest Service, the U.S. Fish and Wildlife Service and several other agencies.