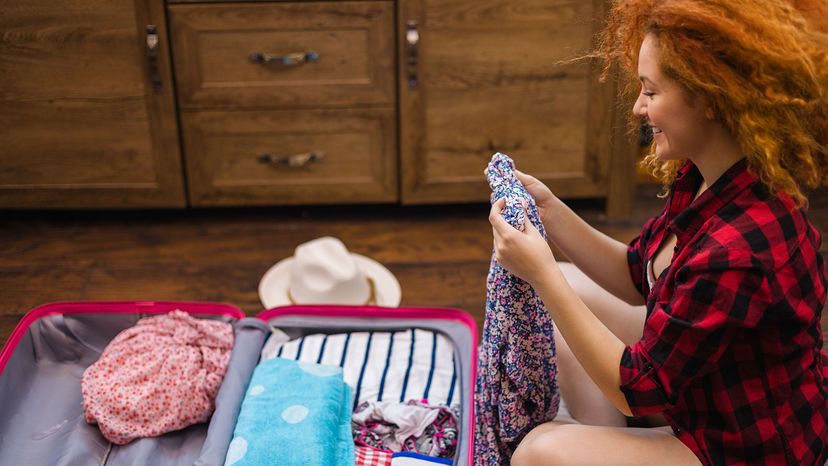 Before putting something in your suitcase, ask the Marie Kondo question: Does this item bring joy?
kajakiki/Getty Images
It's the night before the big trip and you're staring down a pile of shirts, shoes, electronics and toiletries that will never in a million years fit into your pint-sized carry-on. If you'd rather wear the same socks all week than give the airline the satisfaction of charging you for a checked bag, it's time to up your packing game.
We consulted some travel pros to assemble a list of seven next-level packing tips. With some strategic folding and a "less-is-more" attitude, you'll be able to squeeze a week's worth of clothing and must-have accessories into a slim rolling bag and never step foot in baggage claim again.
1. Check Your Airline's Dimensions
"Airline rules about carry-on luggage vary greatly, so always, always double-check before you fly," says Brooke Schoenman, the minimalist travel guru behind Her Packing List. "This is especially important when you travel outside of the U.S. as more airlines are likely to include weight restrictions to their carry-on luggage."
Each airline sets its own dimensions for maximum carry-on luggage size. If you try to board with anything bigger or heavier, they might force you to check it. So the first step is to select a carry-on suitcase that meets the airline's requirements. For a nearly universal carry-on bag, buy something that stands no higher than 21.5 inches (54 centimeters).
2. Make a Packing List, Then Whittle It Down
Instead of standing in front of an open closet paralyzed with indecision, make a list of everything you need for your trip. Sarah Schlichter, senior editor at expert travel site SmarterTravel, recommends her site's Ultimate Packing List as a starting point.
Once you have your core list of outfits, shoes, jackets and toiletries, lay everything out on the bed and get your game face on. It's time to start culling.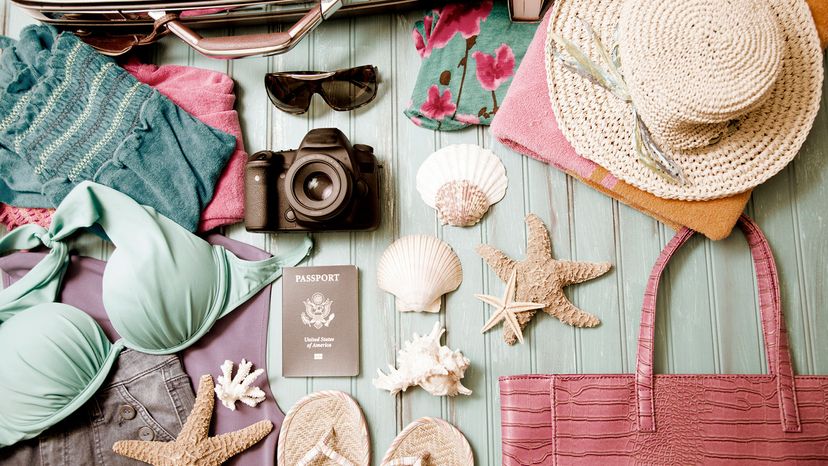 Lay out all the items you want to take on your bed. Then see what you can live without.
fstop123/Getty Images
"Think of it as a Marie Kondo thing," says Schlichter. "Does this item 'spark joy'? Does it really need to be on my list?"
Shoes, for example, are bulky and heavy, so Schlichter says to only bring two pairs and wear the heaviest ones on the plane. Don't squeeze in an extra pair of running shoes unless you're training for a marathon and simply can't go a few days without putting in a quick 10 miles.
3. Pack No More Than a Week's Worth of Clothes
Seven days of clothing is the maximum that you can reasonably fit into a carry-on bag. So if you're going on a three-week journey across Asia and Australia, plan on doing laundry twice.
Some hotels provide laundry service and most tourist-friendly locales have "fluff-and-fold" laundromats, so you don't have to waste half a day feeding coins into a dryer. To save money, you can also wash items in a sink and hang them to dry.
Also, a week's worth of clothes doesn't mean you have to pack seven entirely different outfits. Look at the clothes you laid on your bed and see how many different combinations of outfits you can come up with in advance.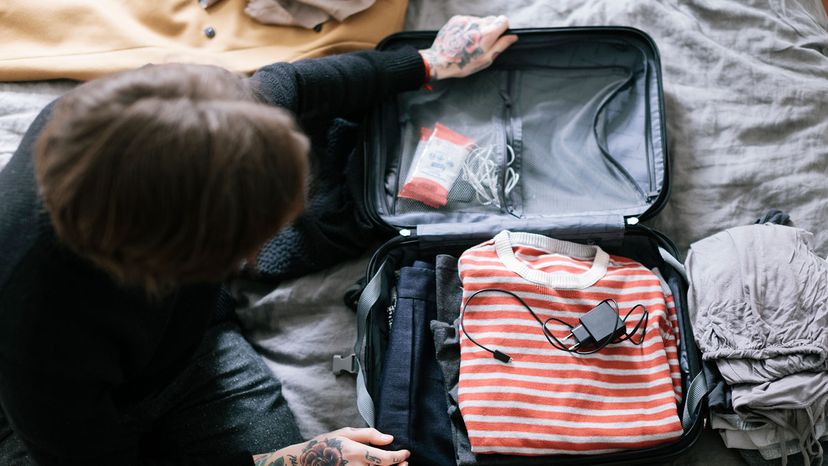 You don't to pack seven outfits for a week-long trip. You can mix and match fewer items.
Willie B. Thomas/Getty Images
"Items like jeans and skirts can be worn repeatedly without needing a wash, so perhaps your weekly packing list would be seven tops and three bottoms that you can rotate," says Schoenman.
4. Mix and Match Multiple Layers
Research the local weather and make sure that you'll be comfortable walking around in all temperatures. The travel experts recommend outfits built from multiple thin layers that you can easily put on and take off. Schlichter likes to pack interchangeable layers that all look good with each other in various combinations.
If you're traveling somewhere cold, don't stuff your bag with multiple bulky sweaters or jackets. Just bring one thick sweater and a lightweight weatherproof jacket and swap out thin long-sleeve T-shirts that you'll wear underneath.
"I usually wear the same heavy layers over and over again, but change the base layer every day," says Schlichter.
And if you're not sure what items are appropriate for your visit, check websites like Hithaonthego that give detailed lists of clothes, shoes and miscellaneous items to pack for all types of trips. If you go to the same destination regularly (annual Christmas trip with family to Denver, for instance), create a packing list and save it so you can refer to it every time.
5. Roll, Fold or Burrito
In the world of high-efficiency packing, rolling is having a real moment. Rolling allows you to cram a lot more clothing in your case. It's easy to do: Simply lay the article of clothing on a flat surface and fold it in half. Roll the item beginning on the short side and put in your suitcase with the opening facing down. If the item seems like it might open up, secure it with a hair tie or rubber band.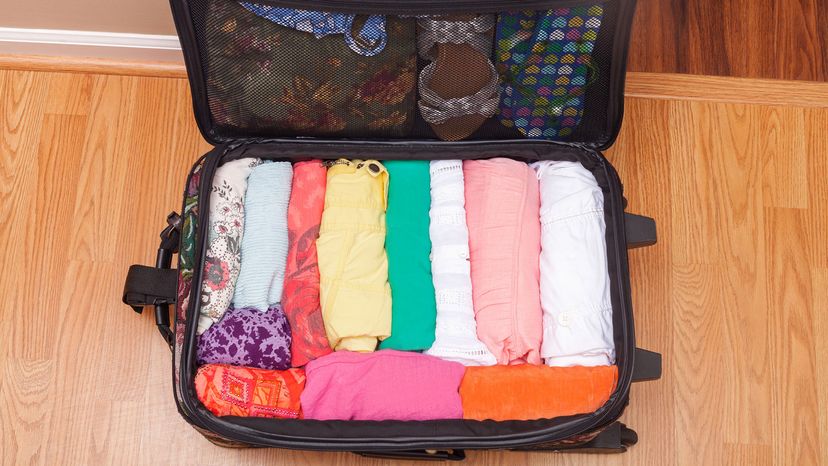 Rolling your clothes allows you to squeeze more in your case.
Diane Macdonald/Getty Images
The only drawback with this method is it might leave some clothes wrinkled. Schlichter goes with a combo of traditional folding and rolling to maximize space without messing up dressier items.
Another option is the burrito method in which you build an entire outfit — top, bottom, undies, socks — and roll the whole thing into an all-in-one package. While this can get bulky for adults, it's a smart solution when packing for children. Instead of digging around for shirts and shorts, the kid can just grab a clothes burrito and go.
Once your clothes are all folded and rolled, line them up from heaviest and largest to lightest and smallest. Put the heaviest ones at the bottom of your case, then the medium weight and then the lightest on top. Also put any item you'll need as soon as you land at the top. Stuff underwear and socks in the nooks or outside pouches of your case.
6. Try Packing Cubes
If you've never heard of packing cubes, check out this explainer by Schoenman on Her Packing List. Packing cubes are basically stackable lightweight organizers for your suitcase. They come in different sizes and colors so you can keep your socks separate from your ties, or divide a bag between multiple travelers. Some packing cubes can also be zipped up tight and compressed to save even more space.
Schoenman is a true believer. She rolls her clothes and then places them in packing cubes.
"If I have a pair of jeans or items that don't fit into my packing cubes, I still roll them before putting them in my luggage because I feel they fit better in the crevices, pack in more compressed, and are less likely to move around in transit," she says.
But even though you might be able to squeeze two weeks of clothes into a single carry-on, don't forget about the weight says Schlichter of SmarterTravel. "You can end up with a very heavy carry-on if you use a lot of compression bags."
7. Think Twice About Toiletries
Women in particular fall for the toiletry trap, which is the belief that you simply must travel with your entire beauty regimen in tow. This can be a problem, not only from a weight perspective but also because you usually can't carry containers of liquid or gel larger than 3.4 ounces (100 milliliters) on board a plane.
Don't forget that hotels provide most of the essentials for free, as would most homestay places. If you're picky about your products, you could always buy travel-size bottles when you get to your destination. Schoenman also suggests looking into solid toiletries, which include everything from shampoo bars to perfume sticks to toothpaste tablets (yup).