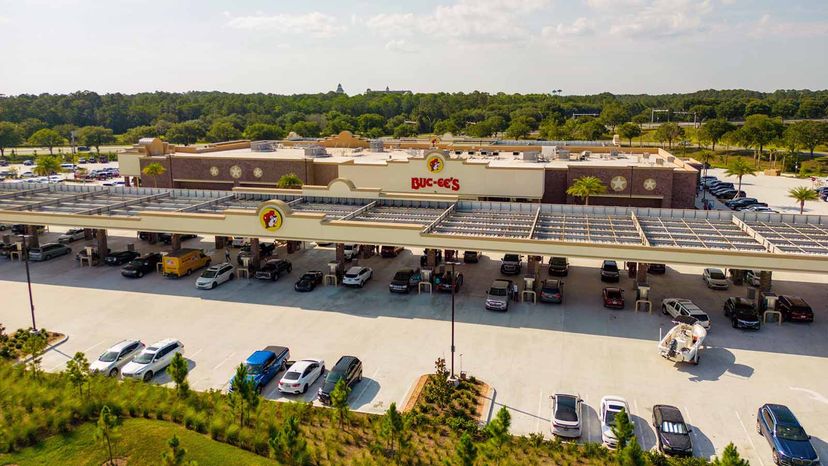 Buc-ee's in St. Augustine, Florida is about 55,000 square feet (5,109 square meters) and has 104 fueling stations.
Felix Mizioznikov/Shutterstock
Long expanses of open road are a traveler's dream. That is until their gas tank gets low or they need a bathroom break. Then most stop at a convenience store. But pitstops at Buc-ee's, are like nothing else you'll encounter on the road.
These giant roadside convenience stores and gas stations are officially the world's largest (more on that in a minute) and required stops if you drive by one.
Even if you're not on a road trip, a trek to Buc-ee's is a worth it. When the Buc-ee's opened in Adairsville, Georgia, northwest of Atlanta in August 2021, people piled in their cars just to visit. A year later, Atlantans are still making the journey to "experience" this enormous store filled with endless snacks, made-to-order meals, a gift shop and clean bathrooms. Yup, the bathrooms are part of the draw.
History of Buc-ee's
Buc-ee's is the brainchild of Arch Aplin III. He and his business partner Don Wasek opened the first location in 1982 in Clute, Texas. It was about 3,000 square feet (278 square meters). Three years later, they opened the second Buc-ee's — this one was 6,000 square feet (557 square meters). And things just kept growing from there (in size and numbers).
Today there are 35 stores in Texas alone, and in 2019, Buc-ee's expanded beyond the Lone Star State's border with stores now in Alabama, Florida, Georgia, Kentucky, South Carolina, Tennessee and plans to continue expanding.
As we mentioned, Buc-ee's is not just any convenience store. They're loved by the locals and people passing through. But why? For one, they have all the fuel you need: beaver nuggets (caramel popcorn), Texas-style brisket sandwiches, tons of fresh jerky, kolaches, drinks and of course gas pumps galore. And you can browse the collection of t-shirts, hats, blankets, mugs — you name it — all emblazoned with Buc-ee the Beaver.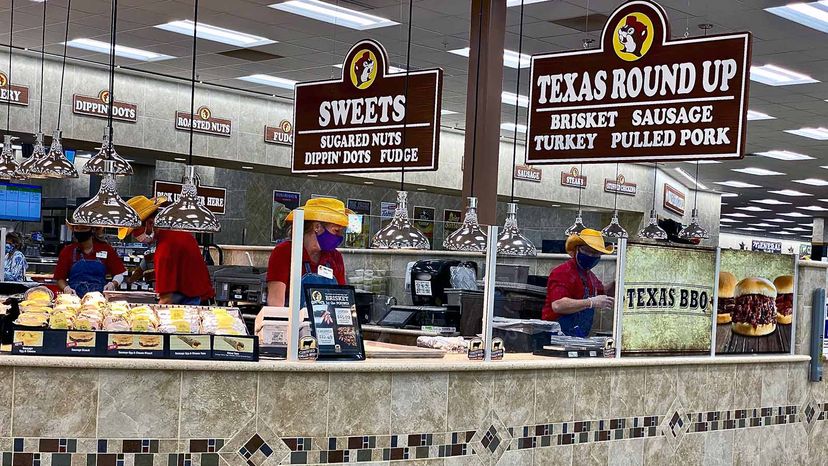 Buc-ee's sells everything from fresh barbecue and Texas brisket to sausage, sweets, fudge and ice cream.
EWY Media/Shutterstock
Buc-ee's Bathrooms
And about those bathrooms. They've been named the cleanest in America. Texas Monthly reported that the 56,000-square-foot (5,202-square-meter) Bastrop, Texas, location has 71 toilets and urinals and a team whose only job is to clean them 24 hours a day! Now that's dedication.
The bathroom award isn't the only one Buc-ee's can claim. It also slid its way into the Guinness World Records — not once but twice. The first was for the largest convenience store for its New Braunfels, Texas, location (it's 66,335 square feet/6,162 square meters). To put that in perspective, the square footage of the average convenience store is about 3,225 (299 square meters). And the second is for the longest car wash with a conveyor (255 feet/77 meters) at its Katy, Texas, location.
So why the name Buc-ee's? And what's the deal with the beaver mascot that's the symbol of every location? According to Texas Monthly, Aplin's nickname was Beaver when he was a kid, after the cartoon beaver that appeared in the Ipana toothpaste commercials that ran before he was born. The nickname stuck. He also attended a high school that had a Buccaneers mascot, thus inspiring the name and spelling. When he set out to open his first convenience store, he commissioned the logo of "Buc-ee the Beaver," and the rest is history.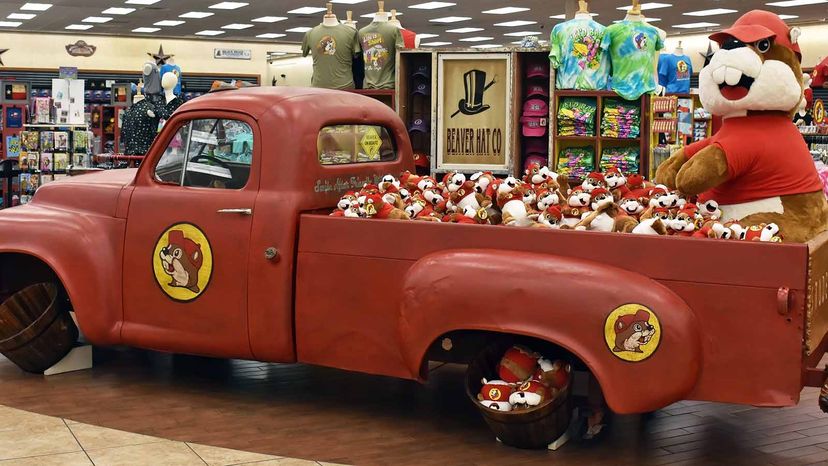 The New Braunfels, Texas, Buc-ee's is currently the largest. However, Buc-ee's says it may open a massive 74,000-square-foot (6,874-square-meter) flagship store near Sevierville, Tennessee, which would become the biggest.
Ray Shrewsberry/Shutterstock