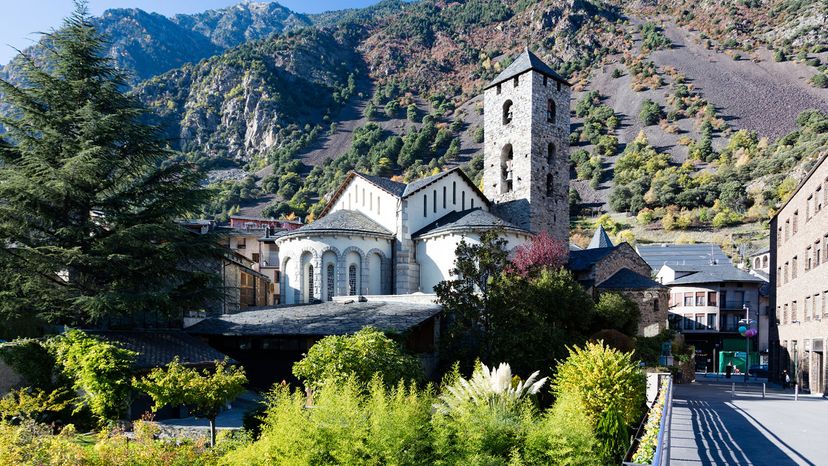 The 12th-century Romanesque Church of Sant Esteve is one of the many picturesque churches you can see in Andorra.
Pawel Toczynski/Getty Images
Nestled away in the towering Pyrenees Mountains that stretch between France and Spain, there's a small European country that many travelers overlook or miss entirely when touring the top sights and natural wonders of the Old World. Andorra (population 77,000) is a small, landlocked country with a distinct culture, history and language defined by its geographic isolation and scenic mountainous surroundings.
Since so many travelers skip Andorra, you might have never heard stories of adventures from friends who've visited. To show you why Andorra is so interesting and worthy of a trip someday, here are six fascinating facts about Andorra.
1. Andorra is Three Times Smaller than London
If you've been to London, one of the world's most popular cities to visit, you've likely explored a greater area than the entire country of Andorra – which is just one-third the size of London at just 180 square miles (468 square kilometers).
Despite its small size, it's one of those places best enjoyed slowly. "Andorra is about the mountains, the nature, the lakes, the views, the small villages made of picturesque stone houses, the hidden churches perched on the side of a cliff," says luxury travel writer Mar Pages, who has visited Andorra numerous times over the last 40 years. "[Andorra] is not about ticking boxes in a list of sights, it's about taking it slow. If you like hiking or skiing, you will have plenty to fill up days of exploration." Urban explorers will feel more at home in London; Andorra is perfect for everyone else.
Skiers enjoy the Grandvalira Ski Resort in Andorra.
Gonzalo Azumendi/Getty Images
2. It's the World's Only Co-Principality
Andorra's official name is the Principality of Andorra, but it is actually a co-principality, the only one in the world. Rather than being ruled by a single person, there are two chiefs of state in Andorra, each coming from one of Andorra's neighbors, an arrangement dating all the way back to the 13th century. The current president of France and the bishop of La Seu d'Urgell, Spain serve as the two princes of Andorra. However, the country is a parliamentary democracy, underneath these two heads of state.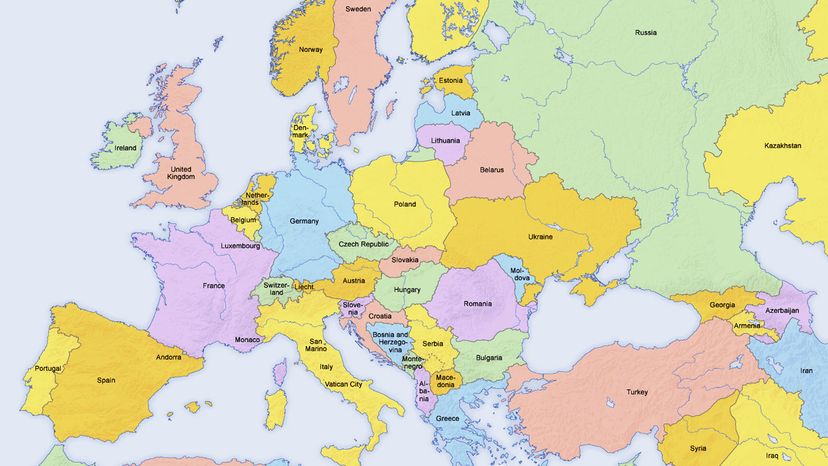 Andorra is nestled between Spain and France in the Pyrenees Mountains.
Pixy/CC BY-NC-ND 4.0
3. The Official Language Is Catalan
If you're looking for an opportunity to immerse yourself in foreign languages, Andorra is a good destination to visit. The official language is Catalan, a regional language that most travelers experience elsewhere in Barcelona (which is itself part of the Catalonia region of Spain). "Catalan is spoken by over 7 million people in Catalonia and Andorra; that is more people than speak Danish, Norwegian or Finnish," says Pages, who is Catalan herself. "It is also a Latin language that is very close to French and Spanish so if you speak either, you could get by easily."
And if you do speak French or Spanish, you'll probably be fine too. "Almost all Andorrans will speak French and Spanish fluently as both languages are taught in school," Pages says. English-only speakers might struggle, as not many Andorrans speak English fluently.
5. One UNESCO Site Takes Up 9 Percent of the Country
When it comes to UNESCO World Heritage Sites, what Andorra lacks in quantity it makes up for in size and wonder. Madriu-Perafita-Claror Valley is the only UNESCO site in Andorra but encompasses 10,495 acres (4,247 hectares) – roughly 9 percent of the country!
"Madriu-Perafita-Claror Valley is a largely wild and untouched park with several hiking routes, from the moderate path that starts by the park's sign to multiday hikes that go further deep into the forest," says Pages. "You can enjoy raw forests, streams, alpine lakes, valleys and vistas stretching out to other parts of Andorra. There aren't sights per se to see, just pure and untouched nature." It sounds perfect for those looking for a new corner of the world's great outdoors to explore.
5. There Is No Airport
The nearest airports to Andorra are located in Barcelona, Spain, and Montpellier, France. Most people then book a bus or rent a car to make the journey to Andorra. It's roughly two-and-a-half hours by car from Barcelona and four hours from Montpellier.
"I recommend renting a car and driving so you can explore Andorra's many Romanesque Churches, which are similar to the UNESCO listed churches of La Vall de Boi in nearby Catalonia, the few heritage museums including Thyssen's Andorra branch, the forests, lakes and parks and the authentic mountain food," advises Pages. "Most rental cars at Barcelona Airport will allow you to take your car over to Andorra but you should mention your intention to make sure your insurance coverage gets extended."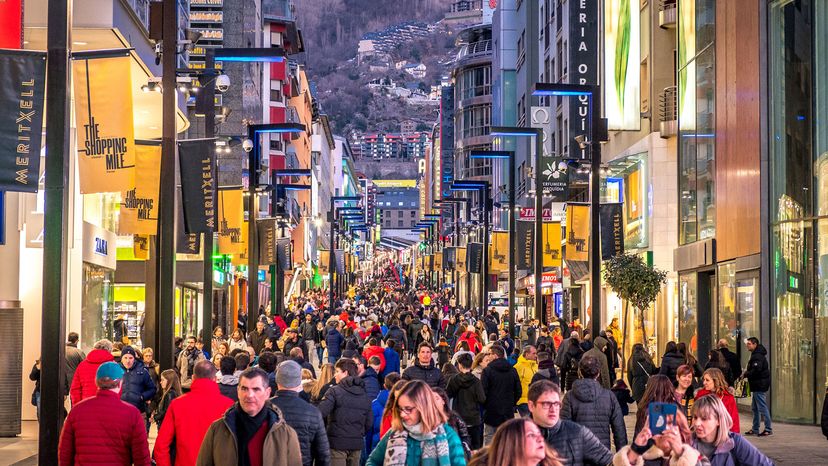 Shoppers crowd a street in Andorra la Vella. Andorra's low sales tax has made it a shopping destination for Europeans, particularly those looking for cigarettes, liquor and perfume.
Алексей Облов/Getty Images
6. Andorra Uses the Euro But Isn't Part of the Eurozone
Initially, Andorra used the franc as its primary currency, but with the development of the eurozone in 1999, the country switched to using euro. To add extra complication though, Andorra is not technically part of the European Union or the eurozone (the economic region formed of EU countries that use the euro) – it just takes advantage of its proximity to eurozone countries and keeps things simple for everyone by using the euro. The country also has low tax rates, especially when compared with the rest of Europe, which may entice people to move there. Or at least do some shopping.