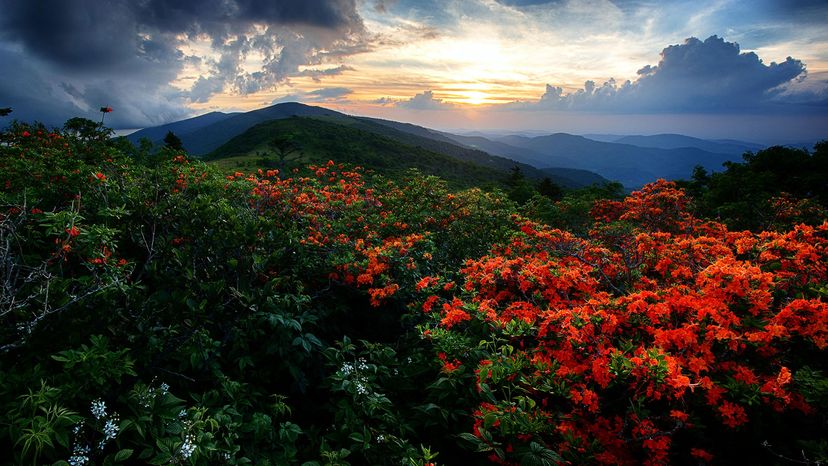 Flame azaleas bloom along the Appalachian Trail in the Roan Highlands at the Tennessee/North Carolina border.
Brett Maurer/Getty Images
Many people have heard about the storied Appalachian Trail, one of the first long-distance hiking paths in the U.S.
But relatively few realize that the AT, as it's often called, is part of a select group of 11 National Scenic Trails that wind more than 18,000 miles (28,968 kilometers) across the American landscape.
These trails pass through 31 states and Washington, D.C., showcasing the nation's incredibly diverse terrain: deserts and swamps in the south, massive mountain ranges on the East and West Coasts, and the Great Lakes in the Upper Midwest.
President Lyndon B. Johnson can be credited with spurring the creation of a network of long-distance hiking trails, when in 1965 he charged Congress with preserving the nation's most beautiful outdoor spaces, in part by creating scenic trails across the country.
Congress listened, and in 1968 passed the National Trails System Act, which provided for the creation of four classes of trails:
National Recreation Trails, which provide outdoor experiences in urban areas

National Historic Trails, which trace travel routes of national historic significance

National Scenic Trails, which showcase the significant physical characteristics of various regions

National Side Trails, which provide access to the three previous types of trails
Because the Appalachian and Pacific Crest Trails were already in existence in 1968, the legislation also designated them America's first two National Scenic Trails.
While "National Scenic Trail" may not be a familiar term to many, that doesn't mean these paths aren't getting any use. "The Appalachian Trail Conservancy estimates that more than 3 million visitors use the Appalachian Trail annually," says Tyler Ray, senior director for programs and advocacy at the American Hiking Society. And the Ice Age Trail Alliance website boasts the Ice Age Trail — another of the 11 — attracts 2.3 million users every year. In addition, a 2021 study by the Outdoor Industry Association shows the annual number of hikers has grown from 32.5 million in 2010 to 57.8 million in 2020.
With so many people out trekking, many are inevitably using our National Scenic Trails, Ray says. And I'm one of them. After discovering this select group in 2012, I set a goal of hiking all 11; I'm currently on No. 7. Intrigued? Here's a brief description of each trail, in the order they were designated.
1. Appalachian Trail
Length: 2,194 miles (3,531 kilometers)
States: Georgia, North Carolina, Tennessee, Virginia, West Virginia, Maryland, Pennsylvania, New Jersey, New York, Connecticut, Massachusetts, Vermont, New Hampshire, Maine
Year Designated National Scenic Trail: 1968
The AT is considered the granddaddy of America's long-distance hiking trails, and the most popular of the 11. Completed in 1937, it unrolls along the Appalachian Mountains from Springer Mountain, Georgia, to Mount Katahdin, Maine. More than 21,000 people have completed the entire trail to date, either via thru-hiking — hiking it all within 12 months — or section-hiking, which means hiking it over time and in any order. The trail's highest elevation is Clingmans Dome in Great Smoky Mountains National Park (6,643 feet or 2,025 meters).
2. Pacific Crest Trail
Length: 2,650 miles (4,265 kilometers)
States: California, Oregon, Washington
Year Designated National Scenic Trail: 1968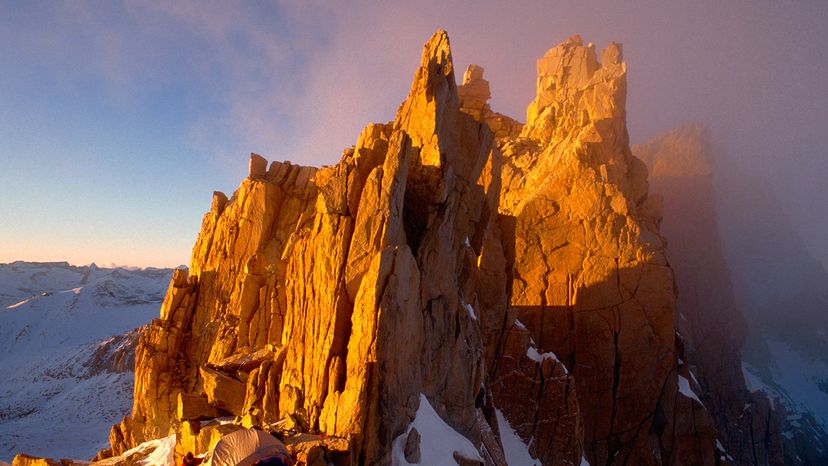 Mountaineer's Camp at Mount Whitney, along the Pacific Crest Trail
Galen Rowell/Getty Images
The Pacific Crest Trail tumbles along the Sierra Nevada and Cascade Mountain Ranges. Completed in 1993, it was little known until the 2012 publication of The New York Times bestseller "Wild," by Cheryl Strayed. To wit: In 2013, 1,879 hiking permits were issued to potential hikers. By 2019, that number had skyrocketed to nearly 8,000. Many hikers make a side trip to summit Mount Whitney while on the PCT; it's the highest point in the continental U.S., at 14,505 feet (4,421 meters).
3. Continental Divide Trail
Length: 3,100 miles (4,989 kilometers)
States: New Mexico, Colorado, Wyoming, Idaho, Montana
Year Designated National Scenic Trail: 1978
This National Scenic Trail runs along the Continental Divide or Great Divide, which splits North America's principal drainage, resulting in water flowing either eastbound to the Atlantic Ocean or westbound to the Pacific. The CDT, along with its predecessors the AT and PCT, are known as the Triple Crown trails. Hike all three, and you're eligible for the Triple Crown of Hiking Award. The CDT's highest point is Grays Peak in Colorado (14,278 feet or 4,352 meters). This is considered one of the most rugged trails in the group.
4. North Country Trail
Length: 4,800 miles (7,725 kilometers)
States: North Dakota, Minnesota, Wisconsin, Michigan, Ohio, Pennsylvania, New York, Vermont
Year Designated National Scenic Trail: 1980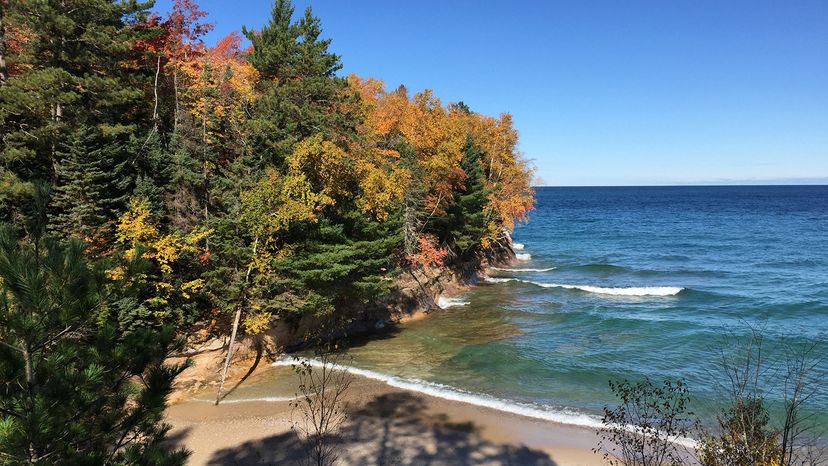 Chapel Beach, Lake Superior, Michigan, as seen from the North Country Trail.
National Parks Service
The North Country Trail is the longest National Scenic Trail by far, stretching nearly 5,000 miles (8,047 kilometers) from North Dakota to Vermont. It passes through some exceptionally scenic areas, such as the Boundary Waters Canoe Area Wilderness in Minnesota, Michigan's Pictured Rocks National Lakeshore and New York's Finger Lakes. Due to its extreme length, only a few dozen people have completed the entire trail to date.
5. Ice Age Trail
Length: 1,150 miles (1,851 kilometers)
State: Wisconsin
Year Designated National Scenic Trail: 1980
The Ice Age Trail is coiled entirely within Wisconsin — one of just three National Scenic Trails confined to a single state. The path winds around the state tracing the terminal moraine of the last North American glacial ice sheet, which disappeared some 10,000 to 14,000 years ago. Along the way, hikers are treated to glimpses of some of the world's finest glacial remains, including eskers, potholes, drumlins and erratics. The path also passes a wealth of glacial lakes and leads hikers 2 miles (3.2 kilometers) along the Lake Michigan shore.
6. Florida Trail
Length: 1,500 miles (2,414 kilometers)
State: Florida
Year Designated National Scenic Trail: 1983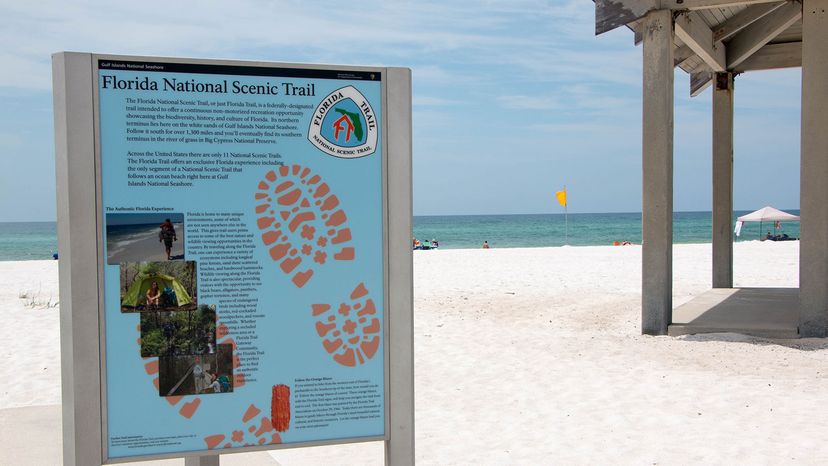 This sign at Santa Rosa Beach in North Florida lets people know it is part of the Florida Trail.
National Park Service
Like the Ice Age Trail, the Florida Trail lies entirely within one state. While the FT is essentially flat, that doesn't mean it's not challenging. Its southern terminus is Big Cypress National Preserve, and the first 30 miles (48.3 kilometers) northbound take you through Big Cypress Swamp, home to alligators, black panthers, black bears and venomous snakes. After that, you'll experience a wide variety of landscapes, including canals, hardwood forests and the snowy white sand dunes found along Gulf Islands National Seashore. Though thousands of people have visited at least some part of the trail, less than 400 people have thru-hiked it.
7. Potomac Heritage Trail
Length: 750 miles (2,414 kilometers)
States: Virgina, Maryland, Washington, D.C., Pennsylvania
Year Designated National Scenic Trail: 1983
One of the most unusual of the 11, the Potomac Heritage Trail is a multimodal, nonlinear network of trails that traces the history and beauty of the Potomac River corridor. It's also the most urban of the group, as it passes through Washington, D.C., offering access to more than 6 million people. The PHT leads past treasures such as Mount Vernon, George Washington's home; the National Museum of the Marine Corps; and Ball's Bluff, a Civil War battlefield. It also piggybacks on the C&O Canal Towpath and a portion of the Great Allegheny Passage, where you'll cross the Appalachian Trail, Mason-Dixon Line and Eastern Continental Divide. You can hike, bike and even paddle portions of the trail.
8. Natchez Trace
Length: 444 miles (715 kilometers)
States: Mississippi, Alabama, Tennessee
Year Designated National Scenic Trail: 1983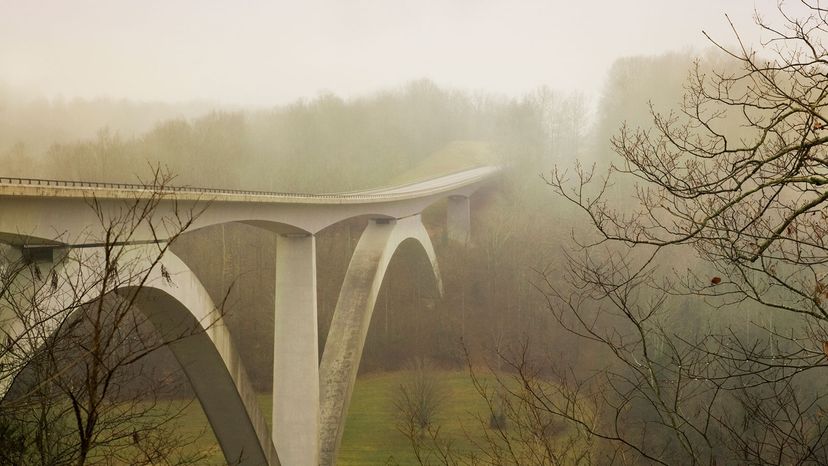 The Natchez Trace Parkway Bridge in Tennesee is near the end of the Natchez Trace Parkway.
Rhonda Stansberry/Getty Images
The other unusual trail in the group is the Natchez Trace. Comprising 65 miles (105 kilometers) of trail split among five sections, it runs along the 444-mile (715 kilometers) Natchez Trace Parkway. Both the trail and parkway follow the path of the original Natchez Trace, an important 19th-century travel route linking Natchez, Mississippi, with Nashville, Tennessee. The scenery here ranges from wetlands and swamps in the south to prairie, hardwood forest and waterfalls in the north. Perhaps the most impressive section is Potkopinu in Mississippi, where you can hike 3 miles (4.8 kilometers) of the Sunken Trace — a portion of the original trail that was so heavily used, it sunk as much as 20 feet (6.1 meters) below the surrounding terrain.
9. Pacific Northwest Trail
Length: 1,200 miles (1,931 kilometers)
States: Montana, Idaho, Washington
Year Designated National Scenic Trail: 2009
The Pacific Northwest Trail is one of the more recent additions to the group. It runs from the Continental Divide in Glacier National Park to Washington's Olympic National Park and the Pacific Ocean. Left largely unmarked for its first decade, efforts are now underway to sign it. While there are currently many road miles along the PNT, its off-road sections offer incredible views along the Rocky, Northern Cascade and Olympic Mountains. Some of its more remote sections require bushwhacking and rock scrambling.
10. Arizona Trail
Length: 800 miles (1,288 kilometers)
State: Arizona
Year Designated National Scenic Trail: 2009
The third National Scenic Trail that lies entirely within one state is the Arizona Trail, which runs vertically through the state from the Mexican border to Utah. The AZT bills itself as exceptionally tough, thanks to the fact that you have to ascend and descend thousands of feet along mountain ranges such as the Superstitions, Rincons and San Francisco Peaks. One of the most exciting passages leads you rim-to-rim through the Grand Canyon. Finding water on this path is a constant challenge, although volunteers often cache it for hikers.
11. New England Trail
Length: 215 miles (346 kilometers)
States: Connecticut, Massachusetts
Year Named National Scenic Trail: 2009
The New England Trail runs vertically through Connecticut and Massachusetts, from Long Island Sound to the Massachusetts-New Hampshire border. While designated a National Scenic Trail in 2009, the route was in existence for half a century as the interconnected Mattabesett, Metacomet and Monadnock (M-M-M) Trails. The NET is by far the shortest National Scenic Trail, at just 215 miles (346 kilometers). Yet it's still taxing, as it climbs numerous steep mountains such as Mounts Holyoke and Grace. Luckily, the views are worth the effort.