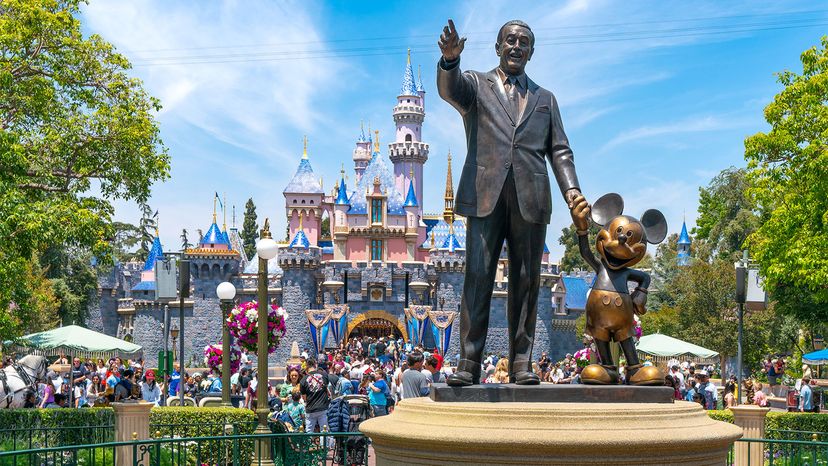 Disneyland is a world unto itself, but what dangers lurk under the shiny, happy surface?
AaronP/Bauer-Griffin/GC Images
Disneyland opened its doors during the summer of 1955 and quickly became known as "the happiest place on Earth." For some, Disneyland is hardly a happy place at all. Thousands of people have been injured at Disneyland and a couple of handfuls have lost their lives. Freak accidents do happen, but chances are that the only damage you'll suffer while at Disneyland will be to your pocketbook. Over 650 million people have visited the park since it opened. Here is our list of some the most shocking freak accidents that have happened at Disneyland in its 60-year history.
13. A Disabled Man Is Subjected to 40 Minutes of "It's a Small World"
On Nov. 27, 2009, a computer glitch on "It's a Small World" left a quadriplegic man, Jose Martinez, stranded on the ride for 40 minutes. Disney was able to immediately evacuate all of the passengers except for Martinez and his wife. Martinez sued Disney for not having proper procedures in place to evacuate people with disabilities. He also claimed that the blaring music exasperated his medical condition.
Listening to "It's a Small World" for 40 minutes would likely drive anyone mad. After leaving the ride, Disney employees pushed his wheelchair to a first aid tent where he was subjected to a personal performance of "It's a Small World" by Mickey Mouse. Martinez told reporters that "It was like insult to injury." On March 26, 2013, a jury awarded Martinez $8,000 for enduring the tortuous experience.
12. When a Tree Falls at Disneyland
A 20-foot oak tree fell without warning on May 6, 2001, and injured 27 guests and two cast members in the process. The incident occurred at Frontierland near a loading dock for one of the Rivers of America rides. When the park rescue team arrived at the scene, four minutes after the accident, five injured guests were still pinned down by the heavy oak.
It took ten ambulances to transport the 15 injured guests to nearby hospitals. Three children, ages 2, 3 and 4, were among those requiring medical attention. Investigators think that the 40-year-old tree had been compromised by strong winds in the days preceding the fall. Frontierland remained closed for the day while crews used chainsaws to chop up and remove the fallen tree. Remarkably, all those hurt during the incident suffered only minor injuries.
11. An 8-Year-Old Girl Gets Hit by a Stray Bullet at Disneyland
Disneyland is apparently surrounded by several neighborhoods where locals enjoy firing their guns into the air. These stray bullets can travel as far as a mile before gravity returns them to the ground. On Feb. 12, 1990, one of these stray bullets managed to hit an 8-year-old girl, Nayeli Diana Placentia, while she was riding the Disneyland Railroad.
Surgeons were able to remove the medium caliber bullet from Nayeli's lower back and she was able to make a full recovery. Disney offered to help pay the girl's medical bills despite the fact that the bullet began its journey from outside of the park. While this was an unfortunate freak accident, a few inches in the wrong direction and it could have been a fatal one.
10. A 6-Year-Old Girl Loses Most of a Finger at Disneyland
On Jan. 21, 2001, six-year-old Priscilla Figueroa was enjoying her day at Disneyland with her grandmother. Her trip to the park turned out to be an unforgettable experience for all the wrong reasons. Priscilla slipped off of a playground while her finger was stuck in the trigger of toy gun. Two-thirds of her left index finger was ripped from her hand as she fell to the ground.
The incident wasn't reported to the Division of Occupational Safety and Health. Apparently there is a legal loophole that only requires parks to report injuries that occur on moving rides. While Disney wasn't obligated to report the incident, other sources decided to share the information. Disney responded by saying that "everything was operating normally on the island," and that the playground would be reopened.
9. Accident on Space Mountain Injures Nine Passengers
In August 2000, Disneyland's Space Mountain roller coaster made a violent emergency stop when a wheel assembly came loose from one of the cars. The initial report suggested that the accident only caused minor injuries to nine passengers. An Anaheim fire captain claims that the park deliberately concealed the full extent of the accident and the resulting injuries. Other firefighters reportedly heard Disney security officers congratulating themselves for keeping the details off of emergency radios. A year later the truth came out.
Jonathan Woodcock, and his wife Julie, filed a lawsuit against Disneyland in 2001. Jonathan suffered 13 bulging disks, nerve damage down his spine, broken teeth and a dislocated jaw. Julie had two herniated disks and suffered permanent damage to a hip, knee and shoulder. State officials said that if the same accident occurred today there would be a full-blown investigation.
8. Disneyland's First Fatality
Disneyland was a perfectly safe amusement park from 1955, when the park opened, until 1964. In May of 1964, their flawless record came to an end when a 15-year-old boy died while riding on the Matterhorn Bobsled. Like most rides, its imperative that you keep your arms, legs and body inside the vehicle at all times.
The 15-year-old unbuckled his seatbelt just as the ride approached the top of the mountain. While the ride came roaring down the hill, he stood up, lost his balance, was thrown out of the car and landed on the track below. The accident broke his ribs, caused several internal injuries and fractured his skull. The boy never regained consciousness. He died three days later.
7. Don't Sneak into Disneyland
In June 1966, 19-year-old Thomas Guy Cleveland was killed while attempting to sneak into Disneyland. Cleveland managed to climb over the park's 16-foot fence and onto a Monorail track leading into the park. The devious plan seemed to be working until a security guard noticed him. To make matters worse, a monorail was also making its way along the track towards Cleveland at 25 mph.
The guard shouted at Cleveland to watch out for the approaching monorail. Cleveland jumped and landed on a fiberglass canopy beneath the track. Unfortunately, the canopy did not provide enough clearance. The underside of the monorail car struck Cleveland and dragged his body 40 feet down the track. By the time the monorail had made a complete stop his body had been torn to pieces.
6. Roger Rabbit Ride Seriously Injures and Eventually Kills a Young Child
On Sept. 22, 2000, a four-year-old named Brandon Zucker suffered injuries that would ultimately result in his death. Brandon fell out of a "taxicab" on Disneyland's Roger Rabbit Cartoon Spin Ride, and was folded in half when another vehicle rolled over him. Ten minutes later, when emergency personnel were finally able to free Brandon, he had gone into cardiac arrest and required resuscitation. Brandon suffered serious injuries and irreversible brain damage. He never spoke or walked again.
After a painful struggle that lasted for years, Brandon finally died on January 26, 2009. The state Division of Occupational Safety and Health determined that Disneyland employees failed to properly secure Brandon's lap bar, and ordered the park to make safety changes to the ride. Disney settled out of court with the Zucker family, but did not assume legal responsibility for the accident.
5. Death on Big Thunder Mountain
Every now and then an accident occurs at Disneyland and the park doesn't blame it on the recklessness of its visitors. This was the case on Sept. 5, 2003, when a car on the Big Thunder Mountain Railroad partially derailed. The crash killed 22-year-old Marcelo Torres and injured another 10 passengers. Park staff had noticed unusual sounds coming from the train but no maintenance was done on the broken ride.
It turns out that a mechanic didn't tighten a couple of bolts or attach a safety wire to the wheel assembly. This allowed the train to separate from the track. The state ordered Disneyland to retrain its maintenance workers. A month after the ride was reopened, two trains crashed during a test run and the state ordered Disneyland to retrain its workers again. In a confidential settlement with the Torres family, Disney was forced to admit responsibility for the incident.
4. Drowning in the Rivers of America
In June of 1973, an 18-year-old named Bogden Delaurot and his 10-year-old brother decided to make the most of their Disneyland experience by hiding in the park past closing time. Tom Sawyer Island seemed like a perfect place to avoid detection. After a few extra hours spent roaming the island they decided it was time to leave. Unfortunately, there was no way off the island and calling for help would have definitely landed them in a heap of trouble.
The two boys decided to swim across the Rivers of America despite the fact that the younger boy didn't know how to swim. Bogden decided to carry his brother on his back while he swam to shore. Sadly, Bodgen drowned halfway across the river. The 10-year-old managed to stay afloat by dogpaddling until a ride operator was able to come and rescue him. Bodgen's body was found the following morning.
3. Death on Christmas Eve[b]at Disneyland
Christmas Eve 1998 was a tragic day for Disneyland. As the large Columbia ship was arriving at a dock, an employee jumped from the ship and prematurely secured its rope around a mooring post. The cleat, which was designed to keep the ship motionless at the dock, was not strong enough to stop the moving vessel. As the tethered ship continued to move forward the metal cleat tore from the ship's hull and was sent tearing towards a crowd.
The metal cleat ripped through the employee's ankle, struck Luan Phi Dawson in the back of the head and hit Dawson's wife in the face. The couple was rushed to the hospital but Dawson died two days later when he was removed from life support. This is reportedly the first accident in Disneyland's history where the park assumed full responsibility. The incident resulted in a settlement worth over $20 million.
2. Disneyland's America Sings Attraction Kills an 18-Year-Old Employee
Disney unveiled the America Sings attraction in the summer 1974. The seemingly docile attraction featured a rotating theater and singing robot animals. On July 8, 1974, nine days after the show opened, an 18-year-old hostess was killed at the end of the 10:30 p.m. show.
Exactly what went wrong remains a mystery to this day. Somehow Deborah Stone got stuck near a moving theater wall and was crushed against a stationary wall as the show rotated back to its starting position. Audience members heard Deborah scream, but it was too late. Deborah suffered a gruesome death before operators arrived at the scene. This horrible accident was resolved with a small settlement between Disneyland and Deborah's parents. Safety lights were installed and the walls of the theater were redesigned so that they could break away in similar situations. The attraction was officially shut down in 1988.
1. The People Mover Becomes the People Killer
Disneyland's People Mover had a maximum speed of 2 miles per hour. The ride's seemingly harmless speed probably contributed to the fearlessness and carelessness that killed the following passengers.
On Aug. 21, 1967, 17-year-old Ricky Lee Yama was crushed to death while riding on the People Mover. Ricky decided that he would jump in between two of the moving cars just as the ride was entering a tunnel. Sadly, he missed, fell onto the tracks and was run over by an oncoming train. The ride had to be taken apart to remove his body. On June 7, 1980, Gerardo Gonzales decided he would duplicate Yama's fatal stunt. As the People Mover was entering the SuperSpeed Tunnel, Gonzales jumped between cars and fell onto the track. The oncoming train crushed Gonzales beneath its wheels and dragged his body a few hundred feet down the track before coming to a stop.