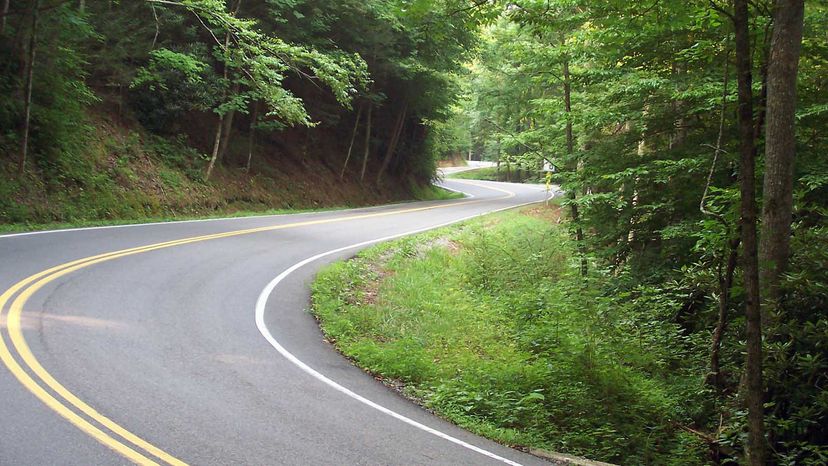 Tail of the Dragon covers 11 miles of US 129 that winds through the Great Smoky Mountains in North Carolina and Tennessee.
Wikimedia/(CC BY-SA 4.0)
There are some beautiful roads in these United States. So if you're itching to get out — and let's be honest, who isn't — why not hit the pavement and just take a thrilling drive? You can plan your next road-trip vacation around it, or just make a day of it.
Whichever you choose, we've highlighted five different roads across the U.S. that are wicked-fun to drive, thanks to their Instagram-worthy scenery and challenging terrain. They're all favorites of car and motorcycle enthusiasts, and they'll probably become some of your favorites, too.
1. Tail of the Dragon, North Carolina and Tennessee
It's only fitting to kick off this list with one of the best-known routes in the mainland United States, and one that even novices can comfortably enjoy. Tail of the Dragon, also known as Deals Gap, covers an 11-mile (17.7-kilometer) stretch of US 129 that winds through the Great Smoky Mountains and the Cherokee National Forest in North Carolina and Tennessee. Its beauty and accessibility make it a bucket-list road trip for any driving enthusiast.
On any given weekend, expect to share the road with flocks of motorcycles and sportscars racing through its 318 tight curves. If you're counting, that's an average of 29 per mile. It's easy to see why the Tail of the Dragon is a favorite among drivers who appreciate skill as much as speed. But there are also plenty of places to stop along the route, so take your time, stretch your legs, bask in the scenery, and grab a bite to eat and maybe a souvenir or two.
2. Mount Washington Auto Road, New Hampshire
In the White Mountains of New Hampshire, you'll find the country's oldest continuously operating attraction, the 7.6-mile (12.2 kilometer) road to the summit of Mount Washington. The trip to the top may be short in distance, but it's not an especially quick drive. It takes about 30 minutes to complete the journey — one way.
You'll want to take your time, too, especially since there aren't any guardrails along the switchbacks, which certainly contributes to the exhilaration you'll feel as you climb to the summit. (You'll also feel for the horses who originally pulled the wagons up the mountain during the road's early days in the 1800s.)
Plan your trip carefully, since the road is only open during certain hours, which change seasonally and based on weather conditions. But, once you make it to the top, your efforts will be rewarded with sweeping views of the surrounding mountains. If you'd prefer not to drive, you can book a guided tour, complete with a driver who will offer stories and legends about the ecology and history of Mount Washington. Try the sunrise tour for an awesome way to wake up.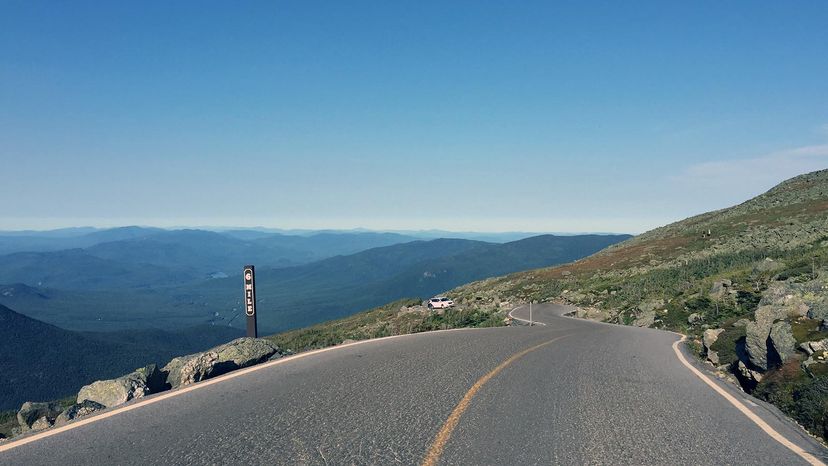 The 7.6-mile climb to the summit of Mount Washington has no guardrails, which makes this drive especially exhilarating.
Wikimedia/(CC BY-SA 4.0)
3. Angeles Crest Highway, California
A lot of driving enthusiasts will tell you that the Pacific Coast Highway is one of the best roads in California, and they're not wrong. However, the Angeles Crest Highway has its own distinctive charms, and is our pick to represent California.
Even though you're just outside the city of Los Angeles, this twisty mountain road takes you cruising through the Angeles National Forest for 66 miles (106 kilometers), with plenty of elevation changes to keep things interesting. Numerous turnouts provide opportunities to rest and admire the views. Though weather in Southern California is generally mild, the elevation changes mean you could see some storms. In fact, certain stretches Angeles Crest are regularly closed in winter due to heavy snowfall, which can appear suddenly, as well as avalanche and rockslide hazards.
Aside from the occasional weather events, dangers along this route are minor, making it a good choice for families and motorcyclists. Just stay aware of your surroundings and be courteous both to your fellow drivers and to the forest environment.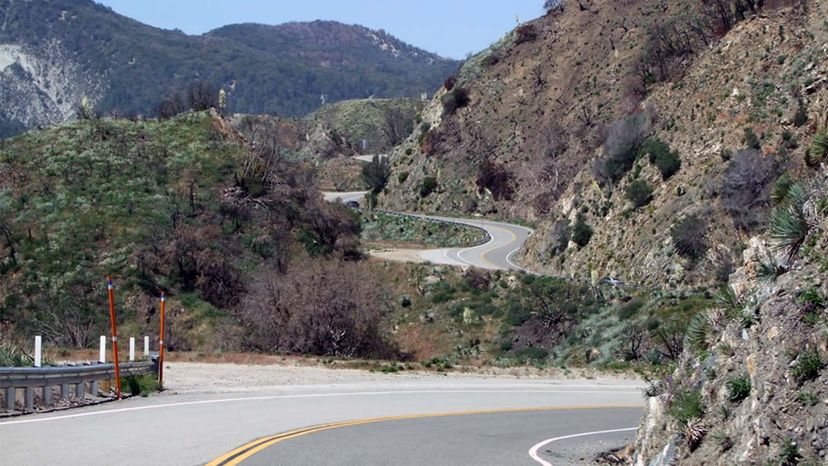 Angeles Crest twists through the Angeles National Forest for 66 miles.
Wikimedia/(CC BY-SA 4.0)
4. Pikes Peak Highway, Colorado
If you want to tackle a road that's an actual race course, head to the Pikes Peak Highway in Colorado just west of Colorado Springs. You'll ascend more than 14,000 feet (4,267 meters) over 19 miles (30 kilometers) and, once you reach the summit, you're technically at the finish line of the Pikes Peak International Hillclimb. Pretty cool. Expect the drive to the summit and back to take a few hours or so.
At the summit, you'll find food, beverages, souvenirs and a stunning scenic spot overlooking the Rocky Mountains and Pikes Peak. Along the way, there are hiking and biking trails as well as excellent spots for trout fishing. According to the Pikes Peak website, on a clear day, you can see Arizona, New Mexico, Utah and Kansas beyond the borders of Colorado.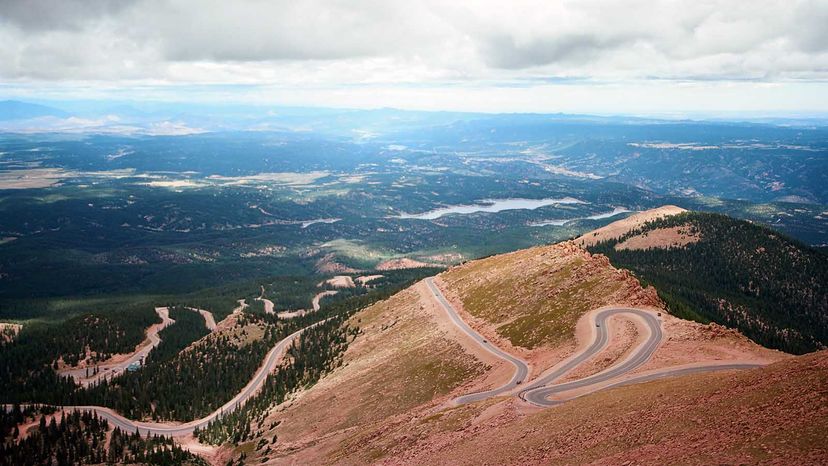 On a clear day at the summit of Pikes Peak, you can see Arizona, New Mexico, Utah and Kansas.
Sinisa Kukic/Getty Images
5. Hana Highway, Hawaii
Even though Maui's Hana Highway — officially known as Highway 36 or the Road to Hana — doesn't look anything like a high-speed expressway, there's no arguing with the "high"ness of it. This stunning roadway that connects the tiny, picturesque town of Hana to the more densely populated areas of Maui, officially starts in Kahului. Its 52 miles (83 kilometers) of roadway thread through the mountains, with about 600 turns and more than 50 one-lane bridges that traverse steep ravines and waterfalls. You'll be gripping your car's steering wheel through the entire drive.
The views of the Pacific Ocean are unforgettable, as the waves slam into the edge of the island and the water shimmers at the horizon. If you're making a day trip of it (and you should) budget at least two hours each way, plus more time to check out the secluded beaches and roadside fruit stands. Motorcyclists from the mainland can rent bikes on the island, but this trip is definitely not one for inexperienced riders, as the margin of error is small and the consequences are extreme.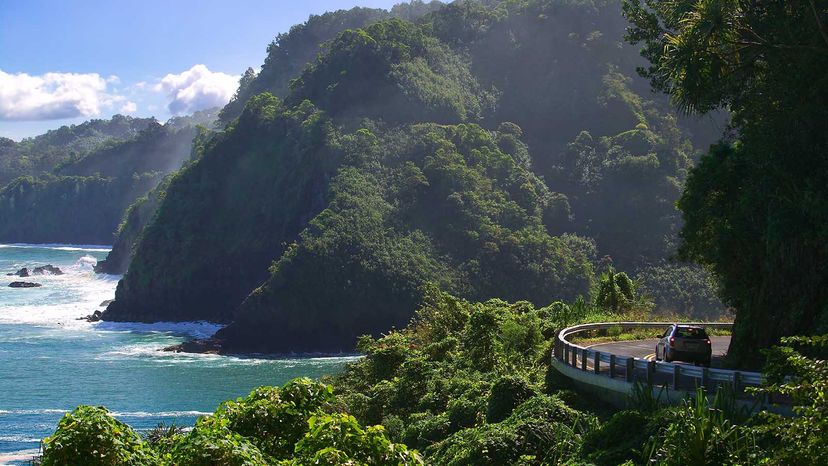 Hana Highway's 52 miles of roadway threads through the mountains, has about 600 turns and more than 50 one-lane bridges that traverse steep ravines and waterfalls.
Royce Bair/Getty Images
Just a few more words to the wise: When you do hit any of these roadways, some universal guidelines apply.
Be sure to stay in your lane, because while part of the thrill is the abundance of blind curves, it's your responsibility to ensure you're not crossing into the path of oncoming traffic.

Stay within your driving or riding skill level. This isn't the time to test you or your vehicle's limits of acceleration, turning or braking.

If vehicles are coming up behind you, don't go faster; instead, look for the next spot to safely pull aside to let them pass.

Both cars and motorcycles are allowed on all five of the roads we've highlighted, though some may limit motorcycles in inclement weather.

Even in the best of conditions, keep in mind that tricky routes can turn dangerous in a hurry, particularly on a motorcycle, and are best left to experienced riders.

When in doubt, it's best to sharpen your skills by enjoying an easier trip.