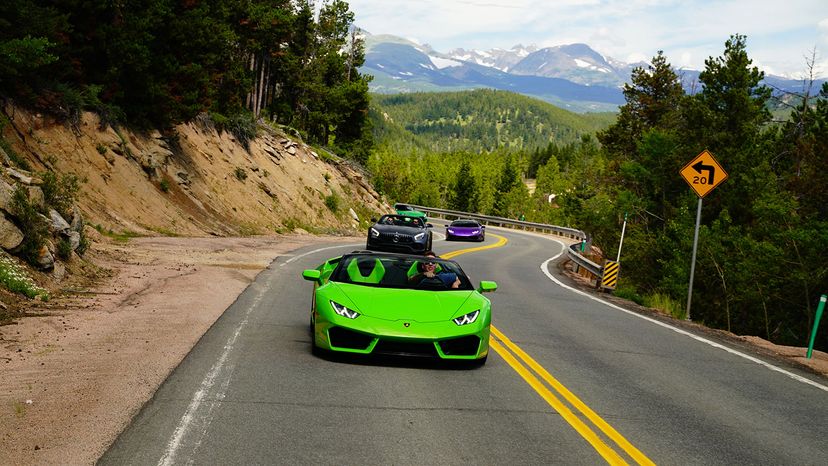 Guests enjoy a rally-style drive through the Colorado mountains, courtesy of the Oxotic Supercar Driving Experience.
Oxotic
Getting behind the wheel of a luxury vehicle is on many peoples' bucket lists ─ they're sleek, fast and downright sexy. While many people may dream of driving a Lamborghini, Porsche or Ferrari, their average $350,000 price tag makes owning one out of reach.
Not to worry: Driving experiences are gaining popularity across the U.S. because they give people the opportunity to sit in the driver's seat of one of these sports cars, rev the engine and feel the wheels hug the road while going around a hairpin turn. Thinking of trying one of these driving experiences? Here are five things to know before you hit the road.
1. Driving Experiences Vary Greatly
You may just want to rent a luxury car for the day to tool around in. If so, "regular" rental car agencies like Enterprise or Hertz offer high-end rentals. They can be rented by the day or for several days and will cost from $1,500 to $3,000 for the day. You can also rent an exotic car from a company that specializes in luxury car rental, usually smaller, local, private companies (i.e., they're not likely to have a desk at the airport).
But you probably want to take it up a notch. Oxotic offers a unique rally-style drive experience by taking clients on tours through the foothills of the Rocky Mountains in their fleet of cars that includes a McLaren, Lamborghini, Aston Martin, Mercedes and Ferrari. A road rally drive is a scenic drive over a specific distance, sometimes with participating cars in a convoy together. Oxotic does 15, 25, 35, 60 and 105-mile tours, each highlighting different state parks known for their scenery and winding roads. On longer trips, people have the option to drive more than one car. Prices range from $95 to $1,000.
"People come in from everywhere in the world to drive with us," says Eric Sandoval, owner of Oxotic. "We are the only rally-style drive in Colorado and people love that they get to experience each car, then have video and photos of themselves driving in the mountains." (You can look for other scenic tours at Xtreme Xperience or Ultimate Driving Tours.)
Another option is traveling companies that tour through various cities across the country, rent a stadium or a racetrack for a weekend, bring their fleet of cars and let drivers take a seat behind the wheel. Depending on the make and model, doing three laps could set you back around $350 to $400.
Luxury car manufacturers often have their own driving experiences. For instance, the Mercedes-Benz AMG Academy offers one-day to three-day experiences, ranging from methods to improve driving skills to rally-style events to classic car tours, all using Mercedes-Benz cars, of course. The Porsche Driving Experience has centers in Atlanta and Los Angeles that offer track racing and driving coaching, using the Porsche fleet.
2. Some Experiences Give You More Bang for the Buck
If your only objective is to have the chance to drive a supercar, you can do that relatively affordably, but if you want to amp up your driving skills, you may have to dedicate more time and spend more money. Unfortunately, there are a number of driving experiences that cost a few hundred bucks but are a letdown when it comes to value. Do your research to make sure your driving experience goals are met and you don't spend a wad of cash just to go around a racetrack a couple of times over 30 minutes.
Ask plenty of questions about what the driving experience is like, the time involved and the cost so you understand exactly what you're getting for what you're paying. For example, for roughly the same price as driving a sports car around a fabricated stadium track, you can take a tour experience with a smaller local company like Oxotic.
"We want our guests to feel like they're in their own car," says Sandoval. "They get to have such a unique experience on our drives and get a taste of what driving one of the supercars is like. People these days value experiences over things a lot of the time."
3. You Can Brush Up on Your Motoring Skills
Some experiences give you the chance to learn new skills. For example, the Porsche Driving Experience puts you under the expert guidance of a Porsche instructor to develop your abilities and driving on courses designed to test specific skills. The track mimics a mile-long country road and drivers are coached on brake application, driving in the rain and other techniques.
The Mercedes AMG Driving Academy has six levels of learning: performance, advanced, pro, pro +, drift and drift +, each focusing on specific skills and then sending you on to the next level, while tracking your progress. A level one learner will learn the fundamentals of vehicle dynamics and practice line technique, cornering and braking at different speeds. Each level will add new skills and progress until drivers are mastering how to drive sideways like they're on the set of "The Fast and the Furious."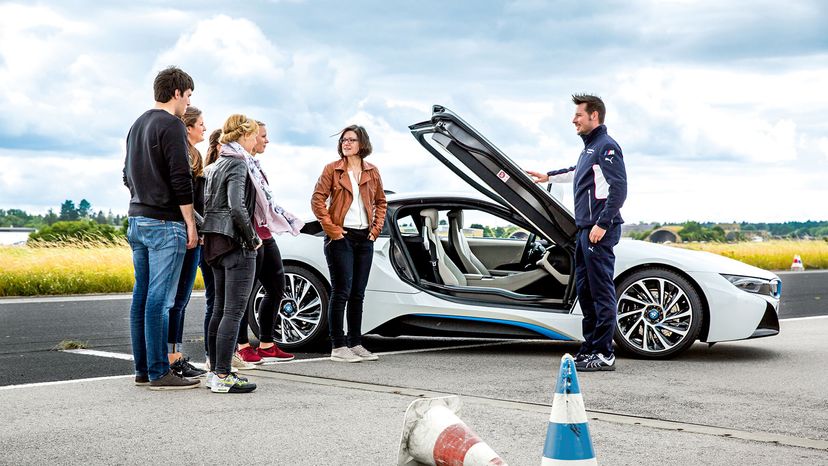 Guests learn new skills at the BMW Driving Academy in Maisach, Germany.
BMW Group
4. Driving Experiences Are Not Just for Men
Almost anyone can qualify for a driving experience: You need to be over 21 and able to provide a driver's license with a clean record. Beyond that, a driving experience doesn't have age, size or gender limitations. Though driving experiences are open for both men and women, there are some that cater specifically to women.
For International Women's Day 2021, Porsche Experience Centers in Birmingham and Los Angeles hosted an invitation-only event for high-achieving women and their mentors for a day of empowered driving, the first of its kind. In the U.K., you can take part in a Land Rover "Ladies Only Driving Experience" for off-road driving through the mountains of Wales.
Sandoval of Oxotic says that more men than women seek out driving experiences as a bucket list check-off, although ironically women often book the experiences as gifts for their men or as part of a larger travel activity for the family. But women shouldn't hold back from participating.
"We want women to come drive! And we have many women that come and drive with us every year," says Sandoval. "Driving experiences are for everyone, there's no discrimination. If someone is nervous about driving, we will work with them to do legs of the drive that are better for them and they will enjoy it more."
5. Driving Experiences Can Be Combined with Other Events
Many facilities offer driving experiences as part of a corporate retreat or team-building activity. They're also popular with bachelor parties, too. Groups can do the drive and return to the showroom for other events like casino games or pool, wine or whiskey tastings, or fine dining. The driving experience facility likely has an events coordinator on staff to help plan special events, or they can work with your event planner. They may also have a list of vendors they work with.