You've been in the car for hours, the kids are sick of all of the games and treats and now you're stuck in rush hour. Before you stash the last suitcase in the trunk and depart, research the traffic patterns for major population centers so you know if you should alter your departure day or time.
Some people prefer to drive through major cities or along congested roads at night, when traffic is minor and kids are likely to nod off. This may work, but think about it a little first. School-age kids tend to fall asleep easily, but toddlers and preschoolers sometimes need help dozing, which could mean more crankiness, not less. And ironically, you -- and any other driver -- may need help to stay awake. Studies suggest driving after you've been awake for 18 hours or longer reduces your skills to those of a driver with a 0.05 blood alcohol content (the legal limit is 0.08) [source: Buckworth, IIHS]. If you're driving at night and suddenly find yourself yawning a lot or weaving, pull over immediately.
Click to the next page for more information about planning road trips and traveling with children.
Related Articles
More Great Links
Sources
Airline Credit Cards. "27 Free Games to Keep Your Kids Entertained on a Road Trip." Oct. 19, 2007. (July 4, 2011) http://www.airlinecreditcards.com/travelhacker/27-free-games-to-keep-your-kids-entertained-on-a-road-trip/

Buckworth, Kathy. "Great Family Road-Trip Tips." Kaboose. (July 4, 2011) http://travel.kaboose.com/road-trip-tips.html

Car Insurance. "Road Trips and Keeping Kids Occupied in the Car." (July 4, 2011) http://www.carinsurance.org/road-trips/

Car Junky. "Tips for Keeping Kids Occupied on Road Trips." Feb. 17, 2005. (July 4, 2011) http://news.carjunky.com/keep_kids_occupied_on__road.shtml

Hatch, Amy. "Surviving a Family Road Trip: Top 5 Tips." Parent Dish. July 1, 2011 (July 4, 2011) http://www.parentdish.com/2011/07/01/surviving-a-family-road-trip/

Howell, Jessica. "Travel Toys for Kids: Keeping Busy in the Backseat." (July 4, 2011) http://www.roadandtravel.com/autoadvice/2007/kid-friendly-auto-travel.htm

Insurance Institute for Highway Safety (IIHS). "DUI/DWI Laws." (July 14, 2011) http://www.iihs.org/laws/dui.aspx

Kids Growth. "Take Steps to Prevent Carsickness." (July 8, 2011) http://www.kidsgrowth.com/resources/articledetail.cfm?id=208

Ranard, Michele. "Activities Keep Kids Occupied During Road Trips." Carolina Parent. Dec. 1, 2009. (July 4, 2011) http://www.carolinaparent.com/articlemain.php?Activities-Keep-Kids-Occupied-During-Road-Trips-2392

Rogers, Erin. "Healthy Road Trip Snacks and Meals." Disney Family. (July 8, 2011) http://family.go.com/food/recipe-sk-19035-healthy-road-trip-snacks-and-meals-t/

Smith, Laurel. "Car Travel Games for Kids." Moms Minivan. (July 4, 2011) http://www.momsminivan.com/bigkids.html

Sokal-Gutierrez, Karen. "Are headaches signs of carsickness?" Fischer-Price. (July 8, 2011) http://www.fisher-price.com/fp.aspx?st=665&e=expertadvice&catnamestart=c&ccat=PS_CommonConcerns&content=57312

Williams, Brenda. "Keeping Kids Occupied During Road Trips." Go Travel Magazine. (July 4, 2011) http://www.gotravelmagazine.com/Art/3259/389/Keeping-Kids-Occupied-During-Road-Trips.html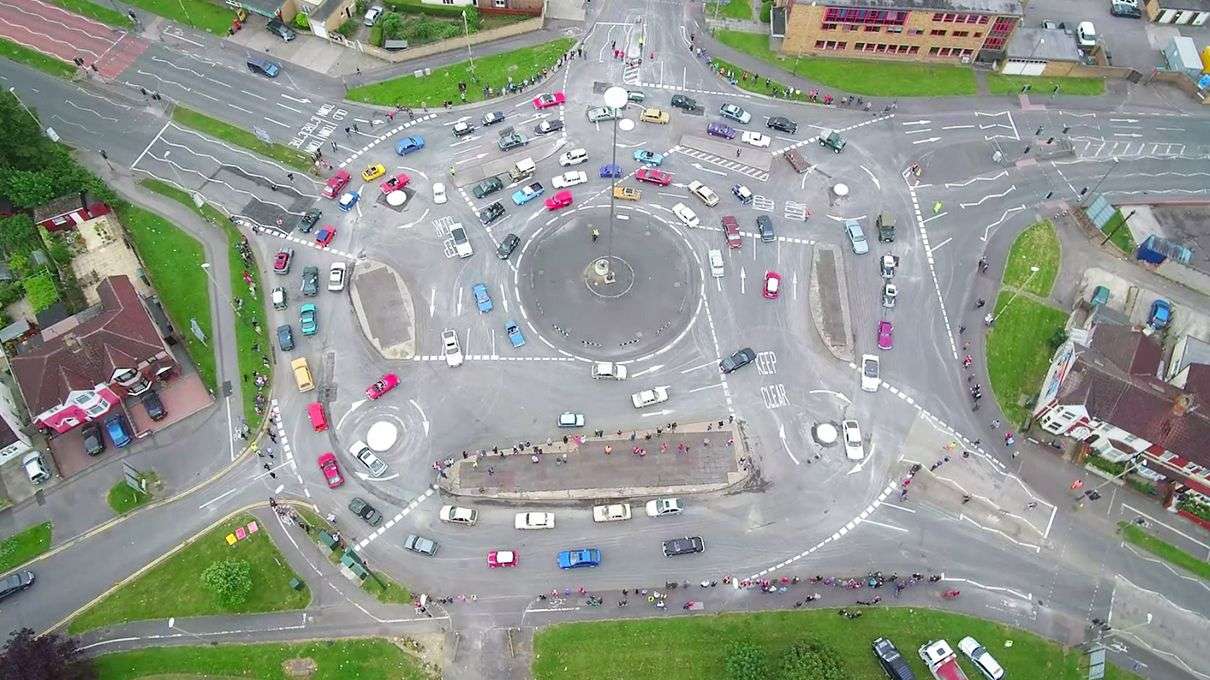 Up Next
How does Swindon's Magic Roundabout traffic circle work? Learn more in this HowStuffWorks Now article.
---