Sure, the stereotypical American dream is spun around the ideas of a job, a house and raising kids. But there's a whole other chapter that picks up where that dream leaves off, and it has to do with a long open road, the yellow line stretching off toward the horizon in front of you and a full tank of gas. You've worked your whole life so far, and now it's time to enjoy yourself. And there's no better way than making good use of Eisenhower's interstate highways -- or better yet, the roads Eisenhower crossed as a young army officer in 1919.
The question isn't if you should take off on a road trip, it's where you should go. Keep reading for a few great ideas.
Don't expect antique stores and a never-ending string of bed-and-breakfasts. Instead, Alaska's Seward Highway is about isolation amid stunning nature. From glaciers, peaks and steep-walled fjords carved by the last Ice Age, to eagles, salmon and moose, the Seward Highway is truly one of the last great frontiers of road tripping.
The difficulty is in getting there. Many drivers on the Seward Highway choose to start their trip in Anchorage, flying in and then renting a car, van or RV. From there, it's 127 miles (204 kilometers) to Resurrection Bay near the town of Seward. Along the way, don't forget to stop and smell the roses. Specifically, don't miss a tram ride up Mount Aleyska or Bird Point, where, in addition to birds, you can see belugas slicing just beneath the water's surface.
As you can likely guess, the best time to visit the Seward Highway is in the height of summer when days are long and travel is possible without a dogsled.
One of John Denver's famous songs starts, "Almost heaven, West Virginia; Blue Ridge Mountains, Shenandoah River; Life is old there, older than the trees; Younger than the mountains, blowing like a breeze."
You can experience it firsthand along the Blue Ridge Parkway, the 469.1-mile (755-kilometer) stretch of winding highway that connects Skyline Drive in Virginia to U.S. 441 at Oconaluftee near Cherokee, N.C. Most drivers choose to visit in the fall, when the changing leaves light huge swaths of the route as if you're driving through tunnels of Patton's burning south.
Between June and October, be sure to stop by the Blue Ridge Music Center, where you can catch old-time bluegrass in its natural habitat.
As a coastal drive, the Hana Highway shares a number of similarities with the Seward Highway and Routes 1 in California and Maine -- after troubleshooting how you start the trip (fly in, rent a car?), you'll experience a route that snakes along a winding coastline, mountains rising sharply from the water on one side, and the water dropping away to the other. That said, if you or your passenger has a weak stomach, it might be a good trip to miss. There are approximately 620 curves along the 68-mile (109.4-kilometer) route, and 46 of its 59 bridges have only one lane, requiring frequent stops and starts.
If you go, plan to take your time and enjoy the many waterfalls along the way. Wailua Falls and the Seven Sacred Pools are popular destinations that offer photo-ops from the parking lot or, for the more adventurous, short walks to waterfall overlooks.
What it lacks in scenery, it makes up for in history. What road trip life list is complete without a journey from Los Angeles to Chicago on the 2,000-mile (3,219-kilometer) Route 66? It makes toes tap just thinking about it.
Along what Steinbeck called the "Mother Road," you'll find rusty signs, greasy-spoon diners and more Americana than you can shake a bottle of Coca-Cola at. It's no longer the quickest way from point A to point B, but the nostalgia and commercial hucksterism hangs thick on the 66 all the way from the sands of California, past the Grand Canyon, through the streets of St. Louis, and finally Chicago, passing roadside menageries of rattlesnakes, buffalo and even (supposedly) blue whales along the way.
Unlike some of the other drives in this list, the best way to travel the 66 might be without a guidebook or schedule, open to whatever kitsch tickles your fancy.
6
Highway 61 from Memphis to Mississippi
If you're more "blues" than "bluegrass," consider a trip along Highway 61 through Tennessee and Mississippi. It's not so much the road's scenic beauty that makes this trip, as the ability to eat barbecue while catching a jam session or six. The names of the towns you pass are straight out of a Muddy Waters song: Memphis, Clarksdale, Vicksburg and Rosedale.
The last is the setting of the famous Robert Johnson song, "Cross Road Blues," in which, after failing to hitch a ride, the singer sells his soul to the devil for the ability to play the blues. To spend just one more week eating said barbecue and listening to another jam session, you might just consider a similar trade.
If you're looking not for a short weekend getaway, but for a month- or months-long adventure, consider a 3,262-mile (5,249.7-kilometer) trip from Bangor, Maine, to Seattle, Wash., across the northern United States. The map is easy: Almost the entire trip is on I-90 (in the west) or I-84 (in the east). Don't forget to pack your passport, because after tagging the Big Apple, the best route takes you up through the Adirondacks and into Canada via Niagara Falls. Jump back into the states in Pennsylvania, then find your inner long-distance trucker as you zip on interstates through Illinois, Wisconsin and Minnesota.
Eventually, in Wyoming, you reach the country's backbone -- the Continental Divide near where Lewis and Clark found themselves blocked by a fierce winter and ate their tallow candles. Continue through Yellowstone National Park and Idaho, and eventually make the long, slow descent into Washington State.
Like any road trip, and especially any long road trip, don't forget to take your time and check out some side roads. If you spend your whole trip on I-90 and I-84, you'll miss the city lights and country landscapes along the way.
Montana's Going-to-the-Sun Road might be enough -- at least for your knuckles, which are likely to be squeezed white after winding 50 miles (80.5 kilometers) along the mountainsides of Glacier National Park.
But Glacier is only the first on this national park tour through the Rockies. From the park's southern tip, catch the I-90 for a quick shot into Yellowstone National Park and then Grand Teton National Park, before swinging hard-east along I-80 to Saratoga, Wyo. Wind your way through Rocky Mountain National Park to the town of Estes Park, where the famous hotel from Stephen King's novel "The Shining" overlooks the main street.
From there, it's possible to follow national forests all the way to Santa Fe, N.M.
3
Banff and Jasper National Parks
From a jumping-off point in Calgary, Canada, head west into Banff National Park before hooking north from Lake Louise along the Icefields Parkway toward Jasper. Along the 140-mile (225.3-kilometer) parkway, you'll pass views of the Crowfoot Glacier and the Columbia Icefield, along with powerful Athabasca Falls, which is known more for its thunderous whitewater than for its height. Throughout the route, look up into the high summits of the Canadian Rockies, whose predominantly limestone cliffs tend to weather in a way that creates bands of snow that cling to many of the peaks year-round.
Gas and services are available only at the Saskatchewan River Crossing, and then only in the months from April to October.
One major reason to road trip Route 1 is because you can. In July and August, when non-retirees take to the road, Route 1 through Maine can be a parking lot. But if you bookend the busy times with a spring or fall trip, Route 1 winds through the craggy coasts of Maine at a clip that makes you feel like you're making good time -- that is, between frequent stops for lobster, lighthouses and antiques. Even the few times the route bends inland are a treat, for example, when rolling through the farmlands of Aroostook County.
Another advantage of traveling Route 1 outside the summer months is the ability to go without reservations. Frequent small towns offer a plethora of dining and lodging options for the footloose spring and fall traveler. Fall offers the added bonus of being the height of lobster season. While you can find fresh lobster along Maine's Route 1 at any time of year, fall's warmer waters mean increased catches and thus lower prices for the Northeast's best "bugs."
The entire 656 miles (1,055.7 kilometers) of Route 1, from Orange County just south of Los Angeles to the towering redwoods of Leggett, is worthwhile, with the trip generally broken into the four sections of Malibu/Santa Barbara, Central Coast, San Francisco and the Redwood Empire. Pick your favorite or do the whole thing -- the California coast is a classic road trip.
But if you're going to pick just one section, make it the 380 miles (611.6 kilometers) between Los Angeles and San Francisco, where windswept beaches alternate with precipitous cliffs, and the road feels like a chapter in a Kerouac novel as it unfurls breathlessly and unpredictably around every turn.
If you don't mind leaving the coast for a few miles, consider jaunting inland for the wine, where you can follow the climate from the pinots of Santa Barbara wine country through the cabernets of Napa and Sonoma and into the rieslings of northern California. This is why you road trip with two drivers.
For more road trip articles, check out the links on the next page.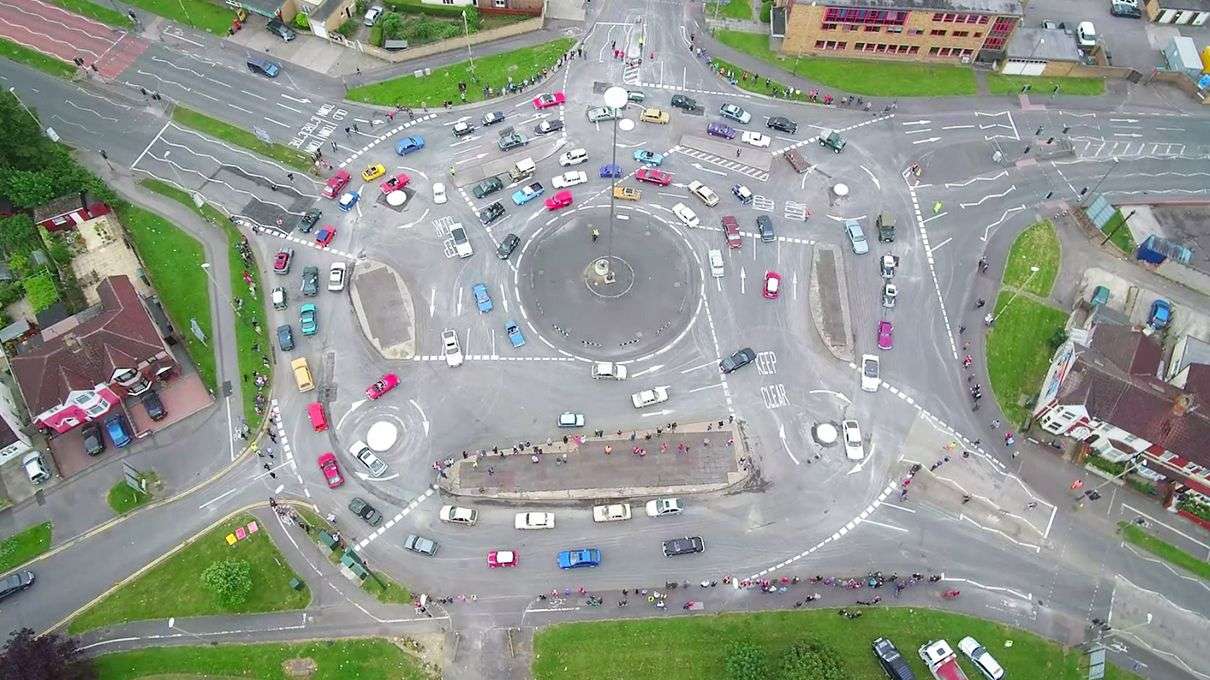 Up Next
How does Swindon's Magic Roundabout traffic circle work? Learn more in this HowStuffWorks Now article.
---
Related Articles
Sources
Bergman, Becca. "America's Top 10 Road Trips." Yahoo Travel. (June 30, 2011) http://travel.yahoo.com/p-interests-34348817

Heelan, Charis Atlas. "Highway 1: The Route to the Best of Maine." Frommer's. Sept. 26, 2008. (July 1, 2011) http://www.frommers.com/articles/5512.html

Hodder, Ian. "10 great American road trips." MSNBC. July 10, 2006. (June 30, 2011) http://www.msnbc.msn.com/id/6576151/ns/travel-road_trips/t/great-american-road-trips/

The Huffington Post. "The 10 Best Road Trips in America." Sept. 9, 2010. (June 30, 2011) http://www.huffingtonpost.com/2010/09/09/the-10-best-road-trips-in_n_709653.html#s136423&title=Big_Sur_California

National Geographic. "Ultimate Road Trips." (June 30, 2011) http://travel.nationalgeographic.com/travel/road-trips

Talbot, Margaret. "Guide to California's Highway 1." Travel + Leisure. April 2003. (July 1, 2011) http://www.travelandleisure.com/articles/the-best-road-trip-in-america