Ahh, the cinematic open road. Even though you're sitting comfortably in your living room, a good road trip movie will make it seem as though you've replaced your recliner with a motorcycle or your couch with a getaway car. Of course, like any real-life road trip, you can easily take a wrong turn and end up in a bad-movie traffic jam, but we're not going to let that happen.
Like a top-of-the-line GPS, we'll help you navigate past all the celluloid detours and direct you to the best road trip movies of all time. We'll shift gears between killers on the lam, drifting bikers, a wayward family vacation and a group of traveling puppets. There'll be comedy, action and drama before you reach the end of your journey. Just don't forget to wipe the bug guts off the seat cushions after you turn off the TV.
Click over to the next page to learn about cinema's most famous road-bound screaming eagle.
10
'Smokey and the Bandit'
When "Smokey and the Bandit" drove onto screens in 1977, Burt Reynolds, thick sideburns and disco were all popular. Times and tastes change, but Reynolds' ride in the film -- a black 1977 Pontiac Trans Am with T-tops and a golden screaming eagle -- is now considered a classic. Of course, the car wouldn't have such enduring popularity if the movie behind it had flopped. "Smokey and the Bandit" was a massive hit (it was the year's second-highest grossing film, falling only behind "Star Wars" in box office receipts). The plot involves a runaway bride and Reynolds' race across several Southern states to deliver some beer, but the details aren't important. Just know that it's funny and action-packed, and it features crazy car crashes, thrilling high-speed pursuits and one very cool car.
It's the Muppets on a road trip. What else needs to be said? All your favorite characters are here, as are Orson Welles, Richard Pryor, Steve Martin, Mel Brooks, Dom DeLuise, Bob Hope and numerous others (including a certain giant yellow talking bird). If the last time you visited this group of misfit puppets was in elementary school, be assured that "The Muppet Movie" is as entertaining for adults as it is for children. By the time the movie is over, you'll wonder why you ever dumped Kermit and the gang in the first place.
"Bonnie and Clyde" is one of the most important movies ever made, but the film's most remarkable feature isn't its excellent casting, cinematography or still-shocking ending -- it's the journey itself. Clyde Barrow and Bonnie Parker are on the run from the law, and through a series of increasingly bold bank stickups, the duo find fame, notoriety and companionship. They live on the road, traveling from hideout to hideout, trying to elude the law while taking from the banks in Depression-era America. "Bonnie and Clyde" is one of those rare films that's as emotional as it is entertaining. But it's one trip you wouldn't want to take yourself.
"It Happened One Night" premiered in 1934, but the movie is still funny for today's audiences. After her rich father has her marriage annulled, spoiled socialite Ellie Andrews -- played by Claudette Colbert -- takes a bus from Miami to return to her love in New York. Enterprising news reporter Peter Warne (Clark Gable) discovers her identity and agrees to help her reach her destination if she'll grant him exclusive rights to her story after it's all over. The dialogue is witty, sharp and hilarious, and the film's influence on the comedy genre has been profound.
6
'National Lampoon's Vacation'
There are a few high-brow flicks on this list, but "National Lampoon's Vacation" isn't one of them. That's OK, though, as this nearly 30-year-old film will still leave you laughing. It features Chevy Chase as Clark Griswold, a father who longs to spend more time with his family. He decides to take everyone on a cross-country road trip to visit the fictional Wally World theme park, but between lost credit cards, a vicious dog and a deceased aunt, nothing goes as planned. Chase reprises the role in several sequels, though this initial outing is the Griswolds' funniest vacation.
5
'Pee-wee's Big Adventure'
In Pee-wee Herman's big-screen debut, Paul Reubens' signature character travels across the country looking for his lost bicycle. Yes, the premise is ridiculous, but you don't watch Pee-wee for mental stimulation. You watch him to laugh. From the insults traded between the famous man-child and his like-minded nemesis, Francis Buxton, to his run-in with a ghostly truck driver, "Big Adventure" is funny, so long as you can tell your brain to take a hike while watching the film.
Thelma & Louise is a hard film to categorize. It's a chick flick, but it's also a crime-spree-based road trip movie featuring plenty of sex and violence. Like several other titles on this list, the meaning of personal freedom is questioned and plays a large role in the subtext of the film, but from a decidedly feminine perspective. Sure, it's a fun, entertaining movie, but it's also a fantastic character study offered up by two Oscar-winning actresses (Geena Davis and Susan Sarandon in their respective titular roles).
What if Hollywood made an entire movie out of a car chase? In "Vanishing Point," that's exactly what they did. The movie is an homage to American muscle car enthusiasts, with our hero, Kowalski, driving a 1970 Dodge Challenger from Colorado to California. Along the way he has numerous high-speed run-ins with the law, gets lost in the desert and even meets a naked woman riding a motorcycle. The film is beautiful, as Kowalski's journey is one of highways and back roads, not interstates, and the Challenger is shown racing across sweeping plains, past deep canyons and through expansive stretches of the American West.
If "Vanishing Point" is a feature-length car chase, then "Easy Rider" is a leisurely, hour-and-a-half-long cruise. In this 1960s counterculture classic, Peter Fonda and Dennis Hopper drive their motorcycles from California to New Orleans, but just because they aren't racing to their destination doesn't mean they aren't in any danger. The hippie pair faces persecution for their nonconformist ideals and appearance throughout their adventure, and though they meet like-minded people along the way, the shadow of violence and intolerance pursues them throughout the film.
"The Wizard of Oz" has the distinction of being named No.1 on the American Film Institute's list of the 10 greatest films in the genre "Fantasy" as well as one of "The 20 Most Overrated Movies Of All Time" by Premiere. But it's also the ultimate road trip movie (even if the road is made from yellow bricks). Dorothy Gale's journey to the Land of Oz is as entertaining as it is fantastic, and though the classic flick was released in 1939, its popularity lives on as each generation discovers it. It's perfect for both adults and munchkins alike, and between cinema's most famous witch, an imposter wizard, some flying monkeys and the most memorable supporting cast in cinema history, "The Wizard of Oz" takes you on a classic road trip.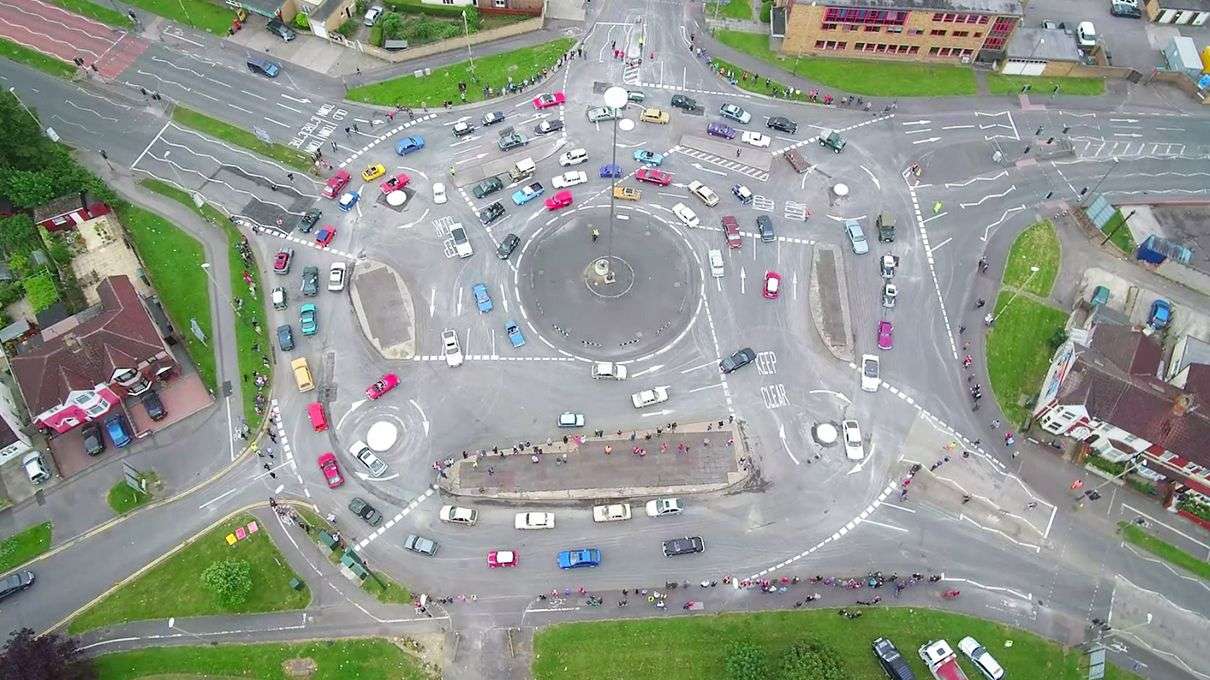 Up Next
How does Swindon's Magic Roundabout traffic circle work? Learn more in this HowStuffWorks Now article.
---
Related Articles
More Great Links
Sources
IMDB. "Smokey and the Bandit (1977): Trivia." 2011. (June 30, 2011) http://www.imdb.com/title/tt0076729/trivia

--- "It Happened One Night: Trivia." 2011. (June 30, 2011) http://www.imdb.com/title/tt0025316/trivia

--- "The Wizard of Oz: Trivia." 2011. (July 4, 2011).http://www.imdb.com/title/tt0032138/trivia

PBS. "Hollywood Censored: The Production Code." 1999. (June 30, 2011) http://www.pbs.org/wgbh/cultureshock/beyond/hollywood.html

Road and Track. "'77 Trans Am T-Top." My1977transam.com. 2009. (June 30, 2011) http://my1977transam.com/motortrend1976.html