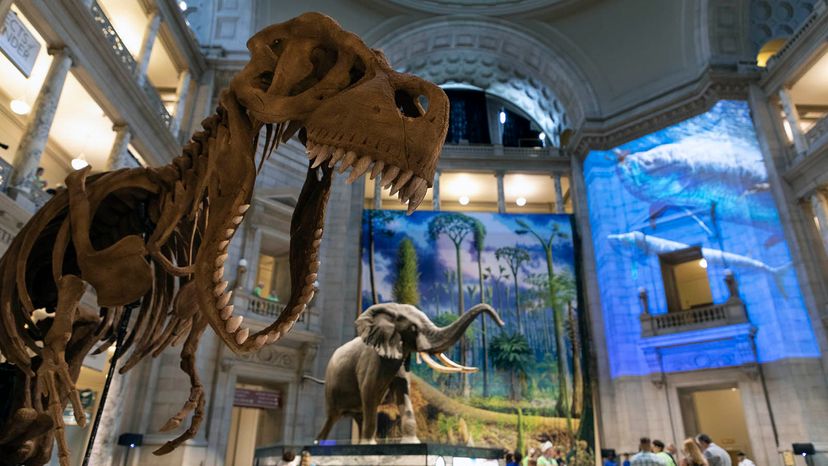 The David H. Koch Hall of Fossils exhibition at the National Museum of Natural History tells the story of 3.7 billion years of life on Earth, highlighting the connections among ecosystems, climate, geological forces and evolution.
Kate D. Sherwood/Kate D. Sherwood, Smithsonian Institution
The phrases "social distancing" and "self-quarantining" really just entered our cultural lexicon a few weeks ago — you've probably barely had time to grasp their meanings before you started to feel their effects: cabin fever. No more museum visits. No more trips to the zoo with the kids. No more concerts or music festivals. Not even a dollar movie.
Sure, you might not be able to go out and do any of those things right now, but lucky for you, tons of cultural sites across the globe are stepping up to make sure your brain doesn't turn to mush. How? They've put their stuff online so you can visit their exhibits virtually. Institutions from the Smithsonian to the Grammy Museum are offering a combination of exhibitions, performances and 360-degree video tours online and free.
So aside from stocking your pantry with staples and hunkering down to ensure we all stay safe during the coronavirus pandemic, you can also spend your time exploring the world without leaving the safety of your home.
1. Smithsonian National Museum of Natural History
The Smithsonian Institution in Washington, D.C. includes a group of museums and research centers run by the American government. One of those is the venerable National Museum of Natural History, which features exhibits that tell the history of the planet and human interaction with the environment. The museum boasts about 145 million artifacts, objects, artworks and specimens, most of which you can visit via a 360-degree, room-by-room video tour that lets you immerse yourself in the museum and walk through its halls — virtually of course. After you cruise through the permanent exhibits, check out past ones in the archive that are no longer offered in person, such as the former Fossil Hall, which includes tons of massive dinosaurs.
2. Monterey Bay Aquarium's Sea Otter Exhibit
The sea otter cam at California's Monterey Bay Aquarium is a good brain balm any time of year — those otters are to die for — but it's a particularly potent one right now. Typically you'll see the aquarium's permanent residents, Abby, Ivy, Kit, Rosa and Selka, as they float around on their backs in and out of the screen and get sassy during feeding times. But because the aquarium is closed, the sea otter cam is trained on a group of wild rescued pups who have never previously been put on display because all the human attention would make them uncomfortable. So while you're at home, you and the kids can watch the pups swim, dive and snack from afar. Keep your eyes peeled for special guest stars Kit and Ivy — they're surrogate mothers for the young pups until they're ready to be returned to the sea. And be sure to check out all of the aquarium's other cams — there are 10 total.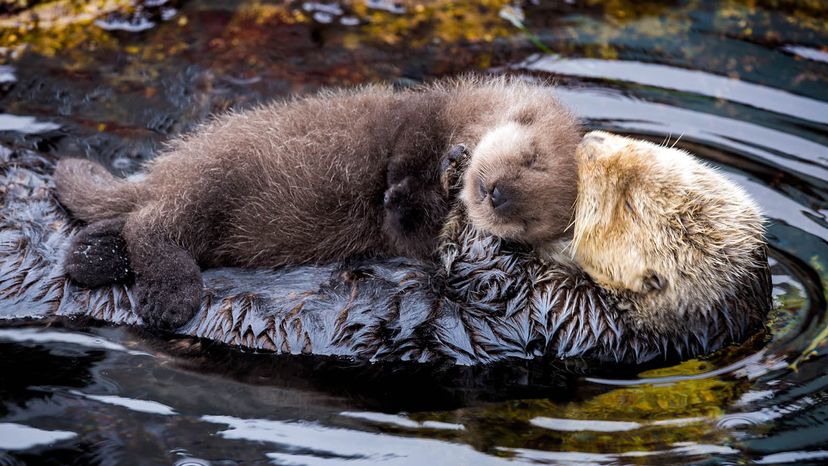 The adorable sea otters on the live cameras at the Monterey Bay Aquarium are hard to stop watching.
Tyson V. Rininger/©Monterey Bay Aquarium
3. The Great Wall of China
If you've ever wanted to visit the Great Wall of China, now's your chance. OK, maybe not really, but you can quell your curiosity for this impressive, ancient military defense structure by virtually advancing along a stretch from Jinshanling, Hebei Province to Simatai in Miyun County, a particularly scenic section of the wall that normally takes about three to four hours to hike in person. Stop at the watchtower and take in the view. The 360-degree video is offered by The China Guide, a tour company that actually runs real-life guided trips to sections of the wall's more than 3,000 miles (4,828 kilometers). Something to keep in mind, for the future, of course.
4. The Palace of Versailles
Created by Louis XIV, the "Sun King," in what was basically an exorbitant celebration of himself, France's Palace of Versailles is one of the most lavish constructions ever created by man-kind. You don't even have to get up from you couch to visit this absolutely massive estate — a virtual tour encompasses everything from the sparkling interiors to the sprawling gardens. You can explore the king's bedchambers and the famous Hall of Mirrors while you learn some of the fascinating details of the palace's rich history, like the fact that the smell of the gardens' flowers was once so overpowering it deterred guests from visiting. Don't miss the massive section on science to learn how Versailles was the foremost testing ground for scientists from 1682 to 1789.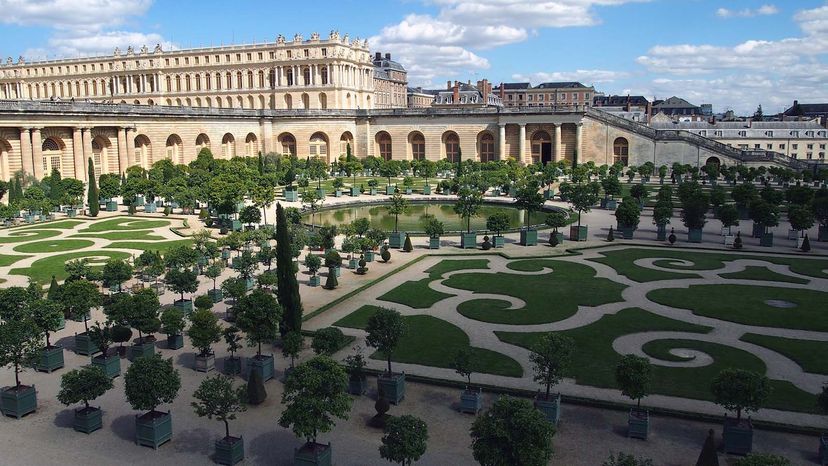 Take a virtual tour of Versailles. You can stroll through the magnificent gardens, or take in the famous Hall of Mirrors.
Pixabay
5. Yo-Yo Ma's Performance Series
American cellist Yo-Yo Ma captioned the first post of his #SongsOfComfort Instagram and Twitter series with: "In these days of anxiety, I wanted to find a way to continue to share some of the music that gives me comfort." It's a fitting description for the nascent project, which so far features a handful of short, calming cello solos and, most recently, a guest appearance by literary historian Stephen Greenblatt to read some Shakespeare. Other musicians — pros and novices — also are contributing live music using the hashtag. It's basically a dose of audio anti-anxiety medicine online. Sit and listen. It's good for the soul.
6. Great Discoveries of Hubble Telescope
Hubble Telescope has been hanging out in Earth's orbit for about two decades now, documenting outer space and fueling impressive discoveries that have allowed scientists to re-evaluate certain important mathematical assumptions, such as the expansion rate and age of the universe. Orion Nebula, Eagle Nebula and Carina Nebula are just three of the mind-blowing visuals that you can explore in all their annotated glory right from your couch. After you click your way through deep space, be sure to follow up with a 360-degree tour of the telescope's earthbound control center, mission operations room and operations support room to see how this magnificent research tool is maneuvered from afar.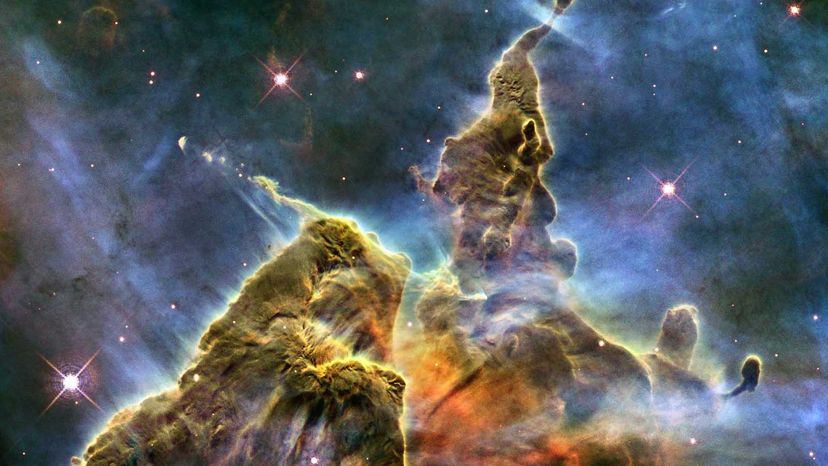 Carina Nebula (seen here) is just one of three of the mind-blowing Hubble visuals can explore online.
NASA
7. GRAMMY Museum
In a remarkably fast response to changing circumstances, the GRAMMY Museum, the California-based nonprofit dedicated to celebrating the history and significance of music, is unveiling previously unreleased content from its archives and making it available to the public on its website. A new online-only digital exhibit — such as X: 40 Years of Punk in Los Angeles— will be released every Friday. It may not be quite as good as your annual summer concert lineup, but it will do — for now.
The Grammy Museum is releasing a new online-only digital exhibit every Friday. The first is X: 40 Years of Punk in Los Angeles, seen here.
GETTY Images/GRAMMY Museum
8. National Museum of Modern and Contemporary Art, Korea
National Museum of Modern and Contemporary Art, Korea has four branches throughout the country (Gwacheon, Deoksugung, Seoul and Cheongju) that each take a slightly different approach to exploring South Korean contemporary art and culture. The online extension of the museum lets you view four specific exhibits: the art of abstractionist Yoo Youngkuk; the work of video artist Park Hyunki; Garden, a collection of selected works by multiple artists that was on display in Seoul; and a meta photography display that documents the construction of MMCA, Seoul. Combine that last exhibit with the 360-degree views of the Seoul branch to fully orient yourself in the ultramodern space.
9. Louvre Museum
What better time to see the art at the world-famous Louvre Museum in Paris, France, when there are no crowds? Of course, you can't go there in person, but anyone with an internet connection can walk its halls, admiring one the most comprehensive art collections in the world. A few of the current virtual exhibits include a collection of Egyptian Antiquities; the Remains of the Louvre's Moat (the structure is a former fortress, after all); and Galerie d'Apollon, a recently restored gallery that features panels by Delacroix. Take note though, fan favorites like the Mona Lisa and Venus de Milo are still only available to view in real life.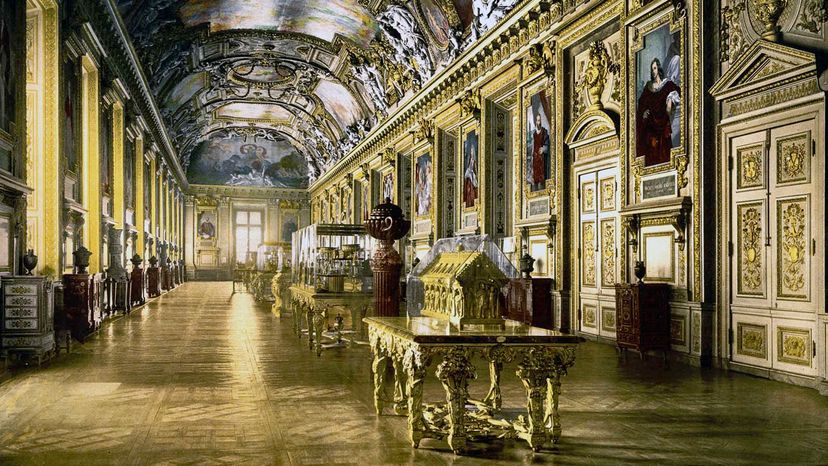 The Galerie d'Apollon (seen here in a photo from 1900), a recently restored gallery that features panels by Delacroix, is just one of the exhibitions you can tour online at the Louvre in Paris.
Library of Congress