For the past six decades, United States citizens looking to visit a tropical island had many to choose from — but Cuba wasn't one of them. A shame, because this forbidden island, admired by both Hemingway and Christopher Columbus, is just right there — only 90 miles [145 kilometers] from the Florida Keys.
Due to particularly severe trade embargoes between the U.S. and Cuba instituted in 1960 as a result of some nasty Cold War politics, for more than half a century it has been illegal for most Americans to spend money in Cuba or on Cuban goods, or to even receive gifts that originated in Cuba. But in the final year of his presidency, Barack Obama used executive orders to improve diplomatic relations between the two countries and ease both travel and trade restrictions. As a result, commercial airlines have been able to fly directly into Havana from U.S. cities as of August 2016.
And though travel is loosening and U.S. citizens can go to Cuba now, restrictions remain. Tourism is technically still illegal for U.S. citizens traveling on their own, but a visit is permitted so long as the reason for a trip falls within one of 12 categories, including things like professional meetings or research, religious or journalistic activities, support for the Cuban people, participation in public performances or sporting events, and visits to close relatives. Americans can also go with a tour operator — there are now several to choose from — but the company may ask for a signed affidavit that clearly spells out the purpose of your trip. Also, Americans can go on a "people-to-people" trip to Cuba without any agenda or credentials other than wanting to learn more about Cuba and interact with Cuban people.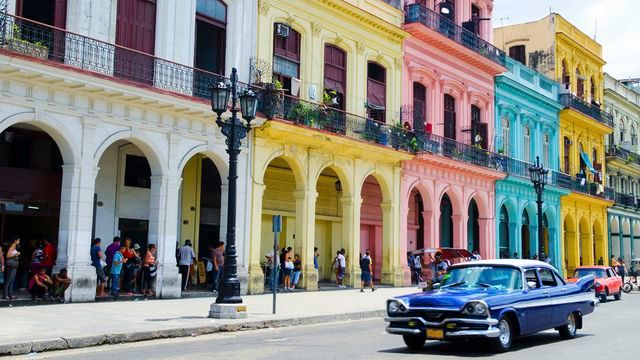 In addition to having a reason for going to Cuba other than riding a horse on the beach with a cigar in one hand and a mojito in the other, American citizens will need a visa. These are available from the newly established Cuban embassy in Washington, D.C., or through many companies specializing in travel to Cuba. Visitors are also required to have Cuban health insurance, but at the moment that's included in the price of an airline ticket, and will cover 30 days in the country.
But now that Obama is out of office, will travel to Cuba from the U.S. continue to be possible?
So far, President Trump has indicated he doesn't plan to reverse any of his predecessor's executive orders concerning the country, telling Fox News in January that he was in favor of "opening it up" with Cuba. During his presidential campaign, he said he thinks Obama's push to improve diplomatic relations with the country were "fine." Take from that what you will, as Trump has shown his immigration policies can change quickly and without warning.