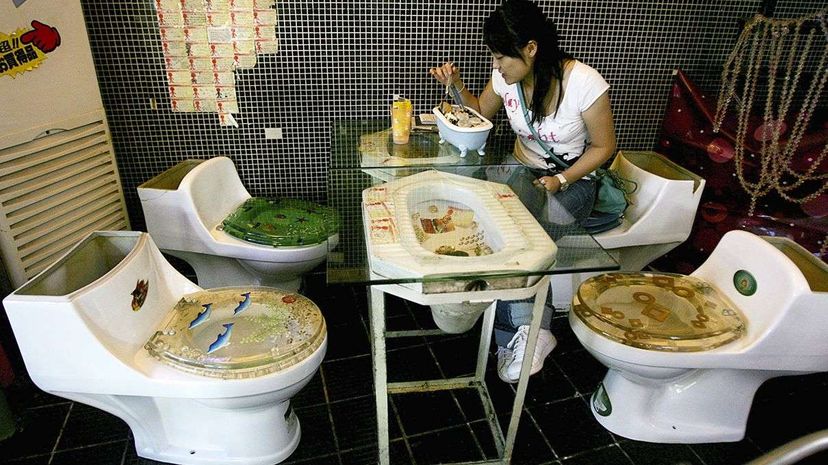 There's something about taking care of bodily functions in public that can cause some serious anxiety. But what if we didn't hide the fact that we all have to poop behind bathroom stall doors, but put it out in the open? In fact, let's just underline the point that needing to poop comes from getting rid of waste after eating food. So why not complete the circle in a place that's both bathroom and restaurant?
If you thought WC stood for "water closet," try "weird cafe" instead. The owner of Toronto's Poop Café Dessert Bar is on a mission. Lien Nguyen is "trying to make poop cute," she recently told the Toronto Star. Inspired by a visit a few years ago to an outpost of Modern Toilet, a Taiwanese chain of toilet-themed restaurants in operation since 2004, Nguyen will bring a similar concept to Canada this month. The restaurant will feature desserts that look eerily like feces, with chocolate unsurprisingly playing a starring role. Similar restaurants also see diners sit on toilets in place of chairs, or scoop food from commodes or bathtubs in place of bowls.
What's the appeal of eating food reminiscent of, well, post-food? Part of it may be due to the thrill of transgressing social norms in a safe, nonthreatening way. Part of it may have to do with the desire for restaurants to one-up their competitors when it comes to social media shareability. And part of the popularity in Asia stems from differences in toilets, where Western-style "sitting" toilets are significantly less common than those intended for squatting, and experiencing something different is novel.
But let's face it, if we need a restaurant to just remind us of all the realities of being a living human being, maybe it's time to get together some investors and just go ahead and open a funeral-themed restaurant. Oh wait — the world already has some of those, too.
Similar bathroom restaurants — toileateries? — exist in Indonesia, China, Japan, South Korea and the Philippines. But this Toronto curiosity isn't the first toilet-themed restaurant outside of Asia — as the Reuters video above points out, the Crazy Toilet Café recently opened in Moscow, and a now-closed place called Magic Restroom Café existed for a few years in California's City of Industry. Check out these images of the weird global phenomenon: