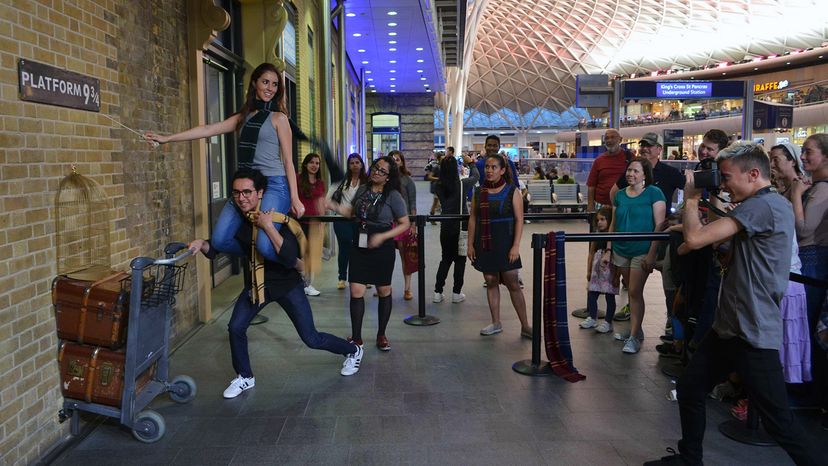 In "Harry Potter and the Sorcerer's Stone," the first book in J.K. Rowling's famous series, Harry has to explain to Uncle Vernon how he's to get to Hogwarts from King's Cross station in London. "I just take the train from platform nine and three-quarters at eleven o'clock," young Harry tells his incredulous uncle.
Of course there is no Platform 9 ¾ at King's Cross — unless you're a wizard on the way to Hogwarts. Or at least an aspiring wizard who happens to be in London for a bit.
Entering King's Cross station is not a magical affair in real life — or in the books written by Rowling. King's Cross is a hub for the national train service that spans the United Kingdom. (It's also next door to St. Pancras International railway station, where you can catch trains for other European countries.) It is very busy. As soon as you walk under the arched doorways, you'll find yourself in a crowd of people staring at electronic boards mounted high on the wall that show the schedules for dozens of trains.
But Hogwarts and Platform 9 ¾ will not be on those boards. According to the King's Cross website, there is no such platform — just as Uncle Vernon told Harry. There is a Platform 9 and a Platform 10, and between them there are train tracks. And that's it.
However, if you walk just past those Muggle platforms, you'll find Platform 9 ¾ in the station concourse. And you'll find another crowd. This time, the people will be queued up nicely while waiting their turn to take a picture with the famous trolley (that's a luggage cart to you Americans) that's halfway through the brick wall and on its way to wizarding school.
You can have a professional photographer wrap a Hogwarts scarf around your neck (if you know your house, you can choose your colors) then snap pics while you leap into the air holding the trolley handle. The photos will be ready for you at the official Platform 9 ¾ shop next door. Or you can take your own pics with your own camera for free.
The brick wall with the famous platform sign is there any time King's Cross station is open, but the cart is only in place during the Harry Potter-themed gift shop's business hours. The shop also sells all kinds of HP goodies, from Quidditch sweaters made with the same Scottish lambswool as those in the film to very convincing flying snitches. There's even a wall of wands, though sadly no Mr. Ollivander to help with your selection.