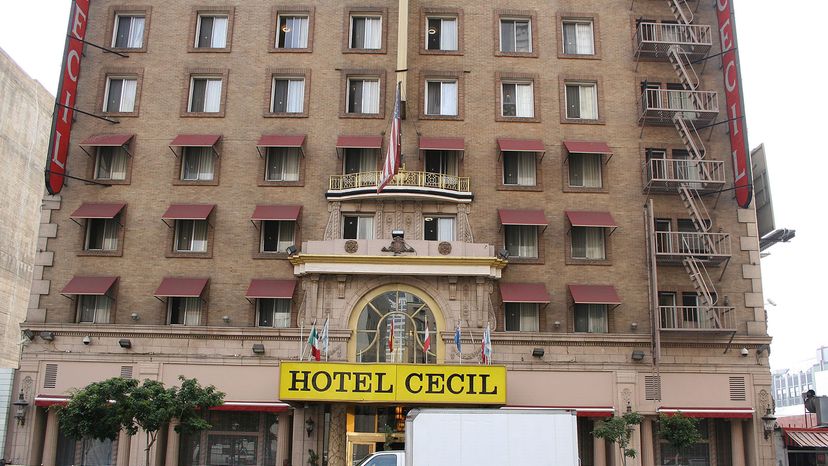 The Cecil Hotel had seen better days by the time this picture was taken in 2005. It was declared a landmark by the City of Los Angeles in 2017.
Jim Winstead/Wikimedia/CC BY 2.0
Tucked into downtown Los Angeles is a 19-floor hotel with 700 rooms and an otherwise unremarkable exterior. But within the walls of this structure, nightmarish scenes of humanity's darkness unfolded. It's the Cecil Hotel, an L.A. cultural touchstone, a haunted abyss, and a symbol of opulence riven by urban decay.
"In all my years as a historical journalist, I have never come across a building where so many documented terrible things have happened," emails Hadley Meares, who also has a podcast called Underbelly L.A. "By far, it is the most cursed space I have ever come across."
It's also the setting of one of the creepiest viral videos of the internet era, an elevator surveillance tape showing the last minutes of Elisa Lam, a Canadian student and former guest of the hotel. A Netflix series explores her disappearance and other mysteries that the hotel spawned.
The Dream and the Nightmare
The Cecil started life very differently. Built in 1924, it was intended to be a jewel of the downtown area, featuring a marble lobby, alabaster statues and gorgeous stained-glass windows.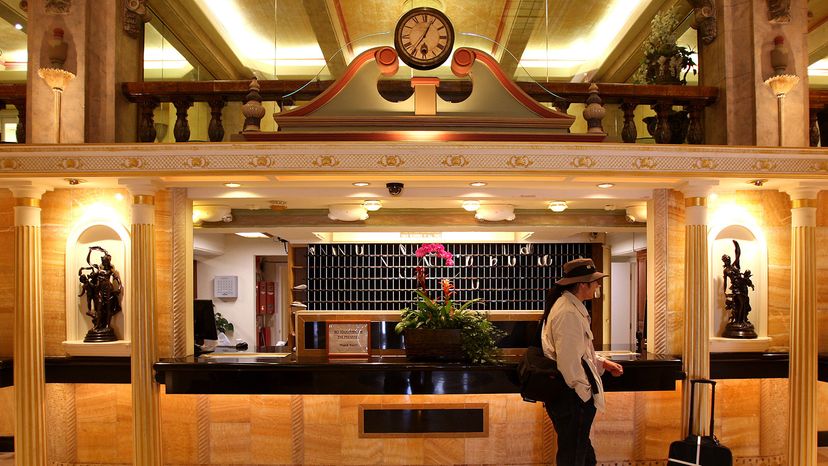 The lobby of the Cecil Hotel still showed traces of its former grandeur in 2008.
John Blanding/The Boston Globe via Getty Images
That dream very quickly became a nightmare.
Just a few years later, the Great Depression began strangling the nation. Vast swaths of L.A. near the hotel degraded into a poverty-stricken area known as Skid Row, where thousands of homeless people gathered.
"The Cecil opened during the boom time days of the Roaring Twenties, and there were high hopes for its success," says Meares. "However, the stock market crash [of 1929] and subsequent depression really hurt downtown Los Angeles, particularly the area where the Cecil was located. The area went further downhill after World War II, and the Cecil became known as cheap home of last resort for lost souls, criminals and the underserved elderly."
From the 1940s through the 1960s, guest suicides occurred with regularity. Some unfortunate people died within their rooms, from poison, gunshots or razor blades, while others flung themselves from the rooftop. One jumper even landed on – and killed – a pedestrian on the sidewalk below. An unstable woman threw her newborn baby out of the window.
In 1964, Goldie "The Pigeon Lady of Pershing Square" Osgood, was brutally murdered and her case was never solved. The retired telephone operator had earned her warm nickname for her habit of feeding birds nearby.
The Night Stalker Checks In
Darker still is the hotel's link to Richard Ramirez, a serial killer who lived at the hotel for weeks during his long and sensational murder spree in the mid-1980s. Known as the "Night Stalker," Ramirez was convicted of 13 murders and other offenses that were noted for their extreme brutality and sadistic twists.
Ramirez was known to prowl among Skid Row residents. According to some sources, after the killings, he'd discard his blood-spattered clothing in the hotel's trash bins without anyone taking much notice.
So casual was Ramirez about his deeds that he'd sometimes lounge around in the homes of his victims, partaking of snacks from the fridge while soaked in their blood. He also burglarized the homes, stealing cash and valuables, and in some instances, even body parts.
"Just thinking of Richard Ramirez, allegedly bringing eyeballs of his victims back into his filthy room at the Cecil chills me to the bone," says Meares. That's exactly what he did after killing Maxine Levenia Zazzara, a 44-year-old woman who was shot and stabbed to death in 1985.
After a circus-like trial in which Ramirez reveled in the spotlight, the Night Stalker was sentenced to death. But before he could be executed, he died in 1989 from complications of cancer.
At the Cecil, though, his horrific memory lived on. Just a short time later, another serial killer, Austrian Jack Unterweger, lived at the hotel for a time. Authorities believe he chose the location intentionally as a dark homage of sorts to Ramirez, whose crimes and subsequent celebrity were attractive to Unterweger.
Unterweger was, after all, a man who'd been previously convicted of murder at the age of 23. His life sentence in Austria was shortened to only 15 years, largely because of his writing prowess and intelligence, which he leveraged to convince others of his supposed complete rehabilitation.
Then, he traveled extensively, killing women in other countries, too.
He eventually murdered at least three prostitutes during his time at the Cecil Hotel. He was extradited to Austria and convicted. But the same night he was convicted, he hanged himself in his cell.
All of these grisly details serve as the historical backdrop for 2013, when the hotel became the setting for what's become one of the creepiest unsolved deaths imaginable.
The Mystery of Elisa Lam
Elisa Lam, a 21-year-old student from Vancouver, was reported missing at the beginning of February 2013. She had been staying at the hotel in a section offering hostel-like accommodations to foreign tourists. (The hotel also had another part with private rooms for regular guests and a third section with low-cost "single room occupancy" and shared bathrooms, for long-term residents.)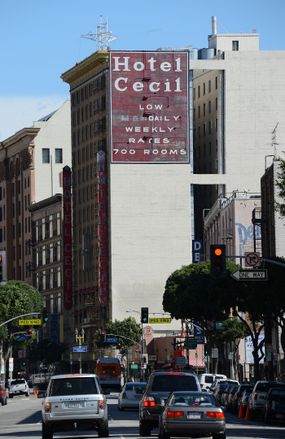 The exterior of the Cecil Hotel is seen in Los Angeles on Feb. 20, 2013, around the time the body of Elisa Lam was found in a water tank on its roof.
ROBYN BECK/AFP via Getty Images
By the middle of the month, building occupants had reported instances of low water pressure, as well as discolored and malodorous water dripping from the taps. Maintenance workers opened the hotel's water cistern and found Lam's body inside.
Surveillance video from the elevator, which is still online, seems to portray a young woman in distress. Lam enters the elevator, pressing multiple buttons, peering in and out of the elevator as if she's being pursued, and wildly gesticulates as if she's having an animated conversation with someone.
Could she have ingested too many recreational drugs? Was she being harassed or stalked by a murderer? Or was she having a psychotic breakdown?
To this day, no one knows how Lam's naked body wound up in the water tank. The door to the roof was locked. And no one can explain how the cistern's heavy lid was closed behind her.
"To me, the fact the Lam's phone was never found — or at least the police have never released that it was found — is the most enticing aspect of the case," says Meares. "Think of what that phone could tell us!"
Officially, Lam's case is called an accidental drowning, and her bipolar disorder is sometimes cited as a potential cause of her strange behavior.
With all of the strange and awful incidents that happened there, it's easy to wonder: Is the Cecil Hotel some sort of a magnet for evil that draws out the worst in human nature? Or is it simply that in an area so permeated with suffering and depravity, it was bound to be the scene of countless acts of violence and despair?
The Cecil is known – unsurprisingly — for hauntings and paranormal activity. Ghost hunters have scoured its halls for clues to supernatural events. And its creepy past inspired the fifth season of American Horror Story.
For now, the Cecil is closed, but there are plans to renovate and reopen it with a mix of hotel rooms and long-term housing. Perhaps a few new coats of paint will refurbish the blood-curdling spirit of a place that's seen the worst of humankind.