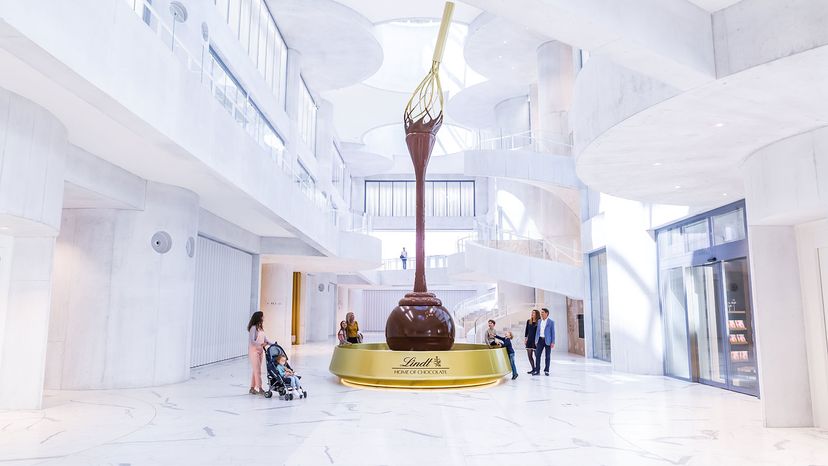 Lindt opened their chocolate-themed attraction in Zurich in September 2020.
Lindt
There's a reason that chocolate was a prized part of Mesoamerican culture dating back thousands of years. It was referred to as the "food of the gods," according to "The True History of Chocolate," because of its use in sacred ceremonies and even as medicine. Battles were fought for control of the places that grew cocoa pods, extending to this day.
Chocolate is one of the most popular desserts in the world, served in countless forms, including drinks, sauces and candy bars. Serious chocolate-lovers can't get enough of their favorite treat and love to know more about it, as well as to sample any goodies that they can. These six destinations around the world allow chocoholics to indulge their sweet teeth.
Chocolate Museums and Attractions
1. Lindt Home of Chocolate, Zurich
Swiss chocolate has a reputation all its own, and the newly opened Lindt Home of Chocolate made an immediate splash with its nearly 30-foot (9-meter) chocolate fountain and over 5,000-square-foot (465-square-meter) chocolate shop, their largest in the world. The museum has exhibits on how chocolate arrived in Europe and the process that the chocolatiers use to create their product. Videos feature the company's farm in Ghana, while the guided tour goes through a pilot plant that shows how Lindt chocolate is made and how new products are created. Of course, the tour ends with a tasting of their acclaimed chocolate. If that's not enough, Lindt offers chocolate-making classes. Admission starts at 15 Swiss francs (about $16.50) for adults, with an additional fee for tours and courses.
2. Cadbury World, Birmingham, England
In the United Kingdom, chocolate means one thing: Cadbury. The candy giant is known for its creme eggs among other treats. Cadbury World opened in 1990 in the Bournville village, which was the home of Cadbury factory employees starting in 1893. It was considered a model village for workers at the time. One of the exhibits on this self-guided tour focuses on this area and how it impacted the company. There's also a 4-D theater, a "Cadabra" ride in a "Beanmobile" and a recreated version of Cadbury's original shop. While visitors don't get to tour the factory, they can still test out their own chocolatier skills, piping the desserts into their chosen shapes. Admission is £18 ($23) for adults.
Visitors to Cadbury World enjoy the Cadabra ride through a chocolate wonderland.
Cadbury World
3. Chocoversum, Hamburg, Germany
The Hachez company, which was founded in 1890, created the Chocoversum as a way to showcase their production without bringing guests into the actual factories. Here, the guides, called "ChoColleagues," bring visitors on a 90-minute exploration of all things chocolate, from a real cocoa pod to the liquid chocolate used in bars. Sampling is encouraged along the way, and you can even create your own chocolate bar with desired toppings. Stop by the gift shop for their unique bars, including those infused with mango and chili peppers. Admission is 19 euros ($22) for adults.
4. MUCHO Museo del Chocolate, Mexico City
The MUCHO Museo del Chocolate opened in 2012 in a renovated 1909 house in the Colonia Juárez neighborhood of Mexico City. The museum collection has fascinating chocolate-related artifacts dating back to the 17th century and exhibits created by chocolate experts. During the tour, visitors learn how chocolate gained popularity, and its industrial production, as well as explore the advertisements that make consumers crave it. The museum offers workshops and has a store and cafe serving chocolate treats. Admission is 75 pesos ($3.50).
Chocolate Factories
While chocolate museums and themed attractions are entertaining, there's nothing quite like seeing the process from the beginning, especially for die-hard chocolate-lovers. Just ask Willy Wonka!
"There are a lot of craft makers that give tours," says Simran Sethi, host and creator of the world's first comprehensive chocolate podcast, The Slow Melt and the author of "Bread, Wine, Chocolate: The Slow Loss of Foods We Love." "I highly recommend them over the industrial places."
5. Haigh's Chocolate Factory, Adelaide, Australia
Visitors to Adelaide, Australia make a beeline for Haigh's Chocolate Factory, a company known for its Easter treats. The "Easter bilby" is their take on the bunny, substituting the invasive rabbit for a native marsupial. Open since 1915, Haigh's was also known in the 1950s and '60s for the "tray boys and girls" who sold their chocolates at the front of the movie screen during intermission. Until the start of the pandemic, the company offered free tours of its factory, bringing guests past the production line and allowing them to fill their pockets with free samples. It ended, as all good tours did, in the gift shop, where the dark, milk and white chocolate varieties were available for purchase. Until these tours resume you can buy their chocolates online.
6. TCHO, San Francisco
TCHO was opened in 2005 in San Francisco by a former NASA scientist and a German chocolate maker, created with its signature colorful packaging. In 2014, the company moved to a larger building across the bay in Berkeley and later opened the space up to tours. Here chocolate fans can see the flavor wheel the company uses to craft each bar, ranging from nutty to fruity. After visiting the production line, the tasting occurs. Just like a wine tasting, guides show you how to smell the aroma before sampling. Admission for these 90-minute tours was previously $10, but they are on hiatus during the pandemic. However, the chocolate can still be purchased at stores in San Francisco and throughout the country.
Note: Because of the constantly changing nature of the COVID-19 pandemic, be sure to check the websites of these businesses before going to confirm hours. Masks are required at most, if not all, of these venues.