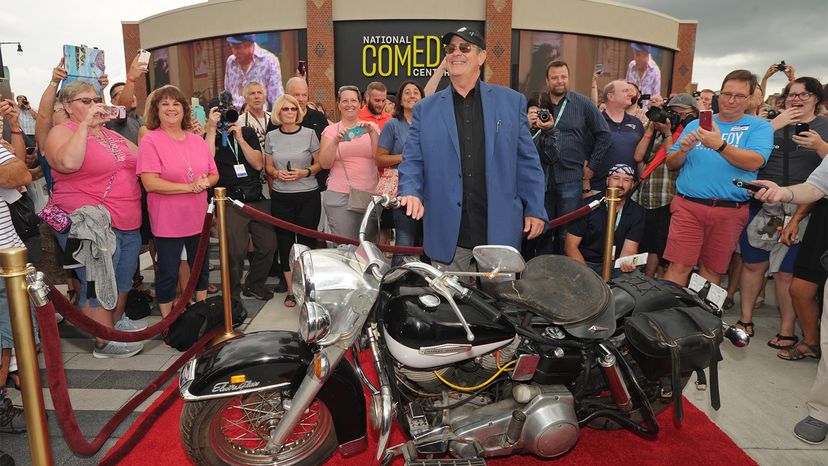 Comedian and actor Dan Aykroyd donated his famous Harley-Davidson motorcycle to the National Comedy Center, which opened in 2018 in Jamestown, New York, birthplace of comedic genius Lucille Ball.
National Comedy Center
When it comes to museums, people have all kinds of preconceived notions. But it's safe to assume that visitors to the National Comedy Center, the first state-of-the-art museum dedicated to telling the story of American comedy, are in for a unique experience. Located in Lucille Ball's hometown of Jamestown, New York, the 37,000-square-foot (3,437-square-meter), $50 million facility opened its doors in August 2018, and has since been providing comedy lovers with one-of-a-kind, tailored experiences. And the place is as legit as it gets — the United States Congress designated it the country's official cultural institution for comedy.
Before embarking on their journey, each attendee receives a wristband fitted with an RFID chip that's worn throughout the day. The "Laughband" lets users create a Humor Profile, which gives the band enough info to guide them to exhibits that suit their individual taste. Here are five of the funniest highlights lucky visitors will get to laugh their way through:
1. The Comedy Continuum
Guests who visit the high-tech Comedy Continuum are invited to interact with a super-sized, touchscreen video wall to discover the connections between some of the industry's titans, getting a chance to view video clips of the stars in side-splitting action.
2. George Carlin's 'Stuff'
Often considered one of the comedy industry's most prolific minds, George Carlin has an enduring legacy that the museum has taken great pains to maintain. In fact, the exhibit dedicated in his honor includes over 25,000 artifacts from Carlin's career that have been digitally archived. Visitors will get to see thousands of handwritten jokes and notes, and get unique insight into the comedy great's creative process.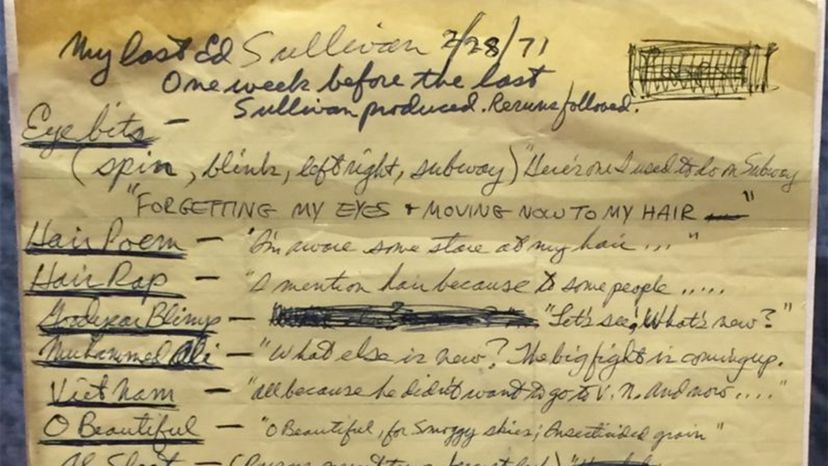 Carlin's handwritten set list for the last of his appearances on the Ed Sullivan Show in 1971.
National Comedy Center
3. Comedy Karaoke
You may have embarrassed yourself in a regular karaoke setting, but have you ever imagined trying your hand at the potential humiliation of comedy karaoke? Similar to the musical variety, this version lets visitors get a taste of life onstage, giving them an opportunity to perform a stand-up comedy routine in front of a live audience. The good news is, those brave enough to go before the crowd get some quick pre-show tips on delivery and timing to help guide their performance.
4. Laugh Battle
There's nothing funnier than a family feud, and this attraction allows visitors to face off against relatives (or friends) to see who can make their opponent laugh more. The exhibit uses facial recognition technology, powered by Microsoft AI, to determine who smiles or laughs as the other person delivers jokes, and points are scored any time an opponent cracks a smile or laughs.
5. The Ernie Kovacs Centennial Exhibit
Set to debut in August 2019, this special exhibit will showcase never-before-exhibited creative papers, rare audiovisual content and original, screen-used artifacts from the comedian's heyday, which spanned the 1950s and early 1960s.