Denver is a city that revels in contrasts. It's a burgeoning megalopolis where skyscrapers line the bustling downtown streets, their facades framed by the magnificent Rocky Mountains looming in the distance. Leafy neighborhoods parading aristocratic Victorian mansions sit opposite modern new cultural marvels teeming with trendy urbanites too young to remember the oil crash of the 1980s that sent the city spiraling into an economic meltdown.
It's an easygoing, laid-back city that welcomes cowboy boots and stilettos, ball gowns or Birkenstocks, tuxedos or T-shirts. And the city's spectacular climate of more than 300 days of sunshine a year packs Denver's 20,000 acres of parkland with diehard outdoor enthusiasts, even in winter.
Boasting the fifth busiest airport in the country and more than 10.5 million overnight visitors a year, Denver is booming and embracing its vibrancy with unabashed gusto.
The Best of Denver
Long overshadowed by the glamorous Colorado Rockies ski resorts that lull the fur-clad glitterati to their pristinely powdered slopes, Denver has emerged from the woodwork as a progressive, world-class city that prides itself on its unpretentious roots, laid-back lifestyle, and unrivaled beauty. Denveris part cosmopolitan chic, part urban cowboy country, both of which add to the city's mass appeal. Its residents are considered the thinnest, on average, in the America and the highest educated, with numerous opportunities to explore the city's outdoors as their unrivaled playground. A proliferation of hot, new restaurants and watering holes, cultural wonderments, revitalized neighborhoods, and swanky shopping districts have positioned the Mile High City -- so nicknamed for its location at exactly one mile above sea level -- as a vacationer's paradise.
Denver's attributes are vast and varied. The city lays claim to more public parks than any other metropolis in America; a burgeoning cultural scene, including a new state-of-the-art opera house and art museum expansion; and a delightful downtown area rich in history and ripe with posh hotels and pulsating nightlife. First-rate restaurants include al fresco cafes that are perfect for prime people-watching on the 16th Street Mall, a one-mile pedestrian promenade that stretches from one end of downtown to the other.
Requisite outings for tourists include visits to the Colorado State Capitol, Larimer Square, the Denver Art Museum, and the Museum of Science and Nature. Visitors should also take advantage of out-of-town excursions to Mount Evans Scenic Byway and Rocky Mountain National Park, where you can leisurely meander around lovely lakes or hike to the summit of 14,259-foot Longs Peak, the highest mountain in Colorado.
Fast Facts & Info
Geography and landscape: As it was during its Gold Rush days, Denver is still the largest metropolis between California and Missouri, situated at the far western tip of North America's high rolling plains and at the eastern edge of the jagged Rocky Mountains, many of which jet higher than 14,000 feet. Stand on the 18th step of the Colorado State Capitol, at precisely 5,280 feet above sea level, and you'll experience the altitude high that makes the Mile High City moniker so apt. Altitude sickness is not uncommon here, and visitors are encouraged to drink lots of water, despite the city's low humidity and temperate climate.
Denver champions the tenth largest downtown in the United States -- a dynamic enclave flanked by a mile-long pedestrian promenade chock-a-block with outdoor cafes, upscale restaurants, shops, and cultural sights. It's the hub of Denver's thriving commerce and where most visitors spend the majority of their time.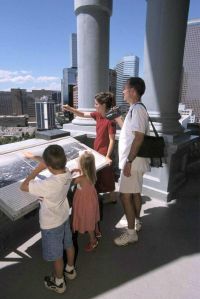 Denver is the largest city in Colorado, spanning 156 miles and harboring more than half a million people. The Denver metropolitan area, which encompasses a population of more than 2 million, also includes the counties of Jefferson, Broomfield, Arapahoe, Adams, and Douglas County, one of the fastest growing communities in the state.
General orientation: "If you get lost, look for the mountains." Abide by that mantra, and getting around Denver isn't difficult. The mountains, which sit to the west, are visible from just about anywhere in the city and provide orientation to even the most disoriented Denver visitor.
Downtown streets are laid out in a north-south, east-west grid, and Broadway, which runs north-south, acts as the dividing line between east and west addresses. Ellsworth Avenue runs east-west and serves as the dividing line between streets running north and south. Grab an Official Visitors Guide, available free at the airport, if you want a good map.
Safety: Although Denver is a predominantly safe city, police and neighborhood watch groups patrol the downtown area and urban communities to keep crime at bay. As with any large city, however, pay close attention to your surroundings and don't walk alone late at night. Panhandlers are prevalent on busy street corners, along the 16th Street Mall and on East Colfax, but you'll find them more annoying than threatening.
Climate/weather: Denver experiences four distinct seasons, making it an eminently pleasurable year-round destination to enjoy just about every outdoor pursuit imaginable. While it's true that the mountains endure heavy snowfalls, the city enjoys a far more moderate climate, contrary to the thorny myths that Denverites spend the winter months holed up in their homes, imprisoned by a blanket of white. True, the city has made national news for its occasional blizzards, but in true Mile High fashion, the sun shines brightly the next day, quickly giving way to dry streets.
The hottest month is July, when the average temperature reaches 88 degrees Fahrenheit, and the coldest month is January, with the average high of 43 degrees Fahrenheit. The average temperature in spring hovers around 75 degrees Fahrenheit, while fall temperature highs range from 85 degrees Fahrenheit in September to 50 degrees Fahrenheit in November.
Denver has no shortage of things to see and do -- but you have to know where you're going to take advantage of everything the city has to offer. In the next section, we'll provide tips for getting around the Mile High City.