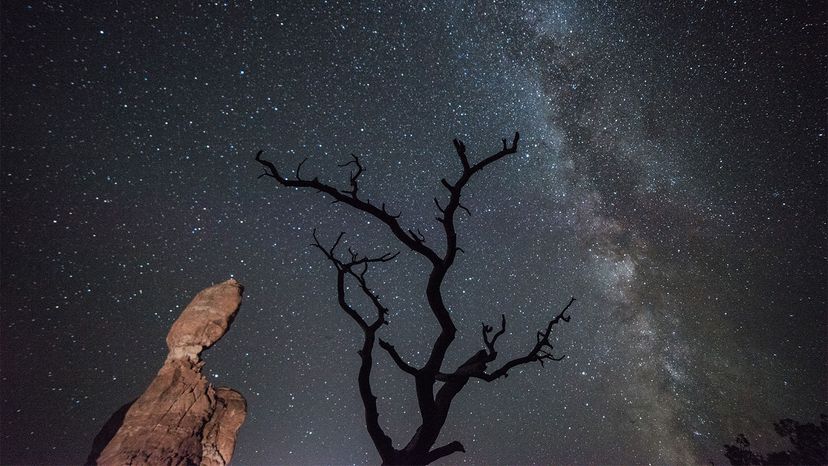 The star-filled night sky over Arches National Park in Moab, Utah, certified as an official International Dark Sky Park in 2019.
VWPics/Getty Images
According to the U.S.-based International Dark-Sky Association (IDA), an International Dark Sky Park (IDSP) "is a land possessing an exceptional or distinguished quality of starry nights and a nocturnal environment that is specifically protected for its scientific, natural, educational, cultural heritage and/or public enjoyment."
The most visible arm of this entity is their vaunted International Dark Sky Places program, which has been in existence since 2001 and has five levels of participation. We will focus on International Dark Sky Parks,which the organization defines as publicly or privately owned spaces protected for natural conservation that implement good outdoor lighting and provide dark sky programs for visitors. There are also International Dark Sky Reserves, International Dark Sky Sanctuaries, Urban Night Sky Places and International Dark Sky Communities.
To learn even more, we tapped John C. Barentine, Ph.D., F.R.A.S., who serves as director of conservation at the International Dark-Sky Association. Barentine shares that, "As of today, there are 178 designated International Dark Sky Places in 21 countries on six continents around the world." He thinks it's vital for there to be places like those recognized by the IDA. "They represent in some cases the last remaining regional sources of natural nighttime darkness, which we now know has great value for the wellbeing of the biological world, including ourselves as humans. Access to the night sky is part of our cultural heritage, and many people are now cut off from that experience. They are refuges for body and soul in our increasingly disconnected and frenetic world."
Most importantly, Barentine continues, is that they show what could be when people consciously decide that nighttime darkness is worth protecting. "They demonstrate the power of people coming together to identify a valuable resource and take simple but powerful and cost-effective steps to protect it. And they offer an opportunity for us to hand off something good to the generations that come after us, so they can access an experience among the few that transcends place, time, culture and cultural identity. There's only one night sky, and it belongs to all of us. It's also up to us to preserve it," says Barentine.
Earning an IDA designation is no small task. To get this distinction, areas must go through a rigorous application process, further explained here. "At any given time there are about 50 places in the pipeline that we consider highly 'active' (i.e., we anticipate that they will apply to the program within about the next 12 months) and about 75 that are considered 'active' but that we think will take a little longer to apply. So all together, there are around 125 sites that are somewhere in the nomination process. Lately we have accredited about 25 new sites per year, which means our annual conversion rate is about 20 percent," Barentine explains.
Now that we know what dark sky parks are, let's learn about a handful of options across the United States where visitors can experience the majesty of unspoiled nature via astrotourism.
1. Grand Canyon National Park, Arizona
We'll start with John Barentine's favorite park, which he admits is a tough question, adding, "I've been asked the same question by journalists in the past, and I always think it's sort of like trying to say which of your children is your favorite. The answer is, of course, all of them." But when pushed, Grand Canyon National Park in Arizona is his chosen pick. "Not only is it a world icon, as national parks go, but as an Arizona native, it has special meaning to me. It's not the darkest park, or the biggest, but it's "grand" on a scale that's hard to describe. Seeing the Milky Way at night with the dark, yawning depths of the canyon before you is an incomparable experience. It's that sort of moment, that feeling, that drew me into working in dark skies to begin with. It's a feeling I want everyone on this planet to experience in their lifetime," he explains. This park was certified by the IDA in June 2019.
According to the National Park Service, about 5.5 million people visit the Grand Canyon each year to see the stunning 1-mile (1.6-kilometer) deep canyon winding through the desert. Grand Canyon National Park has built a robust night skies program. The best spots to view the stars from the South Rim, where 90 percent of visitors access the park, are Moran Point, Lipan Point and Mather Point from the visitor's center. The Desert View Watchtower is another popular spot, especially for astrophotography. Ranger-led hikes occur every full moon, and rangers occasionally provide constellation talks as well. The 10 percent of visitors using the North Rim entrance should hike to Bright Angel Point for the best views.
2. Craters of the Moon National Monument, Idaho
Fittingly, Idaho's Craters of the Moon National Monument consists of ancient lava flows that are reminiscent of the craters and valleys of the moon. It's a stunning spot to view the skies and was designated a dark sky park in 2017. Annual star parties are held each spring and fall, while full moon hikes led by rangers are a summertime staple. Additionally, the Idaho Falls Astronomical Society hosts special events in the park to celebrate the beauty of the night sky.
Visitors can also camp overnight in a lava field for another excellent opportunity for a pristine star view.
3. Newport State Park, Wisconsin
Dark sky parks aren't just reserved for nationally protected lands, so in 2017, Newport State Park in Door County, Wisconsin became the first IDSP in the state. This beautiful area rests on the shores of Lake Michigan and is the only wilderness state park in the state. The entire park offers pretty dark sky views, but for specific parking suggestions, check out this guide to the park's 2,300 acres (931 hectares). Just be sure to head out of the park before the 11 p.m. closing time.
4. Prineville Reservoir State Park, Oregon
Prineville Reservoir State Park is currently Oregon's only certified dark sky park and earned the honor in May 2021. According to Allison Keeney, global communications manager for Travel Oregon/The Oregon Travel Commission, visitation has definitely increased over the last couple of years, likely due to this designation and the COVID-19 pandemic, with more people choosing to camp and be outside. This central Oregon spot is located east of Bend, a popular outdoorsy destination in the Beaver State. Scheduled dark sky programs are listed at the park in the on-site calendar, and overnight guests can camp at 43 sites along the shore of the 3,000-acre (1,214-hectare) reservoir. A number of rustic cabin accommodations are also available in the park and can be reserved up to six months in advance.
5. AMC Maine Woods, Maine
AMC Maine Woods is New England's first IDSP and was designated as such in May 2021. This massive site helps preserve 75,000 acres (30,351 hectares) in remote northern Maine from light pollution. Owned and operated by the Appalachian Mountain Club, the Maine Woods site provides overnight stargazing and accommodations opportunities with their Medawisla Lodge & Cabins and future programming is in the works as well.