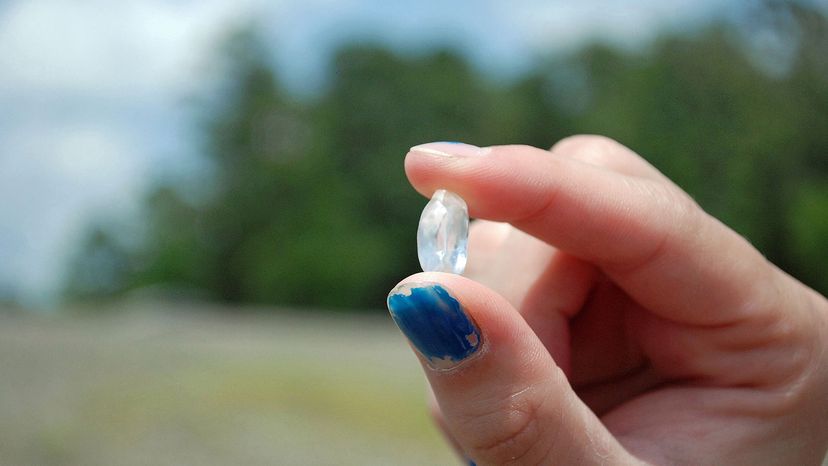 Bobbie Oskarson holds the 8.52-carat diamond she found at Crater of Diamonds State Park in Arkansas in 2015. It was later dubbed the Esperanza Diamond.
Matt Jonas/Digital First Media/Boulder Daily Camera via Getty Images
If you're short on cash after the past few months, there's a place in the United States where you can mine for minerals. Crater of Diamonds State Park in Murfreesboro, Arkansas is a 37-acre (15-hectare) park, located around two and a half hours southwest of Little Rock, that allows visitors to search for their own diamonds. And if you find one, you get to keep it!
The land that became a state park was originally owned by local farmer John Huddleston, who discovered diamonds here in 1906. The land was bought and sold a number of times, including to a commercial mining operation, before being passed on to the state of Arkansas. The park is named for the lunar-like landscape of craggy dirt created from a volcanic eruption that left behind an 83-acre (33.5 hectare) crater. This eruption from 100 million years ago, brought minerals and rocks to Earth's surface from the mantle. Over the centuries, the lighter soil removed by erosion and the heavier elements (like the diamonds and other stones) remained, according to National Geographic. Crater of Diamonds State Park, which opened to visitors in 1972, is the only public diamond mining site in America.
Since then, more than 33,000 diamonds have been discovered by visitors, varying in size. Among them are the 40-carat Uncle Sam, the largest diamond unearthed in the United States (found in 1924 before the area became a park), and the 16-carat Amarillo Starlight. On Labor Day, 2020, Maumelle, Arkansas, resident Kevin Kinard found a 9-carat diamond, the second-largest found since the park opened.
"This latest diamond find is a testament to maintaining the diamond search area with a focus on sustaining the resource at Crater of Diamonds State Park, as well as creating the opportunity to find a diamond and make lifetime memories for all of our guests," Arkansas State Parks Director Grady Spann said in a press release at the time.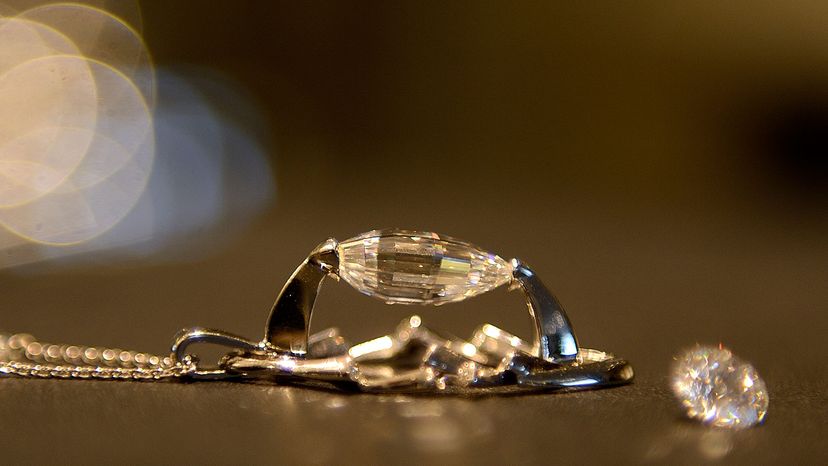 The 8.52 carat Esperanza Diamond sits next to a 1.5 carat diamond for comparison at Black, Starr & Frost in Newport Beach, California. The diamond was found in Crater of Diamonds State Park in Arkansas in June 2015 and was estimated to be worth $1 million.
Jeff Gritchen/Digital First Media/Orange County Register via Getty Images
Visiting Crater of Diamonds State Park
Since diamond seekers need to dig around in the dirt, comfortable clothing is a necessity. Expect to get muddy, dusty and wet in your search. Shoes that can be easily washed are a good idea, along with a wide-brimmed hat to protect from sunburn.
You'll need to bring your own equipment, as tool rentals are not available during the COVID-19 pandemic. Most gems are found in the first foot of dirt, so visitors will need to bring a shovel to dig and a screen to sift through.
Although diamonds are the most popular item to search for, visitors might also find other rocks and gems like agate, garnet, amethyst and jasper. Whatever you find can be registered and weighed at the Diamond Discovery Center, and then it's "finders keepers."
If you're interested in visiting the park, make your plans early. Advance tickets are required as currently, only 1,500 are issued per day and cost $10 per adult. The state park is also home to walking trails, campsites, a seasonal cafe and a water park.