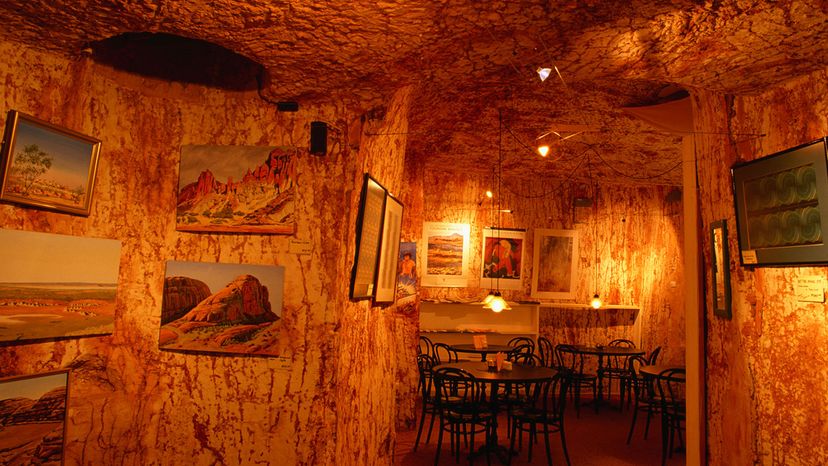 An underground restaurant waits for customers in Coober Pedy, Australia. Because of the area's very high temperatures, most residences and businesses are underground.
John W Banagan/Getty Images
Located in the vast Outback of South Australia is the town of Coober Pedy. But don't expect to find a city skyline or tall apartment buildings. Because here, most of the roughly 2,500 residents live in underground houses, eat in underground restaurants and even worship in underground churches. The town's other-worldly appearance has made it a popular location for films, including 1985's "Mad Max: Beyond the Thunderdome."
Cooper Pedy has just two gas stations, two grocery stores, a post office, a liquor store, and a handful of hotels and shops catering to visitors. It's more than 700 miles (1,126 kilometers) from Uluru, one of Australia's most iconic landmarks, and a stopover on the journey south to Adelaide. On the way into town, mounds of dirt discarded from the mines give it an almost lunar landscape. Signs warn visitors of open mine shafts throughout the area.
Aboriginal people lived on this land for thousands of years before the arrival of Europeans. The name "Coober Pedy" means "white man in a hole," so-called for the miners that inhabit the town. In 1975, the town's Aboriginal community adopted the ancestral name of Umoona. The name comes from a type of tree found in the area, also meaning "long life."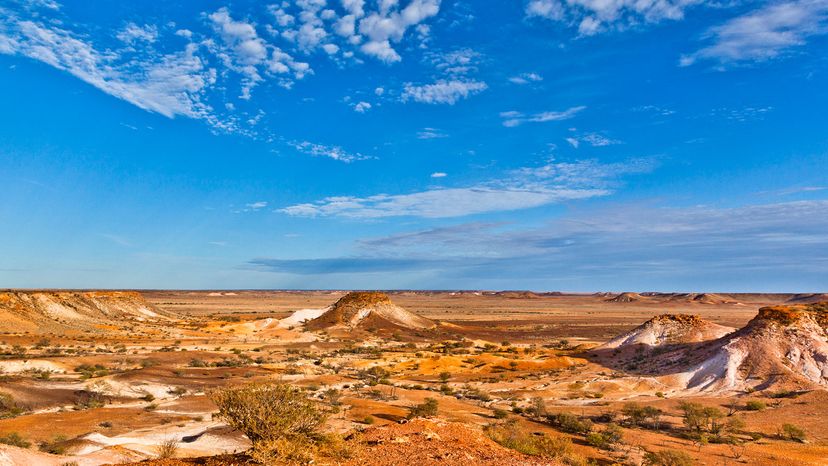 The Breakaways Reserve near Coober Pedy, South Australia. The colorful landscape has flat-topped mesas and desert formed by erosion.
Manfred Gottschalk/Getty Images
The Breakaways, a nearby mountain range, are a sacred site of the Antakirinja Matuntjara Yankunytjatjara people and the surrounding conservation park is owned and maintained by them.
Coober Pedy's Mining History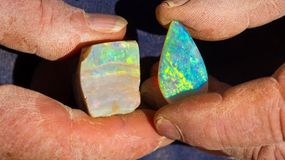 A miner presents ruff opal from a Coober Pedy mine.
Marc Dozier/Getty Images
In 1858, the area was called the Stuart Range, after a Scottish explorer named John McDouall Stuart. Opals, created by silica deposits 150 million years ago, were discovered in 1915, but the mining industry didn't really get going until after World War II. In the 1970s and '80s, there were more than 1,000 miners in the town. Now there are less than 100, according to the BBC.
The world's largest opal, not to mention the most valuable, was found in 1956 in Coober Pedy's Eight Mile opal field, weighing in at 17,000 carats (3.5 kilograms or 7.7 pounds). The very pure opal, now called "Olympic Australis," is valued at more than $2 million Australian dollars (roughly $1.5 million U.S.). Australia is still the world's largest producer of opals.
Coober Pedy on Screen
Despite its small size and remote location, Coober Pedy and its surrounding areas have been featured in countless movies and television shows, including "Kangaroo Jack," "Pitch Black," "Red Planet" and "Priscilla, Queen of the Desert." A spaceship from "Pitch Black" still sits in town, now covered in red dust.
But it's "Mad Max Beyond Thunderdome," the futuristic film starring Mel Gibson, that sticks in most minds. The Breakaways stood in as the work camp Max was sentenced to. Pilot Jedediah's house is the real-life underground home of Crocodile Harry, a Coober Pedy local who claimed to be the inspiration for the Crocodile Dundee character. The home is covered in flags and mementos brought to him by travelers over the years. Harry, also known as Latvian baron Avid von Blumenthal, died in 2006 but his home is still open for tours.
Underground Life
Movie sets and opals aside, what most people come to see here are the underground residences. This part of the Outback receives little rainfall and temperatures have been recorded as high as 122 degrees Fahrenheit (50 Celsius). Because of this, an estimated 60 percent of Coober Pedy residents took inspiration from the mines and established their homes underground. Each one is carefully dug out room by room, and some residents have even found their own opals in the walls. When more space is required, they can just continue digging, leading to some very spacious residences. Temperatures underground are a comfortable 66 to 77 degrees Farhenheit (19 to 25 degrees Celsius.) The homes have working electricity, running cables back up to the surface along with pipes for fresh air. Items are often recycled as building materials can be hard to come by.
Visitors can sleep "dugout-style" like the locals at one of many underground hotels and guesthouses. These provide comfortable sleep with total darkness and a year-round cool temperature. I stayed in one of these subterranean rooms and it was the best night's sleep I've ever had.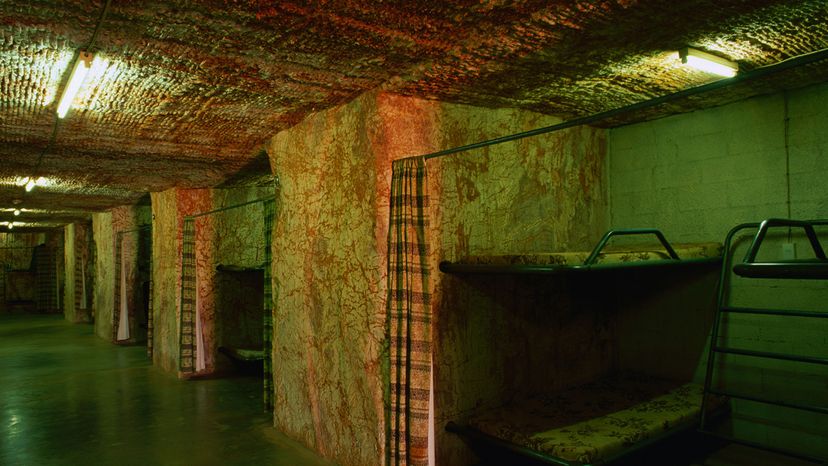 The Opal Cave underground backpackers hostel in Coober Pedy.
John W Banagan/Getty Images
In addition to underground homes, there are underground art galleries, restaurants and shops, as well as multiple underground churches, including a Serbian Orthodox congregation. I picked up a paperback from Underground Books to read on my journey south. I browsed the shelves and cooled off, already sweaty from a short walk around Coober Pedy.
Other Things to See in Coober Pedy
Elsewhere in town, there's a drive-in theater and an 18-hole golf course that, in true Coober Pedy style, has no grass. Boot Hill is the town's cemetery with quirky memorials like an 18-gallon beer keg.
Visitors can shop for Aboriginal artwork in the many galleries around town. (Josephine's Gallery features local artists working on the detailed paintings.) You can also tour the opal mines, including some that are still active, shop for opals and see the Big Winch, a quirky landmark and overlook featuring a tool used for mining. It's a popular photo stop for tourists.
Outside of town in the Breakaways is the Dog Fence, or the Dingo Fence, which is the longest fence in the world. It spans 3,488 miles (5,614 kilometers) through the states of South Australia, Queensland and New South Wales, continuing as far as the eye can see. It was established to prevent dingoes from encroaching onto farming land and attacking sheep. The Moon Plain, on the road to Coober Pedy, has a bleak landscape that made me feel like I'd stepped foot on another planet.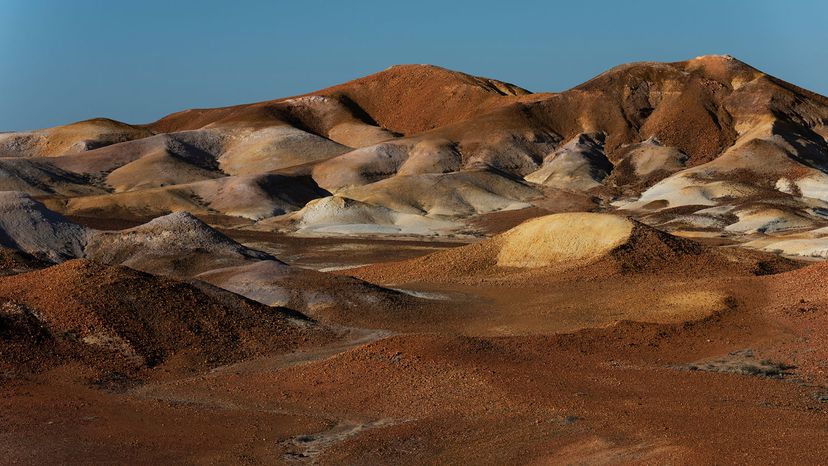 A late afternoon view of spectacular multi-colored arid hills at Kanku-Breakaways Conservation Park, Coober Pedy.
Krzysztof Dydynski/Getty Images