Carlsbad Caverns National Park
3225 National Parks Highway
Carlsbad, NM 88220
505-785-2232
Carlsbad Caverns, known locally to southern New Mexicans as the "Bat Caves," are among the largest natural caverns in the Western Hemisphere. Carlsbad Caverns National Park is comprised of more than 84 major caves, featuring unusual formations such as the Giant Dome (an enormous pedestal of coral reef-like mineral projections) and the King's Palace (distinguished by a multitude of hanging stone draperies). Park visitors can fly into El Paso, Texas, and drive 150 miles to the park. In addition, there are flights available via Mesa Airlines from Albuquerque, New Mexico, to Carlsbad.
Entrance fees: $6/adult for three days; children 15 and under are free. Entrance to some caves may require additional fees.
Visitor center: Carlsbad Caverns Visitor Center is open daily except December 25
Accommodations: Some backcountry camping is available.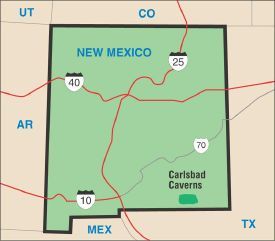 Visiting Carlsbad Caverns National Park
Every sunset on summer evenings, in a corner of the Guadalupe Mountains in southern New Mexico, a dark cloud swirls out of the ground; what looks like a tornado is actually half a million bats flying out of an immense opening in the earth. The bats fan out over an area 100 miles wide, catching and devouring flying insects. At dawn they return to their home.
This nightly exodus of Mexican free-tailed bats led to the modern rediscovery of Carlsbad Caverns around 1900. This great cave is one of the largest caverns in the world. The size and boldness of its huge vaulted underground chambers are truly awesome. The cave contains formations of such startling shapes and colors, and of such monumental proportions, that country humorist Will Rogers called this underground wonderland "the Grand Canyon with a roof on it."
Most visitors choose to experience the caves by foot because there is so much to be seen overhead, down below, and up close. In the next section, we will detail the park's highlights, including the best photo opportunities.