Capitol Reef National Park
HC 70 Box 15
Torrey, UT 84775-9602
435-425-3791
Capitol Reef National Park is located in southern Utah -- approximately 250 miles south of Salt Lake City -- among many other legendary "slickrock" parks. Contrary to its name, the park does not have any "reefs," except in the sense of upthrust rocky ramparts that resemble tropical coral reefs in their varied colors. This national park is also renowned for its enormous light-colored domes, which resemble the dome of the U.S. Capitol building. In addition, it has intricate mazes of red cliffs, pinnacles, and canyons.
Entrance fees: $5/vehicle for seven days
Visitor center: The visitor center is open daily except December 25.
Other services: Three campgrounds
Accommodations:
Cathedral Valley Campground. Open year-round. 435-425-3791.

Cedar Mesa Campground. Open year-round. 435-425-3791.

Fruita Campground. Open year-round. 435-425-3791.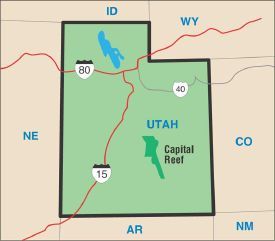 Visiting Capitol Reef National Park
From a distance it looks like a swell of gigantic ocean waves, but the Waterpocket Fold, of which Capitol Reef is a part, is an immense pleat in the earth's crust that rises in great parallel ridges for 100 miles across the starkly beautiful desert landscape of southern Utah. Breached in many places by streams and erosion, the up-folding rocks present a striking spectacle of nature.
The awe-inspiring formation is not actually a reef, but a ridge of limestone that once existed in an ocean. Waterpocket Fold is one of the world's largest and finest monoclinal flexures. In these unusual places, the earth's crust has buckled upwards. Early pioneers, who were not geologists, called any rocky barrier to their travel a reef, and this reef's sheer cliffs, which are nearly 1,000 feet high in some places, blocked the east-west travel in this region for decades.
Today, travelers who make the journey to Capitol Reef will find the park accessible by car, horseback, or foot. For detailed sightseeing tips, turn to the next page.