Bryce Canyon National Park
PO Box 170001
Bryce Canyon, UT 84717-0001
435/834-5322
Hoodoos. That's the word used to describe the eerie orange and red pinnacle formations of eroded sandstone that make Bryce Canyon National Park famous around the world. Each year one million or so pilgrims journey to Bryce Canyon, located in southwestern Utah. Many visitors arrive from nearby Las Vegas, where direct flights to the Bryce Canyon Airport make the trip especially convenient. Visitors can enjoy hiking and horseback riding, as well as unique nighttime programs such as moonlit walks.
Entrance fees: $20/vehicle or $10/individual
Visitor center: The visitor center is open daily except January 1, Thanksgiving Day, and December 25.
Other services: Park lodge and two campgrounds
Accommodations:
North Campground. Open year-round. Some reservations are available. 877-444-6777.

Sunset Campground. Open from mid-April to mid-October. First-come, first-served.

Bryce Canyon Lodge. Open from April to October. 888-297-2757.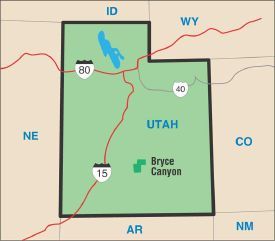 Visiting Bryce Canyon National Park
Nowhere else in the world can you see so many oddly shaped and brightly colored rock pillars. The distinctive hoodoos are scattered over the countryside in sharp warriorlike ridges, solitary hermit spires, or closely clustered familial groups. From the coliseumlike overlooks, commanding vistas can be had of the remarkable eroded landscape that makes up the scenery in Bryce Canyon National Park.
The canyon's colorful glory is enhanced by the changing seasons. In fact, many visitors choose to explore the park in the winter by cross-country skiing. On the following page, you will find tips on planning a trip to this beautiful Utah destination.