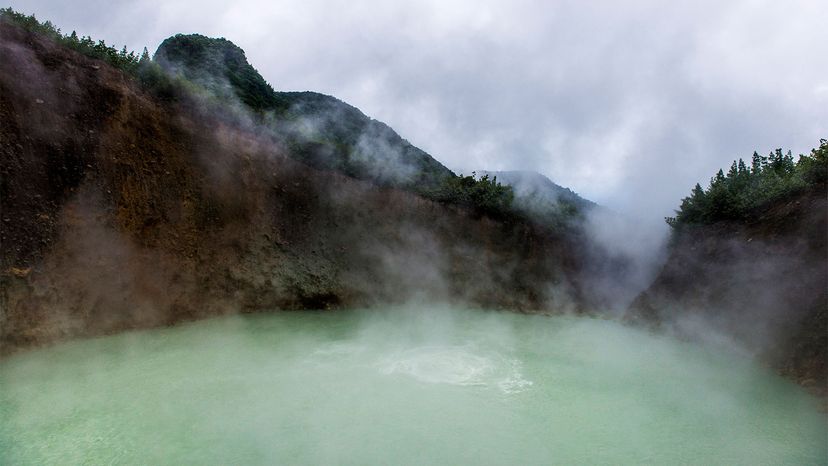 Boiling Lake, in Dominica, has been measured at 197 degrees Fahrenheit (91.5 degrees Celsius) around the edges, but because it is boiling, the center temperature has never been measured. And nobody knows how deep it is either, for the same reason.
Göran Höglund (Kartläsarn)/Flickr
Resting in the Lesser Antilles of the Eastern Caribbean Sea is the lush island nation of Dominica. This volcanic paradise is often overlooked by travelers to the bustling region and is sometimes confused with the Dominican Republic. But with a river for each day of the year (truly, 365 rivers), astounding raw beauty, the best hiking in the Caribbean and, since December 2021, non-stop flights from the United States, the "nature island" is poised to become a compelling draw for visitors from all over the globe.
Dominica has already made a name for itself in the adventure travel community as the home to the longest trail in the region, the 115-mile-long (185-kilometer-long) Waitukubuli Trail. But the quintessential experience on this rugged and mountainous island is a visit to Boiling Lake. Beyond being the world's second-largest boiling lake, it's also part of the UNESCO World Heritage Site Morne Trois Pitons National Park, protecting about 9 percent of Dominica's biodiverse interior. Notably, it was the first listed UNESCO natural site in the Eastern Caribbean.
To learn even more, we tapped Lise Cuffy with Discover Dominica, the national tourism board for the island. She shares that Boiling Lake is located deep in the rainforest in an area known as the Valley of Desolation, within the village of Laudat, located in the Roseau Valley. Cuffy loves that this area feels untouched and relatively undiscovered, adding, "hiking to this natural wonder is one of the best experiences in Dominica, but it's also one of the most demanding hikes on the island."
How Do You Get To Boiling Lake?
To get to Boiling Lake, one must take on a quite strenuous hike, so not anyone can visit, as physical fitness is a prerequisite. The hike is approximately 8 miles (12.8 kilometers) — 4 miles (6.4 kilometers) up, and 4 miles back. It usually takes the average hiker about six hours to complete the hike and it's not for the faint-hearted. And swimming is never allowed in the lake and could lead to injury or death.
Geologically speaking, Boiling Lake is actually a flooded fumarole, which Encyclopaedia Brittanica defines as "a vent in Earth's surface from which steam and volcanic gases are emitted." This makes it unique since it's not a volcanic crater. The University of the West Indies Seismic Research Centre, which monitors the lake regularly, said on their website that "Research suggests that water levels at the lake are maintained by the bubbles of volcanic gases rising through spaces in the rock beneath the lake."
Additionally, the natural basin of the lake helps drain the copious rainfall from the surrounding jungle, while two streams also empty into the Boiling Lake. According to Cuffy, all of this adds up to a captivating 200-foot-wide (61-meter-wide) cauldron of gray-blue water enveloped in a cloud of vapor.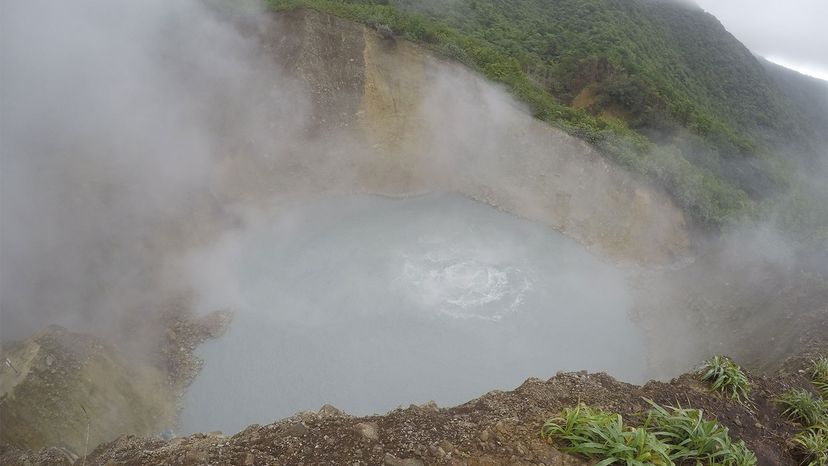 Getting to Boiling Lake is a long and treacherous hike, so, if you go, make sure you are well-prepared for the journey.
Wikimedia Commons (CC By SA 4.0)
Beyond being geologically enthralling, Boiling Lake is super important for tourism in Dominica. Not only is it the second-largest formation of its kind in the world, but Cuffy also thinks it perfectly captures what it feels like to be on another planet. She says it also generates a sense of local pride in the area, raises the island's profile and generates both foreign revenue and local employment.
"Attractions like these [explain] why the country should be [visited] and should be celebrated as a UNESCO World Heritage Site," she says. "It is a great symbol of what is unique about your world and what the citizens of your country take pride in. It generates jobs, economic opportunities and, most importantly, human connection between all parts of the globe, [the impact of] which cannot be measured."
Some Travel Tips
Tom Decherd, the co-founder of boutique hotel and adventure tourism company Wanderlust Caribbean near Calibishie, also considers the hike to Boiling Lake a must-do Dominica experience. He adds, "With over 300 miles [483 kilometers] of trails in Dominica, it's tough to decide which to hike during a vacation. The quintessential hike has to be the Boiling Lake trail even with all these amazing trails." Decherd also shares some trail trips:
Leave your heavy hiking boots at home and bring a good pair of trail running shoes for the hikes.

Make sure you have a guide, as tourists who think they can do it independently often end up lost.

Get an early start, as this is a six to seven hour hike with about 4,000 feet (1,219 meters) of elevation gain throughout the day.
For those considering a trip to this gorgeous island nation and Boiling Lake, consider working with a responsible tourism-focused company like Traverse Journeys, which offers retreats to Dominica once or twice a year. Visiting with intention helps keep untouched wilderness preserved, fosters a better understanding of local life, can lessen travelers' carbon footprint and is an impactful way to engage with the world.
Disclaimer: The author worked with Traverse Journeys and Discover Dominica for a partially hosted press trip while researching this story. All opinions are her own.