Black Canyon of the Gunnison
National Park
102 Elk Creek
Gunnison, CO 81230
970-641-2337
The Gunnison River commences high in the central Rockies of Colorado. For nearly 100 miles, it flows through rolling sage-and-aspen-covered country before entering one of the most spectacular gorges in North America: the Black Canyon. Located about 250 miles southwest of Denver, Black Canyon is one of the newer national parks, created in 1999. President Clinton called it "a true natural treasure" when he signed the bill that designated the 30,000 acres of canyon and desert as national park territory.
Entrance fees: $8/vehicle for seven days or $4/individual for seven days. Persons 16 years old and younger are free.
Visitor center: The South Rim Visitor Center is open year-round, except January 1, Thanksgiving Day, and December 25.
Other services: A digital video theater
Accommodations:
South Rim campground. Open year-round. Reservations recommended. 877-444-6777.

North Rim campground. Open mid-May to mid-October. First-come, first-served.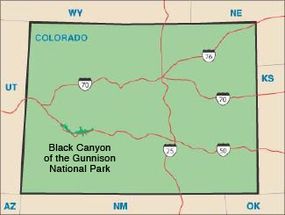 Visiting Black Canyon of the Gunnison National Park
Black Canyon is a fitting name for the awesome chasms that plunge 2,700 feet -- almost twice the height of the Sears Tower in Chicago -- to the Gunnison River below. In fact, the depth and relative narrowness of the canyons block sunlight from reaching the bottom, except for about an hour each day. The waters now known as the Gunnison River eroded desert rock for millions of years, slowly chiseling the walls of this spectacular canyon.
The Gunnison River offers "Gold Medal Water" fishing for trophy brown and rainbow trout, according to the Colorado wildlife commission. Other activities for visitors include hiking, camping, rock climbing, and kayaking the Gunnison. On the next page, you'll find sightseeing tips and guidelines.