Big Bend National Park
PO Box 129
Big Bend National Park, TX 79834
432-477-2251
Big Bend National Park, located in Texas about 240 miles southwest of the Midland/Odessa airport, protects more than 800,000 acres of desert lowlands and mountains, all nestled in a bend of the Rio Grande. A visit to the park assures unique sights as well as solitude. Big Bend is an untouched pocket of stunning beauty, averaging just 300,000 visitors annually. Hiking the Chisos Mountains and rafting or fishing in the Rio Grande are popular activities for tourists.
Entrance fees: $15/vehicle for seven days or $5/individual for seven days
Visitor centers: Chisos Basin Visitor Center and Persimmon Gap Visitor Center are open daily year-round. Panther Junction Visitor Center is open daily, except December 25. Castolon Visitor Center and Rio Grande Village Visitor Center are open November through April.
Other services: Park lodge, three campgrounds, a trailer park, and backcountry campsites
Accommodations:
Camping: Open year-round. Reservations are sometimes available. 877-444-6777.

Chisos Mountains Lodge: Open year-round. 432-477-2291.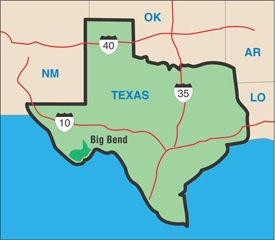 Visiting Big Bend National Park
It is fitting that one of the largest national parks east of the Rocky Mountains should be located in Texas, the second-largest state. Big Bend National Park encompasses an immense expanse of dry mountains, canyons, and desert wilderness just across the Rio Grande from Mexico. Here the river winds south, then suddenly veers north in a great horseshoe curve before turning southward again. The region within the great triangle -- an area as large as Massachusetts and Connecticut combined -- is known as Big Bend country.
Chisos Mountains, a spectacular self-contained massif, serve as a natural geographic anchor for Big Bend National Park. The centrally located mountains are a complicated geological wonderland of volcanic plugs, igneous crags, forested buttes, jagged outcrops, wild dry pastures, and bone-dry streams. Old horse paths and game trails crisscross the range, and on some of those trails you may see bear tracks.
Forming the southern border of the park, the Rio Grande has sliced a deep chasm, called Santa Elena Canyon, through red and orange rock. The canyon is so deep and narrow in places that the sun barely penetrates it. Like the Santa Elena Canyon, the limestone walls of the great Mariscal and Boquillas Canyons rise over 1,200 feet.
Not only is Big Bend National Park a great vacation spot, but it is also a one of the best sandboarding destinations in Texas. Check out the sandboarding article, video and images at Discovery's Fearless Planet to learn more.
Big Bend National Park offers panoramic views, hundreds of species of wildlife, and an array of activites for visitors. On the next page, you'll find recreation tips to help you make a trip to Big Bend both fun and educational.