Badlands National Park
25216 Ben Reifel Road
PO Box 6
Interior, SD 57750
605-433-5361
Conveniently located about one hour south of Rapid City, South Dakota -- on the old homeland of the Sioux -- the Badlands is a unique national park that features both high northern prairie wildlife and outstanding geological features. Without the big crowds of some of the other western parks, the Badlands is a good place to experience the solitude of nature.
Entrance Fees: $10/vehicle for seven days or $5/individual for seven days
Visitor Centers: Ben Reifel Visitor Center is open daily, except January 1, Thanksgiving Day, and December 25. White River Visitor Center is open only during the summer months.
Other Services: Two campgrounds and a park lodge
Accommodations:
Cedar Pass Campground: Open yeaer-round. First-come, first-served.

Sage Creek Campground: Open yeaer-round. First-come, first-served.

Cedar Pass Lodge: Open mid-April through mid-October. Reservations recommended. 605-433-5460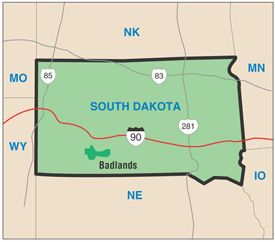 Visiting the Badlands
The term "badlands" was first used to describe the area of South Dakota that is the world's most extensive and best example of this kind of topography. Badlands are found in many parts of the world. This kind of geological formation usually occurs in semiarid climates and is characterized by countless gullies and ridges, as well as sparse vegetation.
Badlands National Park, almost 100 miles long and 50 miles wide, cuts across the Great Plains of southwestern South Dakota. But you can walk or drive across the rolling grasslands almost to its borders without being aware that this vast expanse of otherworldly terrain is nearby. Suddenly, in a matter of a few yards, you are amid a theatrical and bewildering jumble of towers and imposing buttresses. Rock palaces, hundreds of feet high, loom large against big prairie sky.
The terrain of the area is so arid and the land formations so eerie that the Sioux called this place mako sica, or "bad land." French-Canadian trappers called it les mauvaises terres a traverser, or "bad lands to cross."
In addition to the beauty of the area, there is much to be learned from a paleontological point of view. The evolution of certain prarie mammals can be studied in the rich fossil beds of the Badlands. Fossil demonstrations are available to visitors of the park, as are ranger-led walks. For more ideas on sightseeing at Badlands National Park, go to the next page.