The minute that visitors enter the airport in Austin, Texas, the sound of music fills the air. Cool blues, rockabilly, you name it -- local artists showcase unique sounds on stages throughout Austin-Bergstrom International Airport. Dubbed the "Live Music Capital of the World," music is synonymous with the city, as is great barbeque, a decidedly liberal culture, and the likelihood that the tattooed hipster standing next to you in line at a local music venue is a tech millionaire.
The fact is, Austin is a city of contradictions and makes no apologies for it. It's Texas without the flatlands most people expect when they visit. Instead, locals and out-of-towners alike often compare the city's terrain, which is anything but flat, to Colorado. Stunning Hill Country vistas, wildflowers in bloom, and an outdoor lifestyle have made Austin one of the nation's fittest cities.
Austin may be the state capital, but it's also home to the 50,000-student University of Texas, and bleeding burnt orange is just something people do. Austinites are rabid about their Longhorns, and so are others.
Each year, more than 17 million people visit Austin -- whether for Longhorn football games, for musical events like the famed South by Southwest music industry conference or the Austin City Limits Music Festival, for business, for education, for politics, or for fun. Regardless of what brings visitors here, there's no question that many of them are curious about what makes this Central Texas city, especially after being ranked second on Money magazine's 2006 list of Top 25 Best Big Cities to Live.
The Best of Austin
Austin is a mix of thriving nightlife, college party town, great scenery, tolerant citizens, and celebrity hangout. Austin takes all kinds; it's the people here that make the city -- although the city's pretty hip all on its own.
Why come to Austin? The red granite State Capitol building is one reason; it's been named one of the Top 10 Texas Attractions for non-Texans and Texans alike. Music, of course, is everywhere, and is another star attraction. South by Southwest, one of the nation's largest music industry conferences, draws millions to the city for two weeks each March, and the Austin City Limits Music Festival rocks the city for a weekend each September.
People also visit Austin for food. The Hill Country Wine & Food Festival, held each April, is the nation's second largest such event (Aspen is the largest), and showcases food and wine with a Texas flair. Not surprisingly, barbeque is big here -- it is Texas, after all -- but so are vegan and vegetarian food, as well as a number of Mobil Travel Guide-rated Four-Star restaurants and noted chefs.
The University of Texas at Austin is another reason people come to town. One of the largest universities in the country with 50,000 students, UT and its champion Longhorn football and sports teams attract alumni, sports fans, and students from all over the world.
Austin's also known for its healthy lifestyle -- with 300 days of sunshine each year, it's hard to avoid the great outdoors. Speaking of nature, you'd be hard-pressed to miss the incredible sight of 1.5 million Mexican Free-Tailed Bats emerge nightly from underneath the Congress Avenue Bridge (May through October). Home to one of the largest bat colonies in North America, these tiny winged creatures are another quirky part of a city that attracts thousands of visitors each year.
Fast Facts & Information
Geography and landscape: Austin is located in south central Texas, where the Colorado River crosses the Balcones Escarpment, separating the Texas Hill Country from the blackland prairies to the east, creating gorgeous limestone cliff formations throughout the city that define Austin's landscape. Given the scenery, it's no wonder that Austin and surrounding terrain have been nicknamed "The Hill Country." The Colorado River flows through the heart of the city, creating a series of sparkling lakes that stretch for more than 100 miles, and a beautiful centerpiece that is a magnet for Austinites and visitors alike for its cool, calming beauty.
In terms of geography, Austin isn't like the rest of Texas, which is mostly flat, and that's one of the most unique things about the city. Instead, elevation ranges from 425 feet at lakeside to 1,000 feet in the northwest city hills and to 2,000 feet in The Hill Country. Take a walk on any of the city's downtown streets, and you'll likely be out of breath from climbing hills. Area lakes provide scenic and liquid refreshment for the city, and breathtaking limestone cliffs like Mount Bonnell are great spots to take in the scenic and rolling Hill Country terrain.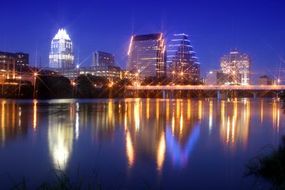 General orientation: The city is the largest in the Central Texas area, which includes Travis, Williamson, and Hays counties, and is the fourth-largest city in Texas. Altogether, the greater Austin area encompasses 258.43 square miles.
Neighboring cities and suburbs outside Austin proper include Round Rock, Pflugerville, Taylor, and Georgetown to the north, and Kyle, Buda, San Marcos, and New Braunfels to the south. As for Austin's proximity to major Texas cities, Dallas is about three hours to the north, San Antonio is about 90 minutes south, and Houston is about three hours east.
When it comes to negotiating downtown Austin, the Colorado River (Town Lake) is a great landmark that essentially splits the city down the middle. Streets that cross the river are marked North on the north side (like North Lamar) and South on the south side (like South Congress).
With the exception of Congress Avenue, Austin's downtown streets that run north and south parallel the order that Texas rivers flow throughout the state -- kind of a neat factoid into Austin's city planning. From east to west, the streets (and the rivers) are: Sabine, Red River, Neches, Trinity, San Jacinto, Brazos, Colorado, Lavaca, Guadalupe, San Antonio, Nueces, and Rio Grande.
The downtown streets that run east to west are all numbered and previously were called the names of Texas trees. And some still are, depending on which part of the street you're on, as do local businesses near those streets. In numerical order (south or north), major downtown streets include Cesar Chavez/First Street; Second Street (Live Oak); Third Street (Cypress); Fourth Street (Cedar); Fifth Street (Pine); Sixth Street (Pecan); Seventh Street (Bois d' Arc); Eighth Street (Hickory); Ninth Street (Ash); 10th Street (Mulberry); and 11th Street (Mesquite).
Safety: Austin has a reputation as being a safe city as far as larger cities are concerned. However, the city tends to be more tourist-friendly west of Interstate 35, where most of the bars and restaurants are anyway. That's not to say you should avoid the east side; there are excellent restaurants there, and neighborhood revitalization programs are in place that have done wonders in recent years. However, there are some areas on the east side that aren't safe to walk through after dark, such as a few streets in the Blackshear-Prospect neighborhood. However, most tourists wouldn't be over here anyway, since most of the east side's popular bars and restaurants aren't near this area. As with visiting any big city, use common sense and stay on well-lit, well-traveled streets.
Population: About 1.4 million people live in the greater metropolitan area, with around 690,000 in Austin itself.
Climate/weather: Austin's climate is considered subtropical, which means it gets pretty hot here, especially in the summer. With an average of 300 days of sunshine each year, average temperatures range between 60 degrees Fahrenheit in January to 95 degrees Fahrenheit in July -- but expect anything when you visit. The chilliest day on record was minus-2 degrees Fahrenheit in January 1949, and the hottest day on record was September 5, 2000, when the temperature hit 112 degrees Fahrenheit. Most of those 100-plus days happen in June, July, and August, but anything's possible.
There's a saying in Texas that if you don't like the weather, just wait a minute, because it's likely to change. While sudden changes in the weather, especially in the summer when late afternoon heat can spark brief thunderstorms, aren't uncommon, Austin's climate is, for the most part, pretty mild. It doesn't ever really get cold here, though freezes in The Hill Country do happen often in the winter. It has snowed in Austin before, though that's a rare occurrence.
Tornados do occur and they can be a threat to the Central Texas area during tornado season, usually March through May, but they're relatively rare in Austin proper.
As for rainfall, the average annual precipitation is just over 31 inches, leaving plenty of good weather to enjoy Austin's wealth of outdoor activities.
Navigating Austin shouldn't pose much of a challenge. Downtown Austin is pedestrian-friendly, and you also can travel by car, bus, or trolley. Go to the next page to see all of our tips about getting around this great Texas city.